Carolyn Smaka: Alina and Eric, thanks for your time today. There has been a lot of news from Siemens recently, and the first thing I wanted to discuss is wireless connectivity. What does Siemens offer?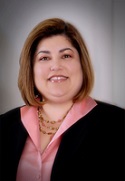 Alina Urdaneta: With miniTek, Siemens offers universal wireless connectivity to iPhones, iPads, Android devices, and many others applications and platforms. With universal wireless connectivity, professionals can ensure their patients' hearing instruments are equipped with the best features to meet their audiological needs without compromise.
Professional football player Reed Doughty joined us in our booth at AudiologyNOW! in Orlando. He talked about how he uses Aquaris hearing instruments with his miniTek to seamlessly connect to all the devices he uses daily, including popular apps like FaceTime, Pandora and Google Maps, or listening to Podcasts. These are great examples of how universal wireless connectivity is used in real life.
Carolyn: To switch gears, I see that Siemens has some big news in the custom arena.
Alina: Yes, we have some exciting news.
First, we now offer custom ear protection – for musicians, swimmers and hunters. After an ear impression is 3D-scanned using iScan, our expert modelers custom build them in a variety of different colors and styles for the various applications.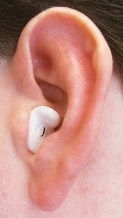 Custom hearing protection from Siemens.
Also, we have just introduced the Siemens Custom Design Studio. This is a new state-of-the-art studio in our Piscataway, New Jersey headquarters. If you look at the concept of having your Volvo built in Sweden or your BMW built in Bavaria, wearers can watch their custom hearing aids crafted right in front of them in our New Jersey facility.
This program entails working very closely with hearing care professionals to ensure they are an integral part of the process, every step of the way. We combine their recommendations with our 3D modeling processes to build custom instruments for their patient, who comes and spends a day and a half with us.
The first day, the patient observes how the hearing instruments are modeled, designed, wired, and 3D-printed, culminating with a first fit by one of our licensed audiologists. That night, the patient and his or her companion go out to the venue of their choice, such as to a Broadway show or maybe to Lincoln Center, followed by a nice dinner. They get to experience their hearing aids in a real-world setting, and then come back the next day for any adjustments. They then follow up with their own hearing care professional when they return home.
Carolyn: What was the impetus to start this program?
Alina: It came from a sister Siemens company in Germany. They have been doing this for quite a while, very successfully. Because we have made so many improvements in our custom manufacturing processes, and because our facility underwent a big renovation last year, we decided to dedicate a special area specifically for this purpose.
Carolyn, for independent practices to stay competitive in this market, they need to differentiate themselves. Siemens is dedicated to support the independent practitioner in whatever route they choose to achieve their goals. The Custom Design Studio is just one of a number of programs we offer for professionals to help position themselves as a trusted and specialized resource in their community.
Carolyn: Thank you, Alina. I look forward to hearing more about that program as it gets underway. Eric, what is new on the technology side?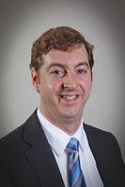 Eric Branda: In the Fall, we completed the micon portfolio with the introduction of the Nitro super-powered BTE. With micon, we've always been confident that we're providing all the best-in-class industry features in one platform. So we decided to focus on how we can help professionals build on these product offerings by delivering best-in-class patient care, too. That's why we're so excited to introduce Siemens ProSuite. ProSuite is a set of tools and applications that can be used together or separately to help support patient interactions, drive engagement and maximize opportunities for treatment success.
This suite of tools enables professionals to engage patients throughout the entire process, from testing, to counseling, to visualizing treatment options, through fitting and rehabilitation. ProSuite includes Counseling Suite 3.0 and the Unity 3 Testing and Fitting System.
Counseling Suite 3.0 is an app that works with Android tablets and Apple iPads devices to actively engage the patient in the decision-making process. Through a series of flexible, easy-to-use, and interactive modules, Counseling Suite helps professionals select and recommend hearing instruments according to each patient's audiological needs, listening needs, lifestyle, and personal preference.
The app is very customizable, so professionals can brand it with their own practice information, which will print out on whatever they give the patient to take home. There are several modules, such as ear anatomy, hearing and hearing loss basics, hearing loss simulations, and much more that professionals can select as appropriate for each individual patient. It features an interactive tool that asks about lifestyle, which prompts the patient to select situations where they need hearing help. By engaging the patient in the hearing aid selection process, you're ultimately increasing buy-in.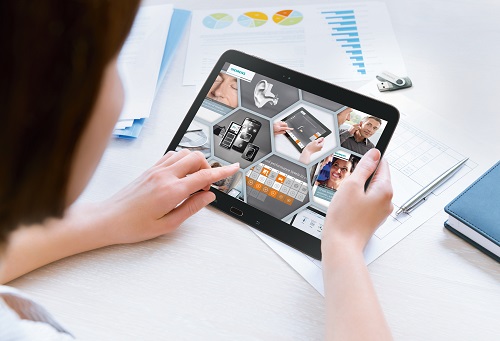 Siemens ProSuite applications help support patient interactions.
You can even take photos of the patient wearing different hearing aid styles using the same device running Counseling Suite. The photos are then added to the report so the patient can see how their instruments will look on them and show their loved ones.
These are only a few of the many features of Counseling Suite 3.0. It is very flexible, so professionals can select which modules they want to use with each patient, and use it formally or informally, on their tablet.
Carolyn: I can see how that would make for a much more engaging process rather than just sitting across the desk and talking. Tell me about Unity 3*.
Eric: Unity 3 is the next generation of Unity, with a much sleeker look. The components include the Hearing Instrument Testing (HIT) box, the PC-based audiometer, and a probe-mic/real ear measurement (REM) system. The REM portion and the HIT box are currently pending FDA approval.
The audiometer is a two-channel diagnostic audiometer with ultra high frequency testing capability. The calibration information is stored in the transducers so it is literally plug-and-play. You do not have to have someone come to calibrate it and insert the offsets into the system. Siemens sends it to you, you plug it in, and it is ready to go because the information is stored within it. When it comes time for an annual calibration, give us a call ahead of time and Siemens can send you out a loaner piece, recalibrate yours, and send it back to you. This eliminates down time as you are never without your equipment.
With the probe-mic system, you can test both ears at the same time, including speech mapping. Since the Unity software and our Connexx fitting software can be integrated, you can input the patient's REM information into Connexx and program your hearing aids to real-ear targets in one easy step.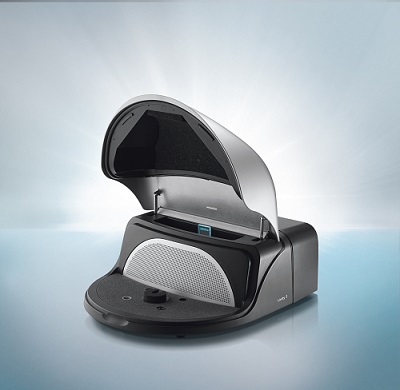 Unity 3 Hearing Instrument Testing (HIT) box.
Carolyn: What a timesaver! I am surprised at how small these pieces are, when I think of all the big boxy systems I had in my office a few years back.
Eric: Yes, we have come a long way. And, the Unity 3 modules do not even need to be physically connected – you can have the HIT box in one room and the audiometer and probe-mic system in another room.
Unity 3 is also extremely lightweight and portable. In fact, the audiometer only weighs a pound or two, so it is easy to pack up with your computer and headphones, and take it on the road or out to a nursing home. If you return to the nursing home to do the hearing aid fitting, you can easily bring along your portable REM system.
Carolyn: Thanks for the information. Tell me about the new Physician Outreach Program.
Alina: Healthcare reform provides professionals with an even stronger reason to be marketing to physicians. Medicare guidelines since 2008 have established that an evaluation of hearing impairment is needed as part of the annual wellness check, and now physicians have to document this in order to submit a claim. The idea is to evaluate the patient's safety at home and their functional ability.
We know from the Betting Hearing Institute that historically, few primary care physicians screen for hearing loss. Now it is going to be commonplace, particularly for people who are on Medicare, which is the largest insurer in the U.S. This is a perfect opportunity for hearing care professionals to reach out to primary care physicians in their community, educate them on the consequences of untreated hearing loss, including how it may affect the health and safety of their patients. In doing so, hearing care professionals establish themselves as a trusted resource. When a patient is suspected or found to have hearing loss by the physician, you want to ensure that follow-up happens.
We have created a guide for physicians entitled, Preserving your patients' health and safety by identifying and treating hearing loss. It includes hearing loss statistics and demographics, provides information on hearing screening tools, and contains fact sheets on different co-morbidities and their relationship with hearing loss. It includes information on hearing loss and the increased risk of falling, as well as the relationship between hearing loss and cancer treatment, dementia, diabetes, cardiovascular disease and stroke. Overall this guide stresses the importance of a good working relationship between the hearing care community and the medical community for better patient outcomes.
Carolyn: We know doctors are short on time. This guide lays out the information so it is easily understood just by glancing it over, but has all the detail for anyone who wants to dig a little deeper.
Alina: I agree 100%. My internist once told me he wanted a good hearing care professional to refer to, and he wanted information on hearing loss that was clear, concise and written for physicians. He said that he wanted a summary of the clinical research because he does not have time to scour through journals to read all of the studies out there. We feel this guide accomplishes all of that.
Ultimately the Physician Outreach Program is about hearing care professionals and physicians working together to detect and treat hearing loss sooner. This may help prevent more serious conditions, promote safety, and improve the patient's health and independence.
Carolyn: Thanks for taking the time today to detail these products and programs.
For more information, please visit: www.usa.siemens.com/hearing or the Siemens Expo Page on AudiologyOnline.
*The Hearing Instrument Test box (HIT), and the Real Ear Probe Microphone (REM) portion of the Unity 3 fitting unit are pending 510(k) clearance and are not commercially available in the United States.