Carolyn Smaka: Hi Curtis, nice to speak with you again. What's new at Neuromonics?
Curtis Amann: It is a very exciting time for us. We are releasing two new tinnitus treatment devices - a re-designed Oasis device and a new mid-level product, the Haven. Both products adhere to the same core principles from Neuromonics that have made our previous devices successful, and they provide a great opportunity for clinicians to expand their offerings to tinnitus patients.
Carolyn: How has the Oasis been re-designed?
Curtis: The Oasis has been completely redesigned with a brand new feature set that is much more user-friendly for the audiologist. Up until now, the Oasis had been programmed by Neuromonics based on information sent from the prescribing audiologist. The new Oasis is programmable in the audiologist's office through NOAH (industry-standard software platform for hearing aid/device fitting). This allows for more flexibility in fitting the patient, and the device can now be fit the same day as the evaluation.
Carolyn: That is definitely a benefit. What does the brand new feature set bring to the table?
Curtis: We know that not every patient has a symmetrical loss, so we have added a balance control that enables the audiologist, through NOAH, to account for asymmetries with the patient's hearing.
We also have added the ability for the audiologist to independently regulate the volume of the neural stimulus that is added inside the music during Phase 1 of the treatment. This is important because it adds another level of individualization for the patient. In the past, the level of that stimulus has been set by Neuromonics based on the audiogram provided by the audiologist. Now, a patient sitting in the office will be able to have his or her fit even more customized.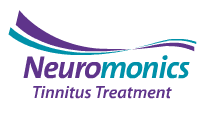 Additionally, we have added a phase transition timer. Oasis uses a two-phase protocol, and the big change from Phase 1 to Phase 2 is the removal of the neural stimulus from the music. This allows for desensitization to take place. Sometimes this can be a little troublesome for patients, as they may have anxiety about the transition. Using the phase transition timer, the clinician can make the change happen gradually over time, based on a predetermined schedule that they he or she sets in the software. It allows for an easier transition for patients from Phase 1 to Phase 2.
We also now have a few more music selections. The same four proven tracks that we have always used will come standard on each device, but there are additional selections that a clinician can choose in the software. A clinician can exchange or swap any of the tracks to better fit a patient's preferences.
Carolyn: You mentioned the Oasis device itself was completely redesigned.
Curtis: Yes, the device has taken several steps forward from a technology perspective. For example, in terms of connectivity, we have moved to a micro-USB format from the infrared format we used in the past. The changes were designed to make the experience for clinicians much less cumbersome and easier to implement in their clinics, so that they can maximize their time with the patient rather than spending those crucial minutes worrying about the device and its functionality.
Carolyn: It sounds like you have aimed at integrating the device into the clinician's workflow.
Curtis: That is exactly what we are going for - the ability to give the clinician more control to individualize the treatment for each patient. We believe these changes will allow clinicians to attend to their patients' needs better. If a patient comes back and is having difficulties early in treatment, a clinician can adjust the stimulus in the office in order to provide additional relief for the patient.
Carolyn: Oasis is the premium product. Let's talk about the new mid-level product, Haven. How does this fit in to the Neuromonics portfolio?
Curtis: As you mentioned, at the high end we have the Oasis, which is individualized for each patient. The entry-level product is the Neuromonics Sanctuary, which comes with three preprogrammed hearing profiles, and the audiologist chooses one based on the patient's audiogram. The Oasis delivers a two-phase treatment protocol designed for long-term reduction in disturbance and awareness of tinnitus, whereas the Sanctuary is designed more as a management tool for patients that can provide relief in specific situations while they are wearing the device.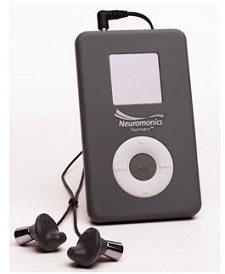 Neuromonics Sanctuary
The Haven a step between those two, delivering a Phase 1 stimulus like the Sanctuary. However, it can be programmed and individualized similar to the Oasis. Clinicians can provide a more individualized fit for a particular patient. The Haven also has some of the new features we discussed, such as a balance control to help deal with asymmetries, as well as the ability to regulate the neural stimulus volume. It is a nice option between the Oasis and the Sanctuary, and enables Neuromonics to give clinicians a variety of choices for their patients depending on what each patient presents.
As a company, Neuromonics is moving towards becoming a tinnitus company as opposed to just offering a device that treats tinnitus. Historically, the Oasis has done a great job in treating the "worst of the worst" patients, meaning those with more severe, handicapping tinnitus. The average tinnitus patient who seeks treatment with the Oasis is one who has struggled with tinnitus for quite a long time and seen it debilitated quality of life to a point where he or she needs intervention. That is a very small number of the overall tinnitus population.
Given how effective Neuromonics' devices are at helping tinnitus patients, it made sense to expand our portfolio to address a wider patient population and deliver the customized music stimulus that has a proven track record. This way, more patients can benefit. Relief should not be limited to the "worst of the worst." We are very excited about making the transition from offering a niche product to becoming a full-service tinnitus company.
Carolyn: Why do you think there has been this resurgence of interest in treating tinnitus in the last few years?
Curtis: I think there are probably a few reasons for it. If you look back to before 2004, there really were not many options for the tinnitus patient. Essentially, all clinicians had to offer was a white-noise generator and some version of Tinnitus Retraining Therapy. When Neuromonics entered the market in the United States in 2005, it brought a higher level of awareness to clinicians, not just about tinnitus, but also how to manage tinnitus patients and how to deliver an effective treatment.
We began to establish the market at that time, and as a result, you are now seeing a wide variety of manufacturers now getting into the tinnitus space: both companies with a specific tinnitus device and hearing aid manufacturers with combination devices. The level of awareness that Neuromonics has brought to the market, and the knowledge that there is something that can be done for tinnitus patients, has proven to be a catalyst for innovation. Now, we are also starting to see an emphasis in audiology education on tinnitus patients and the variety of solutions available.
Then, when you consider the enormity of the tinnitus problem among military service veterans – it is the No. 1 service-connected disability, with more than 34 percent of returning veterans from Iraq and Afghanistan suffering from it - it brings an entirely new level of awareness of tinnitus to our industry and to the public in general.
Carolyn: I think for a while we were all looking for a magic bullet. With the increased awareness and knowledge base we now know that treating tinnitus is not about just handing a patient a specific device.
Curtis: That's right – effectively treating tinnitus involves a whole approach. It is about providing a complete package for the tinnitus patient. While devices can be effective as standalone products, history and data have shown that when you combine the right device with a comprehensive program of follow-up and counseling work by an audiologist, results tend to be much better. At Neuromonics, we believe in providing audiologists with the foundation of knowledge as to what factors contribute to disturbing tinnitus, complemented with the knowledge of how to address those in a counseling program. With this approach, the results are quite impressive.
I would encourage audiologists to take our courses on AudiologyOnline and learn about tinnitus and treatment options, even if they are not interested in working with Neuromonics' products. If nothing else, they can provide that information to their patients and make informed referrals to clinics or audiologists that specialize in tinnitus for patients who may be candidates for treatment.
Carolyn: Yes, there are many great courses in the Neuromonics AudiologyOnline library. We invite audiologists to check them out, as well as to check out your website, www.neuromonics.com for more information. Thanks for your time today in detailing the new products with me.
You can also learn more about Neuromonics on the Neuromonics Expo Page on AudiologyOnline.