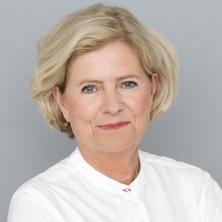 AudiologyOnline: Ida Institute was founded in 2007 as an independent, non-profit organization to advance person-centered care. Is that still your mission?
Yes, since Ida's inception our unwavering focus has been on person-centered care. From our earliest seminars and the first Ida tools, we have collaborated with hearing care professionals from around the world to develop knowledge and strengthen the counseling process to enable people to express their individual needs and preferences and take ownership of their hearing care. What has evolved is the scope and variety of resources we offer to hearing care professionals, people with hearing loss, their families and caregivers. I am pleased to say that Ida Institute has played a key role in introducing person-centered care in audiology and our tools and methods have become "textbook classics." We thank our dedicated Advisory Board, our many Ida fellows and the hearing care professionals worldwide who have joined with us in helping to make person-centered hearing care a reality in clinics across the globe.
AudiologyOnline: Your website, idainstitute.com, has won numerous awards. How does the website contribute to advancing patient centered care?
Our website, www.idainstitute.com, is a free and open collaborative space that provides access to a variety of resources and tools for both hearing care professionals and people with hearing loss.
Our online tools and resources continue to evolve as the needs of the hearing care sector change. Right now we are seeing an emergence of telehealth as a response to today's rapidly growing on-demand culture. Ida is developing telehealth offerings to enable hearing care professionals to embrace this trend and to enhance the quality of counseling by applying methods and tools based on person-centered care.
AudiologyOnline: What are some of Ida's newest offerings?
At AudiologyNOW! 2017, we are introducing an entirely new eLearning universe for hearing care professionals. The Ida Learning Hall (www.idalearninghall.idainstitute.com) is a virtual meeting place where hearing care professionals can go to learn more about person-centered care. What makes it unique is the "bite size" nature of its approach. The Ida Learning Hall offers bite-sized learning so users can update their skills on-the-go and can connect, interact and share knowledge in dedicated online communities.
In developing the Learning Hall, we looked into how hearing care professionals share and find knowledge, and when and where they prefer to learn. We discovered that much learning occurs after work hours – when people are at home or on the bus or in the car. We also found that people seek learning when they have an immediate need or problem to solve and a majority prefer to receive that learning in short bursts and bite-sized.
Learning should be easy and engaging, and we believe that the Ida Learning Hall does just that. The Learning Hall also offers longer modules. Users can accumulate the short, bite-sized lessons over time to complete a module and obtain CEU/CPD points from accrediting organizations.
AudiologyOnline: Can you tell us about Ida's new Telecare tools?
Ida Telecare is a collection of easy-to-use online tools and resources to help people with hearing loss prepare for appointments and successfully manage everyday communication and important decisions related to hearing. We launched our first telecare tools in 2016 and they have been very well received by both hearing care professionals and their clients. The online platform can be used to inform and engage first-time and returning clients and ready them for a successful and efficient session that allows more time for person-centered care.
We've just introduced two new resources to our Telecare collection. The Dilemma Game helps people with hearing loss deal with difficult communication situations. The tool stimulates the users' thinking with real life examples from Ida's extensive ethnographic resource collection and encourages them to come up with their own strategies for managing challenging situations.
The new Tinnitus Thermometer is an easy-to-use online tool for people who are experiencing tinnitus. The Tinnitus Thermometer allows users to describe how they are experiencing tinnitus and to help them articulate their feelings about this complex condition. The tool is part of a complete collection of online resources designed to support hearing care professionals working with tinnitus patients.
AudiologyOnline: What other tools are offered in Ida Telecare?
The Living Well online tool prepares people with hearing loss for more productive and focused first or follow-up appointments by encouraging them to think about their needs and concerns before they arrive for their appointment. The My Turn to Talk tool helps people prioritize the most important people with whom they communicate and organize their thoughts to ensure their concerns are addressed during the appointment.
For teens and young adults with hearing loss, the transition to adulthood can be especially challenging. Telecare for Teens provides the support and guidance young people need as they take on more responsibility for self-management and make more independent judgments about their hearing care needs.
All of the tools in the Ida Telecare platform are optimized for mobile phones and are freely available for hearing care professionals and patients at www.idainstitute.com/telecare.
AudiologyOnline: In recent years, Ida has developed partnerships with many healthcare organizations. Can you tell us about them?
Our status as an independent, non-profit organization has enabled us to partner with leading global healthcare organizations to advance person-centered care. The Veterans Health Administration in the US, one of the largest health care systems in the world, has recommended the use of Ida tools in clinics. Through our partnership with HearUSA/AARP, people enrolled in the AARP® Hearing Care Program can access a suite of Ida tools that help prepare them for their first and follow-up appointments and learn strategies for everyday life with hearing loss. In addition, our partnerships include NHS in the UK as well as Audiology Australia. We will continue to build and develop partnerships to further our mission to advance patient-centered care.
Thank you! For more information, readers can visit www.idainstitute.com or follow the links in this interview to go directly to the new tools and resources.