Carolyn Smaka: Today, I'm speaking with Dr. Don Schum from Oticon. Welcome back, Don. Oticon has recently launched three new products in the power segment.
Before we get into the details, what are the unique needs of people with more severe hearing losses that these products were designed to address?

Don Schum: The extent of the damage to the auditory system is significantly greater with these losses, which leads to specific needs in terms of signal processing.
Oticon has a long legacy of building really good products for people with the greatest degree of hearing loss. We're very proud of that legacy. We've continued to make significant advances in this area based on a very good understanding of severe and severe-to-profound hearing loss.
In addition, adults with severe and severe-to-profound losses have generally been living with their hearing losses for a long time – sometimes as long as decades. These are longstanding hearing losses. They know what they can and cannot hear, and they have very specific preferences based on their experience with many hearing devices over the years. To be able to serve their needs most effectively, it's important to listen and to learn from each individual.
There is also much variability from patient to patient when it comes to people with severe to profound hearing loss. This variability shows up in terms of how they balance different needs like audibility, clarity, loudness and connectivity. At Oticon, we believe we're in the best position to understand those needs and to build solutions that best address those needs.
Carolyn: Let's get into the new products – what products are being launched?
Don: We have three new products in our Power line up; Dynamo, in the Super Power (SP) category for adults with severe and severe-to-profound hearing loss; the pediatric version called Sensei SP; and Plus Power, an extension in our Performance line.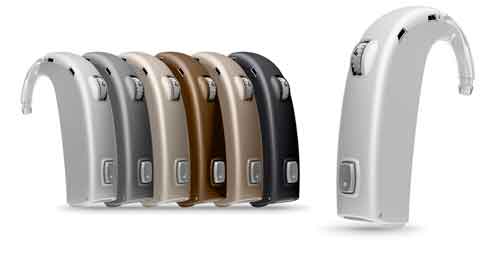 Dynamo super power in assorted colors.
Dynamo and Sensei SP share a number of technologies. However, there are some very specific differences between the two devices to take into account the fact that Dynamo addresses the fitting needs of adults while Sensei SP addresses the fitting needs of children.
Plus Power joins Alta2, the headliner in our Performance line, along with Nera2 and Ria2. Plus Power is a new Power BTE in all three of those product families.
Carolyn: Can you highlight a few of the new features?
Don: We're very excited to announce that Dynamo and Sensei SP offer a very important combination of our approach to nonlinear signal processing, Speech Guard E, along with our new concept in frequency lowering, Speech Rescue.
Carolyn: How do these features work?
Don: Speech Guard E is a way of controlling the reaction of the compression system in order to provide full audibility of the signal, and in a way that preserves as much detail of the speech waveform as possible.
Speech Guard E is particularly important for patients with severe and severe-to-profound hearing loss, because the research shows that people with these types of losses are very dependent on the temporal aspects of the signal. Frequency resolution is one of the first things impacted by that degree of hearing loss. These patients tend to become more dependent on other cues in the speech signal like temporal cues, which are basically the rhythm, intonation and moment-to-moment amplitude fluctuations in the signal.
Temporal cues can be important secondary cues, and Speech Guard E works at preserving them.
Speech Rescue is our approach to frequency lowering. We have seen other approaches to frequency lowering in the market that are not consistent with our philosophy of getting the most from the speech signal.
We believe that many patients with a severe or even severe to profound hearing loss have better capability in their auditory system than is utilized by these other systems. There has been a movement in the industry of not providing direct amplification, especially in the mid to high frequencies.
Our approach has always been to provide as much information from the speech signal as is possible for patients. We understand that for some patients, frequency lowering is an important option and we've created a very good solution for that.
These two technologies work together: Speech Rescue captures high frequency information and reproduces it in the mid frequencies, and then Speech Guard E places it in the remaining dynamic range of the patient in a way that preserves as much detail as of the speech waveform as possible.
Carolyn: How is this approach different from other approaches to frequency lowering?
Don: One of the most popular frequency lowering approaches in the marketplace is frequency compression, where a broad range in the high frequencies is compressed into a lower frequency range. This approach takes a very broad part of the speech spectrum and forces it into a smaller part of the lower to mid frequency spectrum. At the same time, the high frequencies are typically abandoned. There's no attempt to provide amplification in the highs.
What differentiates Speech Rescue from frequency compression is that we do not compress anything in terms of frequency. We present a full bandwidth including the high frequencies and at the same time, identify particular sections of the bandwidth where the patient might be at risk for misperception because of a lack of audibility or a lack of usability.
We copy that information and replicate it very carefully in the mid frequencies. We call this approach "copy and keep", because we don't abandon the high frequencies by default. We keep the high frequencies, while copying that information in the mid-frequencies where there is generally better function.
We just don't believe that for any individual patient you know for sure whether or not they can use high frequency information effectively. So, we leave it in, but copy the important information and reproduce it in the better functioning mid frequency range.
Carolyn: In addition to Speech Guard E and Speech Rescue for Dynamo and Sensei SP, what other key features are included in this launch?
Don: All three of the new products are on the Inium Sense platform, which features our most advanced feedback cancellation. Due to the gain requirements of people with severe and profound hearing loss, there is always a risk for acoustic feedback. In Plus Power, Dynamo and Sensei SP, we have instituted new approaches to feedback cancellation.
In the Plus Power, we use the approach that we introduced earlier this year on the Inium Sense platform. It is able to predict, identify, and then cancel feedback at a very rapid rate. Also, it uses the classic feedback cancellation approaches of the previous version including frequency shifting and then momentary gain control.
In the Dynamo and Sensei SP, the feedback cancellation system is designed specifically for the super power segment.
The difference is that for the Performance line including Plus Power, the feedback cancellation system is active from 2000 Hz and above, because that's where the products are most at risk for feedback. However, for the super power products, Dynamo and Sensei SP, the feedback system is active from 500 to 6500 Hz. It's the broader range of frequency, especially the 1 kHz peak that is typical of products in this category, that puts super power devices at greater risk for feedback. And so we've been able to design systems dedicated specifically to feedback cancellation in these new power and superpower products.
Alta2 Plus Power in silver grey.
In addition, all of these new products have a full range of connectivity options. For patients in this hearing loss category, any time sound is present, whether it's live speech or sound streaming in from a device, the patient is at risk for miscommunication.
They have to work harder to hear sound. Connectivity can provide real benefit in terms of improved access to sound from many electronic sources, and therefore it was important to us to ensure all of our connectivity solutions were available with this launch.
The other exciting piece of this launch is how we've incorporated our approach to personalization. We know there is a high degree of variability in terms of need and perceptual performance from patient to patient with severe and profound hearing losses. Therefore, being able to personalize the operation of the devices, the specifics of signal processing, and the specifics of connectivity, empowers hearing care professionals to most effectively address the needs of each individual patient.
Carolyn: How is personalization achieved?
Don: Personalization is easy and intuitive in the Genie fitting software. Using the software, the hearing care professional can find out how the individual patient perceives speech and what his or her individual needs are, and then build that into the fitting.
Carolyn: What else is new in the latest fitting software?
Don: We know that many of these products will be fit to patients who are also wearing a cochlear implant on one ear, or what is referred to as bimodal fitting. Many people utilizing cochlear implants receive benefits from wearing a hearing aid on the non-implanted ear. We know from clinical insight as well as research that the role of a hearing aid in a bimodal fitting is not the same as when a hearing aid is used alone or in a binaural hearing aid fitting.
In bimodal fittings, the cochlear implant speech processor is the primary way that speech information is provided to the patient's cognitive system. The hearing aid provides added benefit in terms of environmental awareness, sound quality and loudness perception. When the hearing aid is in this role, the frequency response and other settings likely need to be adapted.
We've created very streamlined approach in the fitting software to optimize the hearing aid settings for bimodal fittings.
Carolyn: We know these technologies are converging in the clinic and it is great to see the support in the fitting software.
How can professionals get up to speed on Dynamo, Sensei SP and Plus Power?
Don: We invite professionals to contact their Oticon rep and schedule time to meet with one of our account managers or one of our trainers. We also will have multiple courses offered on AudiologyOnline for CEU credit, and shorter 10-15 minute courses on individual topics.
That way, if a hearing care professional is scheduled to see a patient and work with one of these new products and just wants a quick review of a feature like Speech Guard E or Speech Rescue, etc. they can brush up on their knowledge to best serve their patient.
Carolyn: Sounds great. My last question is in regard to marketing. Any advice for marketing these products specifically?
Don: This user group, particularly adults in this segment, tend to be very well plugged in. They've been living with hearing loss for quite a long time and they are very highly engaged in online user groups, social media and other electronic media.
This is a very strong and connected community. So, a lot of our presence is specifically focused on tapping into that natural online community of users or potential users to provide information that might inspire them to seek out one of these solutions. We would encourage professionals to do the same, and we offer comprehensive marketing support services and programs to facilitate that.
Carolyn: Thank you, Don. We wish you all the best with the new product launches. Please visit www.oticonusa.com for more information.