AudiologyOnline: When did you lose your hearing?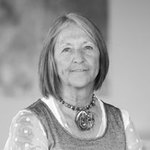 Nancy Smith Oberman: I was diagnosed with otosclerosis at age 17 and lost the hearing in my left ear. I had my first stapedectomy in 1973. Even though the surgery was successful, I was left with a conductive hearing loss in my left ear, and still needed to use a hearing aid. Twelve years later, I had a second stapedectomy on my right ear. Unfortunately, I lost all of my hearing on that side, when the bone the prosthetic was attached to died and broke off two years later. After 20 years of effectively living with single-sided deafness combined with the loss on my left side and trying other solutions like BiCROS hearing aids (which I found to not be up to the task), I got my first bone-anchored hearing system implanted in 2007.
AudiologyOnline: What prompted you to decide to upgrade from your current Oticon Medical bone-anchored hearing system to the Ponto 4?
Nancy Smith Oberman: I'd learned about the new technology from Oticon Medical and heard about it from friends who had already tried and liked it. They said they could hear more clearly and understand speech better even in noisy surroundings. I'd been finding myself working harder to hear people who refused to speak up and had to start wearing a regular hearing aid again to boost the performance of my current BAHS, the Ponto 3 SuperPower. So, I figured Ponto 4 was worth a try! As I always say: nothing ventured, nothing gained. Plus, I loved the idea of direct Bluetooth® streaming, especially because I have great difficulty with phone conversations.
AudiologyOnline: Were you concerned about upgrading from bilateral SuperPower devices to non-SuperPower?
Nancy Smith Oberman: Yes, I was worried about going to Ponto 4 from my Ponto 3 SP. My SuperPower devices work well, even though I have a damaged left cochlea from gunfire, along with some age-related issues. That is why I've always boosted the Ponto on that side with a traditional hearing aid. I really didn't think a non-SuperPower would work for me.
AudiologyOnline: What was the first step you took in the upgrade process?
Nancy Smith Oberman: My first step was asking to trial the Ponto 4, which my audiologist set up. I wanted to see how well it would work in every situation I experience on a daily basis, not just in the audiology office environment. My audiologist arranged for me to trial two Ponto 4s for at least a month, so I could test them in all aspects of my life and hearing situations. For example, I instruct adults in classrooms and during hands-on activities (as a self-defense and firearms instructor for law enforcement/corrections), so it gets quite busy and loud. I needed to know if the Ponto 4 would work for me regardless.
AudiologyOnline: How did the trial go?
Nancy Smith Oberman: Even though there was no initial "ah-ha!" moment of better hearing like I experienced with the Ponto 3 SuperPower, I was certainly impressed! First off, I am amazed at how well Ponto 4 picks up speech, even for someone who has as great a loss as mine (I am programmed to the ceiling with my Ponto 3 SPs). There is definitely a noticeable difference between the two sound platforms, with the Ponto 4's (Oticon Opn™) open platform seriously a marked improvement.
Surprisingly, even though the Ponto 4 demos were also programmed to the ceiling, I didn't experience any feedback to speak of. Besides clearer, crisper speech, I think I hear as well with them as I did with my SuperPowers. I've played a little with wearing the demos without my hearing aid and found that the speech was still crisper and clearer, even without the boost of volume the aid provides. I didn't go without my hearing aid long though, since I was at work teaching, and a tad nervous I would struggle hearing my students in the classroom. But the few conversations I had with my coworkers outside the classroom were normal. I didn't struggle to hear them even with students milling about or being loud during practical activities.
AudiologyOnline: What features did you like the most about the Ponto 4?
Nancy Smith Oberman: I think the thing I am most impressed with is that I can hear behind me, at least when someone speaks to me. I don't necessarily have to face the speaker, which has been a blessing. As I mentioned before, I am also quite surprised not to get feedback, because of how high they're set.
The Ponto 4s are so small and lightweight that it feels as if they aren't even attached. I miss the ability to mute from the processor itself but using the Oticon ON™ app has turned out to be no more difficult than using it with my regular hearing aid.
The direct Bluetooth is absolutely wonderful. Surprisingly, Ponto 4 also seems to have a marked ability to mute unwanted noise when I engage in conversation. I wasn't using the streamer with my Ponto 3 SPs in the office because everyone could overhear what I was streaming. I found this isn't the case with Ponto 4 direct streaming and so am enjoying taking my phone calls via Bluetooth. I am just as happy as can be… as are my staff!
AudiologyOnline: After the trial was up, what did you decide, and why?
Nancy Smith Oberman: I authorized my audiologist to order my left, steel-gray Ponto 4, which I've since received. The right will be ordered in January (due to how my insurance works). I'm so excited! I'm very lucky that I was able to trial the Ponto 4s in just about every situation I experience on a daily basis. Originally, I wasn't positive non-SuperPowers would work for me, but as I tell people all the time — louder does not always equal good hearing.
AudiologyOnline: Now that you've been using Ponto 4 for a while, what do you think?
Nancy Smith Oberman: I'm still absolutely amazed by how well the Ponto 4 works for me. I love that I can control my settings with my Apple® watch! I am assuming that because it does automatically mute those background noises and focuses on the speaker I can hear as well as I do, if not better, than with my Ponto 3 SPs. With my Ponto 4, I'm experiencing sound that is even more natural and with less vibration than with the SuperPower… if that makes sense.
My audiologist tested me in the sound booth with my Ponto 3 SP and then with the Ponto 4, and according to him, I actually understand speech better with the Ponto 4 devices than with the SPs. With 1-3 being normal speech recognition, I hit at 1.6 with Ponto 4. With the SP, I hit at 2.8. So, I was correct – I really do hear better with Ponto 4!
AudiologyOnline: Do you have any advice for other BAHS wearers who might be debating whether to upgrade to Ponto 4?
Nancy Smith Oberman: My advice is that you must give a trial more than five minutes, or even five hours or a single day! I sat in a noisy restaurant with friends the other day and didn't miss any of the conversation even with all the clanking of dishes, crying children, and other conversations. While you might not experience a big moment of noticeable hearing improvement when you first put it on, don't be discouraged. The changes are so subtle that it might take your brain a day or two to catch up to the marked improvement.
This is as close to normal hearing as I can remember after all these years since the onset of my hearing loss. In my opinion, Oticon Medical has hit it out of the park!
For more information, please visit Oticon Medical or the Oticon Medical Page on AudiologyOnline.