Carolyn: Martin and Bill, congratulations on the launch of Bolero V, on the Venture platform. What are the key features in this new product family?

Martin Grieder: With Bolero V, we're taking the Venture platform and launching it across an additional form factor – small and robust new BTE designs. The Venture platform features AutoSense OS, a seamless automatic program that provides the best setting for any listening environment. The new platform has twice the processing power than its predecessor and at the same time a 30% reduced battery consumption when streaming. Bolero V is also water resistance and dust tight, with an IP67 rating.

Bill Dickinson: One exciting thing that we're hearing from the field, as well as finding from our own research, is regarding the sophistication of the new beam former. It marries the best of two advancements of the Quest platform, specifically adaptive null points and narrow beam former. The result is a next generation StereoZoom that allows a narrow beam in front, and 33-band adaptive null points from behind. With the adaptive StereoZoom, we offer the most sophisticated SNR analysis system on the market. When combined with AutoSense OS, it allows Venture products to automatically adapt to optimal performance in any listening environment.
The AutoSense OS feature ties directly to our commitment of meeting consumer needs and expectations of having a natural hearing experience. Natural hearing is making sure the device remains as transparent as possible between patients and their hearing life. To this end, AutoSense OS performs as a true operating system, blending more than 200 separate parameters, across seven unique acoustic performance programs to automatically select the best processing strategy for any type of listening condition. Bolero V builds upon the proven benefits that we first talked about when we launched Audéo V last fall.
Carolyn: Tell me about the different products available in Bolero V.
Bill: Bolero V comes in three different power levels; right now we're releasing the M and P models, with super power expected out early summer 2015. Each is available in four performance levels, V90, V70, V50 and V30. While RIC instruments continue to be the most frequently chosen solution, and we've seen a very high level of adoption with Audéo V family of RIC products, BTEs are still approximately 25% of the market. So with this launch we give audiologists more options for their patients.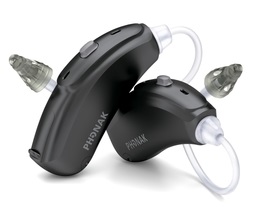 Bolero V
Carolyn: What training and support is available for professionals?
Martin: At Phonak, support and training for professionals is really important. Whenever we launch a new product, there is a full set of support material for each market. We launched Target 4.2 Fitting Software, which we believe is a key competitive advantage. Audiologists tell us that our Target software is the most intuitive and effective in the market.
Bill: With the US launch, we've scheduled 49 regional trainings in different cities across the country. In addition, we have an exceptional clinical training team of 22 audiologists who are available to schedule individual trainings to best meet the needs of individual practices. We have live and recorded CEU courses available on AudiologyOnline. We also have a great audiology and technical support team in our Warrenville office who can assist any customer who may have questions.
It's gratifying to me that the Phonak Target software is so intuitive that professionals rarely have questions about the software; they install the latest version and are ready to go. If you're comfortable with fitting Venture RICs, you can fit Bolero V, with virtually no learning curve. As Martin said, our software is very easy to use, and since the Spice platform, we have invested a lot of effort into collaborating with professionals to evolve Phonak Target to what it is today. And that investment has clearly paid off, as our fitting platform receives high reports of fitter satisfaction each year.
Since the Audéo V launch we've received very positive feedback from both providers and patients, as well as clinical researchers who do laboratory testing for us. Such reports help validate our own internal research that shows very high acceptance rate and performance for the patient. This is very important as we know first fit acceptance and outcomes are key drivers of consumer satisfaction.
We know from MarkeTrak data that first fit acceptance hasn't changed much historically and that by focusing on improving the first fit experience, we could add significant value. We know that Phonak alone may not be able to change the industry, but it would be a great legacy if we can make a difference in maximizing initial performance, while providing a natural and easily accepted listening experience early on in a patient's journey.
Martin: In terms of fitting support, we are also launching the iCube II, our second generation wireless programming device. It's provides a robust connection using a Bluetooth dongle, that results in a fast and reliable wireless fitting process.
Carolyn: You mentioned that Bolero V offers newly designed housings. Can you expand on that?
Martin: We know from market research as well as our own studies and observations, that design is becoming more and more important. We have invested in a new design team, and have delivered an upgrade from Quest to Venture. The design is more contemporary, and the instruments are made from high-tech, lightweight composite materials for comfort and extra durability. It's been a great first step for us, and we intend to take design to a whole new level in the future.
Carolyn: What accessories are available with Bolero V?
Martin: EasyCall, and the DECT II phone, together with all other existing accessories, are both available with all Venture products.
Before the Venture launch last fall, we did a lot of research around connectivity. What we found is that connectivity is not yet really a key purchase criteria among the largest hearing aid purchasing demographic - people age 55 and over. However, the importance of connectivity is increasing. But when you then start to dig deeper, you see that among our target segments today, the penetration of smart phones is not very high. Amongst those using smart phones, even fewer have an iPhone.
So we then took a deliberate decision to launch a solution that is MfA, Made for All. EasyCall works with all Bluetooth-enabled phones – not just smart phones. It even works with those old little clamshell phones that are Bluetooth-enabled. You just attach it to the phone and it connects to the Phonak hearing aids delivering outstanding sound quality.
Carolyn: Thank you both for your time today. I will save my questions about CROS II, also on the Venture platform, for our next interview. Readers can check out the new Phonak Video Spotlight for a great overview of CROS II. For more information on Bolero V, CROS II and all Phonak products, please visit www.phonakpro.com or the Phonak Expo Page on AudiologyOnline.