AudiologyOnline: Let's start with the basics – what is a CROS or BiCROS system and when should it be offered to patients?
Abigail Poyser, AuD: These are solutions you can offer to patients with unilateral or asymmetrical hearing loss, when one ear cannot benefit from amplification. Recent literature estimates that 7.2% of American adults suffer from unilateral hearing loss.1 CROS/BiCROS consists of a microphone (CROS transmitter) worn on the better-hearing ear, and a receiver (hearing aid) on the poorer-hearing ear. Sounds are picked up by the CROS microphone on the unaidable ear and wirelessly sent to the hearing aid on the opposite side.
AudiologyOnline: Tell me more about the impact of unilateral hearing loss.
Abigail Poyser, AuD: There are many challenges associated with unilateral hearing loss. Audiologically, there is reduced awareness of sound, difficulty hearing in noise and reduced localization.2-4 But, don't forget about the psychosocial implications of reduced well-being, reduced quality of life and increased loneliness.5-8 At Phonak, we believe that hearing well is vital for active and healthy living, well-being and connection with loved ones. Those values shouldn't be limited to people with hearing loss in both ears!
AudiologyOnline: What are the benefits of CROS systems?
Abigail Poyser, AuD: A systematic review of CROS/BiCROS literature shows evidence of improved understanding in noisy environments9 and the ability to follow conversations wherever they are coming from.10
With the introduction of CROS P, we are able to provide these audiological benefits in addition to proven Paradise performance and rechargeability, along with universal connectivity to any Bluetooth® device.
AudiologyOnline: Is CROS P the first CROS product from Phonak?
Abigail Poyser, AuD: No, not by far! Phonak has historically led the industry with solutions for unilateral hearing loss. In the early 2000's we had an FM-based solution called CROSLink, which did the job of transmitting the sound but at the expense of additional receivers, boots and hardware added on to the BTE device. We were so excited to introduce our first true wireless CROS back in 2011. With CROS II in 2015 we added in the benefits of StereoZoom. And in 2018 we introduced CROS B-R, the first CROS device with a lithium-ion rechargeable battery. Providing these types of niche solutions is just in our DNA.
AudiologyOnline: That's an impressive history! But now it seems that other manufacturers also offer wireless CROS devices. How does CROS P compare?
Abigail Poyser, AuD: The great thing about our CROS P system is that it uses AutoSense OS 4.0 to recognize and automatically adapt to activate the right combination of programs, features and settings. Patients don't have to lift a finger to experience the full benefit of their CROS P system. This includes hands-free phone calls! Also, when combined with a 90 or 70 level hearing aid, CROS P utilizes our revolutionary binaural directional microphone called StereoZoom to further improve speech understanding in even the most challenging listening environments.
AudiologyOnline: What hearing aids is CROS P compatible with?
Abigail Poyser, AuD: CROS P is compatible with Audéo P RIC devices of a comparable battery size. CROS P-R is compatible with Audéo P-R and RT, and CROS P-13 is compatible with Audéo P-13T.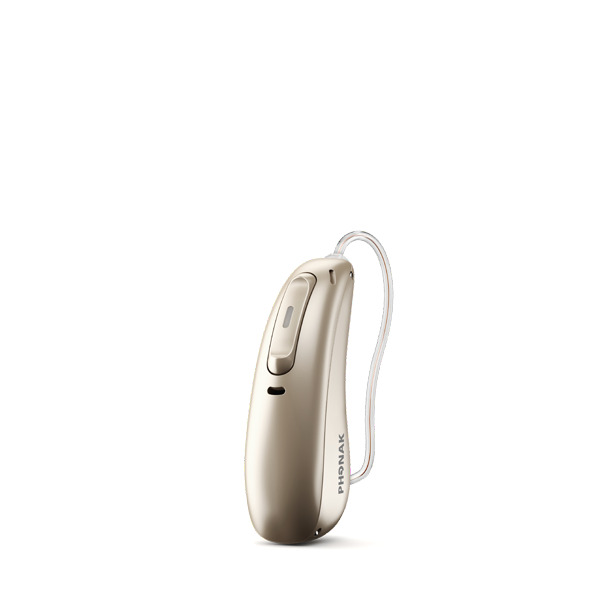 AudiologyOnline: What resources do you have to spread awareness about CROS P with patients?
Abigail Poyser, AuD: This is a great opportunity to reach out to patients wearing CROS systems that are 3, 4, 5+ years old to let them know about the exciting new technology. We have a plethora of tools to support you from database mailers to email templates and much more. Contact your Phonak representative to learn more about these opportunities.
AudiologyOnline: Where can I find out more information?
Abigail Poyser, AuD: Hearing Care Professionals can find more information on CROS by clicking here.
References:
1. Golub, J., Lin, F., Lustig, L., & Lalwani, A. (2018). Prevalence of adult unilateral hearing loss and hearing aid use in the United States. The Laryngoscope. 128 (7), 1681-1686.
2. Snapp H. A., Hoffer M. E., Liu X., Rajguru S. M. (2017a). Effectiveness in Rehabilitation of Current Wireless CROS Technology in Experienced Bone‐Anchored Implant Users. Otol Neurotol. 38 (10): 1397‐1404.
3. Lieu J.E., Karzon R.K., Ead B., Tye-Murray N. (2013.) Do audiologic characteristics predict outcomes in children with unilateral hearing loss? Otol Neurotol 34:1703–1710.
4. McKay, S. (2010). Audiological Management of children with single-sided deafness. Seminars in Hearing Vol. 31 (4).
5. Lucas, L., Roulla, K. & Kitterick, P.D. (2017). The psychological and social consequences of single-sided deafness in adulthood. International Journal of Audiology. 1-9.
6. Leterme G., Bernardeschi D., Bensemman A., Coudert C., Portal J.J., Ferrary E., Sterkers O., Vicaut E., Frachet B., Bozorg Grayeli A. (2015). Contralateral routing of signal hearing aid versus transcutaneous bone conduction in single-sided deafness. Audiology and Neurotology. 20 (4):251-60.
7. Wie O.B., Pripp A.H., Tvete O. (2010). Unilateral deafness in adults: effects on communication and social interaction. Ann Otol Rhinol Laryngol. 119: 772–781.
8. Pierzycki, R., Edmondson-Jones, M., Dawes, P., Munro, K. J., Moore, D. R., & Kitterick, P. T. (2020) Associations Between Hearing Health and Well-Being in Unilateral Hearing Impairment. Ear and Hearing.
9. When using a CROS system compared to unaided.
10. Stewart, E. & Woodward, J. (2021). Out of the (Head) Shadow: A Systematic Review of CROS/BiCROS Literature. Manuscript in press.