AudiologyOnline: Congratulations on your new product launch! Can you tell us more about your new hearing aid?

Pamela Burton, AuD: Thank you for the opportunity to introduce our new Pure® Charge&Go to your readers. Pure Charge&Go is a wireless rechargeable hearing aid that doesn't compromise on anything – it really is the whole package. It combines state-of-the-art hearing technology with our signature Own Voice Processing (OVP™) and wireless binaural processing. Pure Charge&Go also offers direct streaming connectivity with low energy drain. And you can't beat the ultimate convenience it offers wearers—with inductive rechargeability, these hearing aids will last a full day on a single charge.
AudiologyOnline:​ Is this the OVP you have introduced with the Nx platform launch?
Dr. Burton: Yes, Pure Charge&Go hearing aids are built upon Signia's proprietary Own Voice Processing feature, which allows the wearer's own voice to be detected, and then processed separately from the rest of the soundscape. This means wearers no longer must compromise between the two. The wearer is satisfied with the sound of their own voice, and we can provide the best audibility and sound quality for all the other sounds in the environment.
AudiologyOnline:​​ Do you have any clinical study results to support the benefit of OVP?
Dr. Burton:​ There are multiple independent studies highlighting the benefits of OVP on wearer satisfaction. The most recent of these shows that OVP improved the spontaneous acceptance of own voice for 80 percent of previously dissatisfied hearing aid wearers. The benefit can be seen in open, vented, and closed fittings. In fact, our own experiences show that even wearers who did not report issues with own voice quality perceive an improvement in the quality of their own voice.
AudiologyOnline:​​ Tell us more about the rechargeability aspect of Pure Charge&Go.
Dr. Burton:​ The convenience offered by Pure Charge&Go is unparalleled. With Pure Charge&Go and its built-in lithium-ion power cell, the wearer no longer need worry about changing tiny hearing aid batteries. The wearer simply places their hearing aids in the inductive charger at night, and through integrated wireless charging, their hearing aids will charge correctly every time and remain charged all day. The advanced lithium-ion cell technology used in Pure Charge&Go lasts significantly longer than traditional zinc-based rechargeable batteries, even after multiple years of use.
AudiologyOnline:​​ What about Bluetooth® connectivity?
Dr. Burton:​ The convenience of Pure Charge&Go doesn't end with rechargeability. It also allows wearers to enjoy high-quality, long-lasting stereo streaming of TV audio, music, and phone calls directly to both hearing aids without an intermediary device. Wearers can even stream up to five hours per day and still benefit from 17 hours of battery cell run time before needing to recharge, or 19 hours of run time without streaming.
AudiologyOnline:​​ Besides the Pure Charge&Go, are you launching any additional products this Spring?
Dr. Burton:​ In addition to Pure Charge&Go, we're excited to expand the Nx portfolio to address the needs of wearers whether they want more simplicity, power, or convenience. The Pure 10 Nx is a tiny 10-size receiver-in-canal (RIC) hearing aid that provides a natural listening experience and is easy to use. This makes it a great match for those who want a device with less to manage. With the new Motion 13P Nx, wearers can enjoy the most natural own voice and the versatility of a powerful behind-the-ear (BTE) hearing aid. Even our Pure 13 Nx, which delivers the longest battery life and all Signia Nx features, is now available with an optional T-coil battery door. All of these products are offered in the 7, 5, and 3 levels.
We're also introducing the CROS Pure 312 Nx transmitter device, which is compatible with all Bluetooth-enabled Nx hearing aids. It's the first CROS solution compatible with Bluetooth hearing aids, so wearers can enjoy the benefit of OVP as well as listen to music and phone calls directly from their smartphones.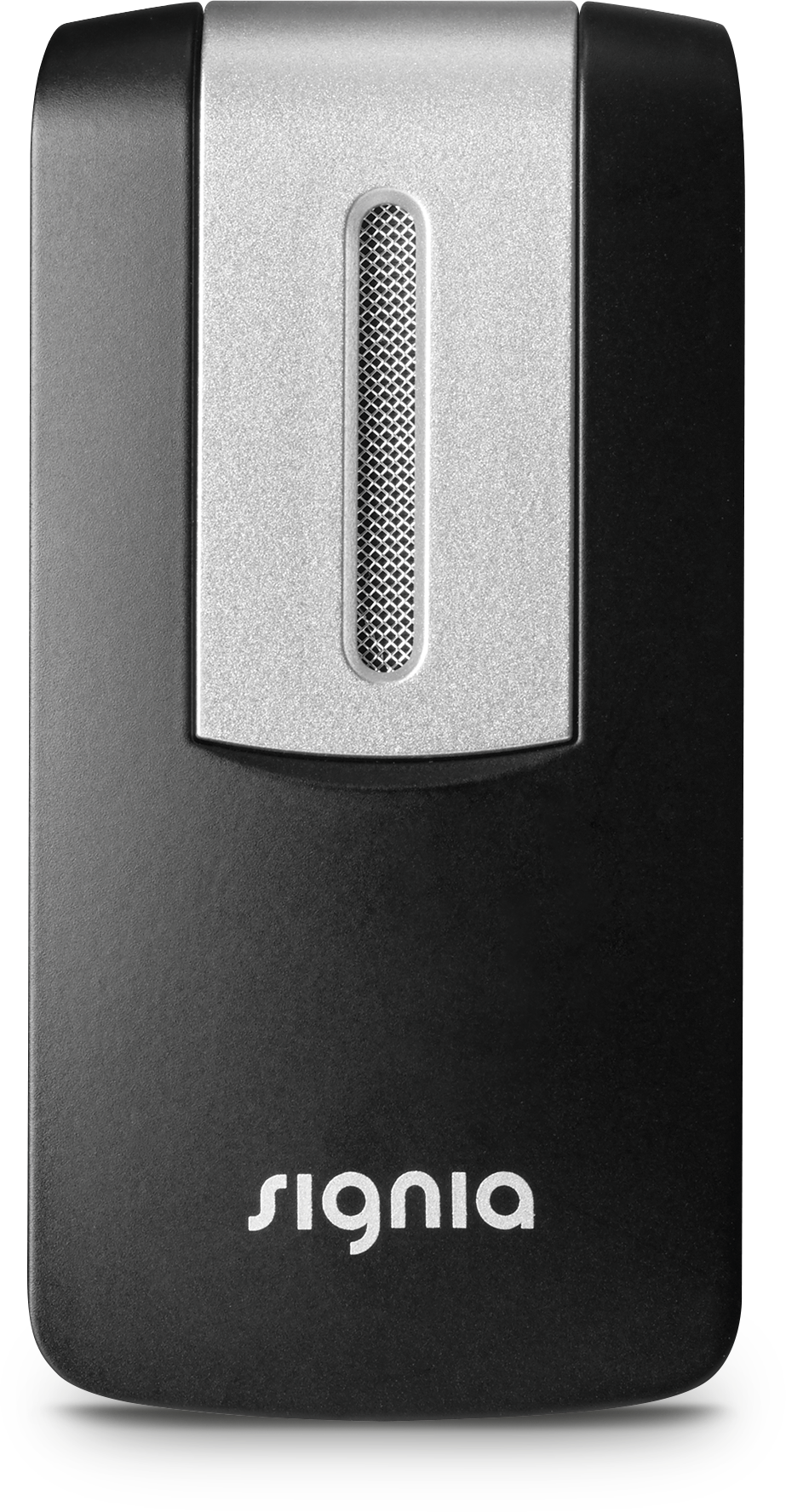 AudiologyOnline:​​ How about accessories?
Dr. Burton:​ I'm so glad you asked. Our new StreamLine Mic will allow wearers of hearing aids with Signia Nx Bluetooth technology to enjoy state-of-the-art audio streaming of phone calls, music, and more from any Bluetooth device—phone (Android or iOS), PC, or laptop. It essentially transforms your Signia Nx devices into a hands-free mobile headset. Furthermore, wearers will benefit from StreamLine Mic's remote microphone functionality. This enables wearers to stream a speaker's voice directly into their hearing aids from up to 20 meters. As a result, wearers hear the speaker as clearly as if they were standing right next to them.
AudiologyOnline:​​ When will Pure Charge&Go and the other products be available on the market?
Dr. Burton:​ Pure Charge&Go, and all the other products we've talked about will be available starting March 1. Hearing care professionals can contact their Signia representative for more information regarding the product, training opportunities, marketing, and business support.
Visit pro.signiausa.com or contact Signia Customer Care representatives at (800) 766-4500 to learn more. Additional information and more resources including CE courses can be found on the Signia Partner Page on AudiologyOnline.