AudiologyOnline: What an exciting time for Widex. Can you tell me more about the EVOKE portfolio that was introduced in May 2018?
Susan de Bondt, AuD: We launched the EVOKE with a full style lineup available. In quick review, you've got the Fusion 312 RIC, Fusion2 RIC (which is Bluetooth enabled), and Fusion 2Z which is our rechargeable option. In addition, we have the size 10 battery RIC, the Passion. We also have a full line of BTEs - the Fashion Mini and the Fashion, both of which use a 312 battery; and then the Fashion Power, which has a 13 battery. We also now have a full line of customs.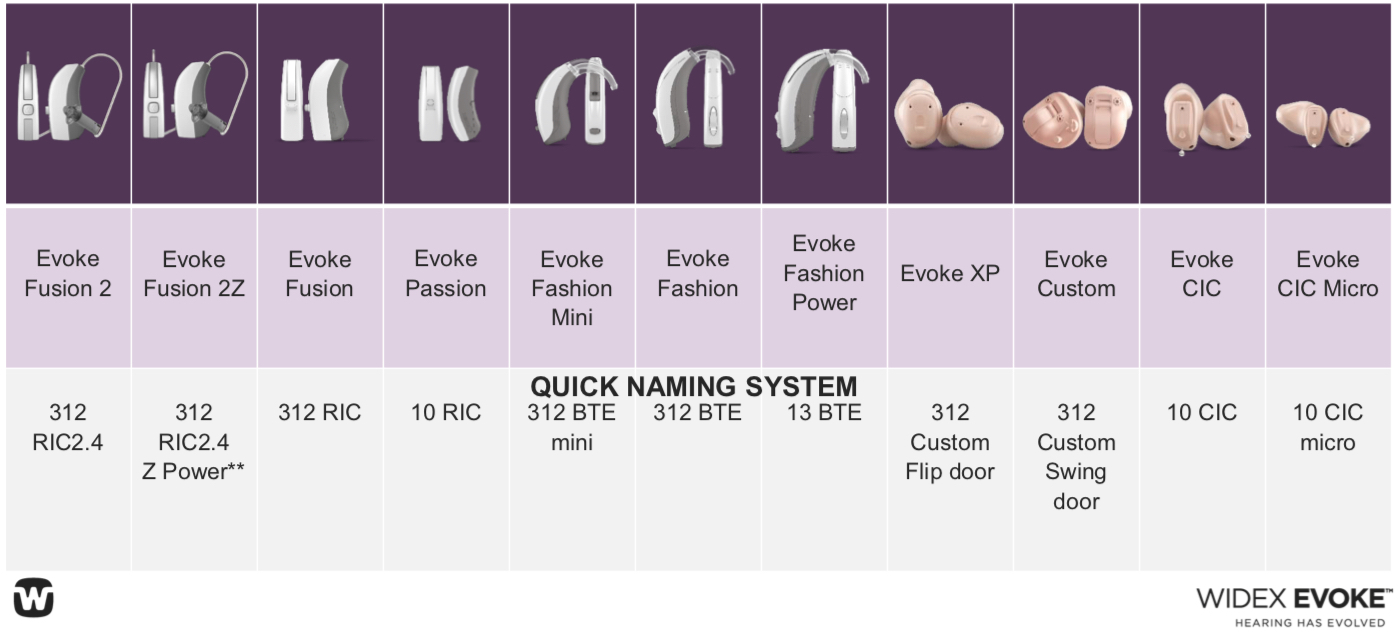 AudiologyOnline: What are the signature features of EVOKE?
Susan de Bondt, AuD: EVOKE's sound processing strategy and amplification features continue to support tinnitus relief for our patients using our ZEN solution. In addition, it offers:
108 dB True Input Technology (input from 5-113 dB SPL)
Soft level noise reduction that ensures natural sound quality and helps to minimize distortion for patients whether they're in a soft acoustic environment, or they're in a very loud, noisy restaurant. Additionally, this allows for control of the amount of access to soft or distant sounds.
Sensogram for in situ threshold testing, allowing for greater precision and accuracy. Our ZEN tones are based on results of the Sensogram input to ensure audibility of all of the tones from low frequency, mid, and up into the high-frequency range.
A high-frequency boost that allows us to have access to extended or extra gain between 6000-10,000Hz, which many patients with very high frequency tinnitus matching find beneficial.
Fluid sound technology, which has been enhanced in the EVOKE over our previous family of products. This ensures that the adaptive environmental program is not only automatic but also very precise in the way that it responds to our patients' listening environments.
EVOKE app and the TONELINK app, both of which offer patients the ability to have control on a day-to-day basis that's easy to use and appreciated by patients.

AudiologyOnline: When was Widex ZEN introduced?
Susan de Bondt, AuD: Originally released in 2008 as an industry first, Widex ZEN was a pioneer in tinnitus management. We take pride in this innovative holistic approach to hearing technology and tinnitus management.
AudiologyOnline: What are the components of Widex ZEN Therapy?
Susan de Bondt, AuD: Widex's approach to tinnitus management has been a long-standing one, which encompasses four pillars of counseling, amplification, fractal tones (ZEN) and relaxation. This approach of combining these components is very different from the way many other manufacturers have designed their plan for tinnitus relief within their hearing aids. In most cases, others focus on a masking approach, whereas Widex ZEN Therapy is designed to promote habituation. Habituation is the retraining of the brain by stimulating the auditory cortex appropriately and resetting the link between the auditory cortex and the limbic system.
AudiologyOnline: What can you share about music for tinnitus patients?
Susan de Bondt, AuD: Kochkin, Tyler, and Born (2011) found that music offered greater benefit as compared to noise generators. The two most substantial approaches were hearing aids and music. So we have incorporated a music approach in ZEN.
AudiologyOnline: How many Widex ZEN tones are there, and how do they work?
Susan de Bondt, AuD: There are five different ZEN tones to choose from. Using music as a stimulus promotes passive listening, which is integral to habituation. It's also essential in negating the auditory deprivation that we know is suspect to be causal behind many tinnitus cases. This ensures that the stimulation of the auditory cortex is happening across all frequencies. ZEN tones can be used, of course, with or without amplification running simultaneously in the background.
AudiologyOnline: What are ZEN Fractal tones?
Susan de Bondt, AuD: ZEN tones are based on fractal tones, which are patented chime-like musical tones. Essentially, it's a recognizable pattern that never repeats itself. This is important in terms of using music as a stimulus for our tinnitus patients. It needs to be something they can listen to for more extended periods of time that's not predictable, so they don't get bored with it. There are some elements of uncertainty, and they're randomly generated to ensure that there is somewhat of a predictability but without repetition of hearing the same song over and over again. The characteristics of ZEN fractal tones are optimized for relaxation. They've been shown to decrease heart rate, decrease breath rate, and allow some physiological muscle relaxation. This is important in helping to break that limbic system response to tinnitus annoyance.
AudiologyOnline: Are there other benefits of ZEN fractal tones?
Susan de Bondt, AuD: They allow passive listening while at the same time activating a whole variety of neural structures within the brain, which helps to facilitate the habituation over time, and provides a calming effect rather than an alerting effect. Most importantly, it allows us to ensure that auditory stimulation within the cortex and stress management techniques are provided simultaneously. Now, the patient doesn't necessarily have to be aware of all of that, but it is something that they can use on a day-to-day basis, because it never gets boring. And it's only there when they need it.
AudiologyOnline: What options and instruments are incorporated with ZEN?
Susan de Bondt, AuD: You have various options and adjustability of ZEN fractal tones and noise, which can be used with and without the amplification. It is affordable, flexible and wearable because it is available in all styles and price points.
AudiologyOnline: What are some recommendations for ZEN management through apps?
Susan de Bondt, AuD: The EVOKE app is fully featured and available for both iPhone and Android users. The app allows gain adjustments between the ZEN and microphone input. This sound mixer is one of the most commonly appreciated features in the EVOKE app. It allows for more control from the patient's perspective, emphasizing ZEN more than the mic input, or vice versa. Patients can also add personal programs, modify them and set up just the way they like it.
Another great option is the TONELINK app, which allows for those styles outside of a Fusion2 (i.e., Passion, BTE Fashion, standard Fusion, Custom) to have access to controls via their phone, tablet or iPad. The TONELINK app is used for program choice, muting the microphone, volume up and down, and directional focus when available.
We have also launched a ZEN app that's available for download, and this incorporates the sound files as well as relaxation exercises, a sleep exercise, and general information. Specific to the sound files, there are 12 different environmental sounds plus four additional ZEN+ environmental sound, a pink noise, and Brownian noise. Just keep in mind that these app-based ZEN programs are not based on a patient's audiogram.
AudiologyOnline: Where can providers obtain more information on ZEN?
Susan de Bondt, AuD: For more information please visit: https://www.widex.pro/en/products/tinnitus-solutions or Widex Partner Page on AudiologyOnline.
References
KochKin, S., Tyler, R., & Born, J. (2011). MarkeTrak VIII: The prevalence of tinnitus in the United States and the self-reported efficacy of various treatments. Hearing Review, 18(12), 10-27.