Carolyn Smaka: Anders, thanks for your time today. Congratulations on the launch of LiNX2 – what has the response been?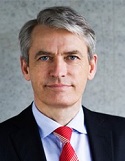 Anders Hedegaard: Thank you! We're excited to launch the fourth generation of our 2.4 GHz technology. With this launch, we are further expanding Made for iPhone (MFI) hearing solutions and enhancing our portfolio in numerous areas.
ReSound LiNX was very well received when it launched in 2014, but we also saw opportunities for improvement. Now, with ReSound LiNX2, we offer more options for more people. Even people who prefer custom solutions can experience direct sound streaming from iPhone, iPad and iPod touch without the need for an additional pendant-like device.
Audiologists now have a full selection of products to offer their patients. Since the entire product range is available with ReSound LiNX2, they can offer the benefits of this technology to more patients.
In addition, Spatial Sense™ technology provides wearers a vivid sense of space and speech in excellent sound quality, with Surround Sound™ by ReSound. And, the ReSound Smart™ app enables people to personalize their hearing experiences like never before. The result is that we are empowering the end user with this new platform.
ReSound Smart™ app enhances personalization of the hearing experience.
In just the few weeks since launching ReSound LiNX2, we have already received tremendous positive feedback. I met with our US sales team right before AudiologyNOW!, and they told me that their customers are very excited by the full product line, natural sound, speed of connectivity and other new features.
We are very proud of ReSound LiNX2. As a CEO, I'm also thrilled with the sales numbers that we are seeing, but at the end of the day, what counts is that our solutions truly make a difference for the consumer.
Carolyn: Empower is a great word that speaks to the benefits of hearing solutions in general.
Anders: It is, and yet it's not a word you often hear in our industry. Traditionally, we haven't seen consumers engaged in the hearing care process like they are today. Solutions like Made for iPhone products are exciting and empowering for today's consumer, which also makes it easier for hearing care professionals to do what they do best in recommending and fitting these solutions. This will be a continued driver for our strategy going forward.
Fundamentally, we want to narrow the gap between having hearing impairment and having normal hearing. We want to give more freedom to people who use hearing aids and we know our Smart Hearing technology can actually do that. That is one of the reasons why ReSound LiNX2 has been so important.

ReSound LiNX2 full family line.
We were thrilled to be involved in the first dialog with Apple regarding apps for the Apple Watch. We'll have the ReSound Smart app for Apple Watch available on the same day the Watch becomes available. It is great to be aligned with one of the strongest brands in the world, known for innovation and quality. We believe the ReSound Smart app for Apple Watch will make life easier for those who have it to control their hearing aids, just the way the app on a smartphone did. It goes along with our focus on empowering people.
Carolyn: That's exciting news! It's been great speaking with you Anders. Best wishes for continued success with ReSound LiNX2.
Learn more about ReSound on resound.com or the ReSound Expo Page on AudiologyOnline.