Carolyn Smaka: Hi, Eric. Tell me about Siemens fall product launch.

Eric Branda: Thanks, Carolyn. We're excited to introduce new products this fall that complete our micon portfolio. We introduced the micon platform last year, and it has been very well received. We are now expanding the portfolio and completing the product families.
We are introducing SuperPower Nitro behind-the-ear hearing aids (BTEs) and custom products at the 7mi and 3mi levels. We are also completing the Motion BTE family with 3mi-level BTEs, as well as the Insio Custom family with a 3mi level product. We are introducing the Insio invisible-in-the-canal (IIC) at 7mi, 5mi, and 3mi levels. These additions give us a complete product portfolio for micon at the 7 (premium), 5 (advanced), and 3 (standard) tiers.
We also wanted to bring some products in at the essential level, and we are pleased to introduce the Orion and Sirion families. Orion offers three new BTEs, as well as a receiver-in-the-canal (RIC) instrument and a full line of customs. Sirion has three BTEs and a full line of customs.
Carolyn: You've been busy! Let's get in to a few details, starting with the SuperPower Nitro BTE.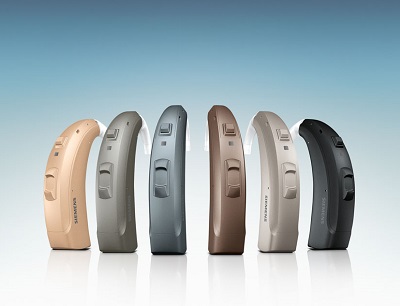 Nitro BTE family.
Eric: The Nitro BTE is a SuperPower product with a 675 battery. It provides 140 dB peak output and 82 dB peak gain. Even utilizing a 675 battery, we have made it 30% smaller than our previous Super Power instrument. This makes it much more cosmetically appealing, with a sleek, narrow neck.
It has dual on-board controls with a rocker switch and push button, and directional microphones with increased gain in the low frequencies, which is important for the losses we are fitting with these instruments. We offer wireless connectivity in the Nitro. It works with miniTek and the remote controls to bring full connectivity for the wearer. Additionally, the Nitro has frequency compression technology, which is an important programming feature to have for more severe hearing losses in the high frequencies. It has an IP67 rating, which means that it is rated for resistance to moisture, sweat, and dirt. It is a reliable and robust product.
In addition, this BTE has a T-coil. It offers full functionality for all the listening situations that a wearer may encounter. It also has a tinnitus therapy feature. There is an LED status indicator, which is good for pediatrics so that parents and teachers know when it is on and when they are changing programs. Additionally, Nitro has direct audio input (DAI) for assistive listening devices and FM systems, and the narrow neck will help fit behind smaller ears.
The Nitro completes the micon family, giving us something for every hearing loss in every style, with full-featured, best-in-class performance.
Carolyn: And you mentioned that the Nitro custom line is also expanding.
Nitro micon custom instruments.
Eric: Yes, we have Nitro custom products in the 7mi and the 3mi levels. We are getting up to 71 dB peak gain, even down through the CIC. T-coils are available in all the sizes except the CIC, and we have wireless connectivity in all the styles and sizes.
Carolyn: You are putting out full-featured devices even for high-powered instruments. "High power" and "fully-featured" have not always gone hand in hand in the past.
Eric: That's right. Now, we can offer a discrete 71 dB gain custom instrument with a wireless coil to a student, and provide direct audio input via DAI on the miniTek.
Carolyn: Let's get in to the new products at the essential performance level.
Eric: The Orion and Sirion products are at the essential performance level, but they have so much to offer. These are for people who want value but do not want to sacrifice a lot in terms of performance. Orion is a 16-channel instrument with a full range of capability throughout the S, M and P models as well as customs. We can give upwards of 75 dB of gain with the P instrument using an undamped earhook; the S has 55 dB of gain. This covers a wide range of hearing loss.
Another addition is the receiver-in-the-canal (RIC), which has four receiver levels and will fit mild to severe hearing losses. There is a T-coil in the Orion RIC, M and P models, and each product has an IP67 rating. It has superior feedback cancellation, as patients have come to expect, as well as the option of frequency compression. There is a tinnitus therapy feature in the Orion, too. As far as the exterior goes, we have the exchangeable housings in classic colors, and easy-to-use controls ranging from push buttons to rocker switch to the combination of both on the larger BTEs. We also use all of our know-how on custom technology to build these for the custom products.
Sirion steps down to 12-channel processing. It is not as sophisticated as the Orion, and there is not a RIC product available at that level, but it does offer the S, M and P models and customs and covers mild to severe losses. It offers a T-coil, an IP67 rating, feedback cancellation and a lot of fitting flexibility.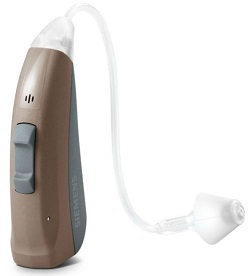 Sirion M BTE.
Carolyn: Those features are impressive at that level. Can you introduce the Motion product?
Eric: The Motion 3mi completes that platform and gives us a full complement of BTEs with the SX BTE and PX BTE, both of which are rechargeable. The M and P Motion BTEs offer direct audio input. Frequency compression and tinnitus therapy are available in all the 3mi products, the Motion included.
Carolyn: The Insio custom line now includes a 3mi level, as well as an IIC?
Eric: Yes, the 3mi level completes the Insio family. Because of the popularity of the IIC hearing aid, we thought it was important to bring Insio out in an IIC as well, which we will begin distributing later this year. It will be available in a 7, 5, and 3 level. To maintain that invisibility, we will offer it as a non-wireless product. Wireless capability with added functionality is available in the discrete CIC.
Carolyn: What version of Connexx software supports these news products?
Eric: Connexx 7.2. If you are familiar with Connexx, you will keep the same workflow and it will be an easy transition.
Carolyn: With such a deep product portfolio, how do you support the hearing aid selection process? There are so many choices for each patient.
Eric: With this product launch, we are making sure that we have the right solution for every wearer, from children to adults and from mild to severe to profound losses – every style and connectivity combination you could imagine.
To help support the hearing aid selection process, we have a few tools. We have a selection guide, which is a quick reference for the professional to see what different situations a wearer may be in and decide what products would be suitable, and we also have a Counseling Suite built into the software. The Counseling Suite looks at the hearing loss and shows you the options. It is a great way to support the professional in helping patients to understand hearing loss and select the best options in terms of hearing instruments. The Counseling Suite is always up to date with what products are available.
Carolyn: Eric, thanks for taking the time to talk with me today and best wishes with the product launch.
Eric: My pleasure!
For further information about Siemens, please visit: www.siemens.com/healthcare or the Siemens Expo Page on AudiologyOnline.