AudiologyOnline: Congratulations on your new product launch! Can you tell us more about your new hearing aid?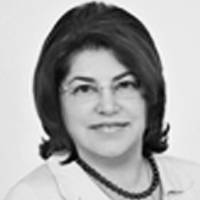 Alina Urdaneta: Thank you for giving us this opportunity to introduce our new Pure® 13 BT primax™ to your readers. It is the world's only hearing aid to allow both binaural audio exchange and direct streaming. Made for iPhone®, the combination of e2e wireless™ 3.0, TeleCare™ 2.0, and advanced Bluetooth® capabilities make Pure 13 BT the best connected hearing aid on the market. Pure 13 BT brings to providers and wearers the uncompromised fusion of leading-edge audiology, unparalleled connectivity and revolutionary patient care.
AudiologyOnline: Does Bluetooth enable the direct streaming feature?
Alina Urdaneta: Yes. The BT in the hearing aid name stands for Bluetooth, and it enables streaming from audio sources directly into the hearing aids, without an intermediary device, and with exceptionally low battery consumption. In fact, we're offering the only hearing aid with both Bluetooth direct streaming and binaural audio data exchange and processing; two functions that typically consume a lot of energy. Patients can enjoy direct streaming of phone calls, music, TV, and video conferences with excellent sound quality without worrying about battery life, while enjoying high definition binaural sound.
AudiologyOnline: There are other hearing aids on the market that also allow direct streaming. What's special about Pure 13 BT's Bluetooth capability?
Alina: First, Signia delivers direct streaming without compromising the high definition binaural sound quality that primax is known for. With primax star, the audiological technology of Pure 13 BT, wearers get better than normal hearing with less effort in challenging listening environments*. In addition, Pure 13 BT uses Bluetooth by leveraging iPhone motion sensor technology to better differentiate listening situations, and automatically adjust settings to provide a better sound experience for the wearer while moving. For example, the motion sensors detect the wearer is walking or running, and the Pure 13 BT automatically switches settings so the wearer can listen to a conversation partner to the side and be more aware of ambient sounds, like sirens, vehicles or other pedestrians. That is why we talk about 'connectivity beyond streaming'. Signia uses Bluetooth not only for direct streaming, but also to improve audiological performance and safety for the wearer.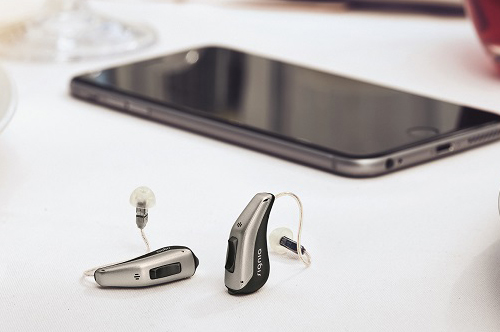 AudiologyOnline: Will the new hearing aid come with an iPhone app?
Alina: Yes. The new myControl™ App will become the command center for the Pure 13 BT. More than just a remote control for volume and sound, wearers can personalize directionality for example, and a variety of hearing aid features and via the app, such as alert signals and motion sensor sensitivity. It even serves as a 'fitness tracker' for hearing, documenting the wearer's exposure to noise throughout the day.
AudiologyOnline: Tell us about TeleCare 2.0.
Alina: TeleCare is our highly successful telehealth app, which bring patients and their hearing care professionals closer than ever before. It is especially relevant and useful during that critical initial acclimatization period when new wearers are adapting to their new hearing aids.
Patients and their providers can communicate via the myHearing App using text and voice calls through the TeleCare portal. Patients are encouraged to carry out listening exercises and rate satisfaction with their hearing aids daily, and the hearing care provider can monitor their patient's progress. Now with TeleCare 2.0, we've provided an even more powerful tool that allows professionals to remotely modify the hearing aid frequency response in four bands based on patient feedback. The new four-band equalizer, allows for remote binaural fine-tuning to each program to all primax star hearing instruments. The patient can immediately accept and try out the new settings, all via the app without a trip to the office.
For Pure 13 BT, TeleCare 2.0, captures and collects detailed information about usage and patients' behavior securely in real-time through the wearer's "myHearing" app. This smart data allows hearing care professionals to better assess the wearer's behaviors and needs, draw fact-based conclusions about the wearers' level of satisfaction, and glean which hearing situations and programs require additional adjustments.
With TeleCare 2.0 the hearing aid wearer gets care and concern from the provider, gets questions answered faster, saves time, maintains motivation, and receives customized acclimatization adjustments based their individual usage and behavior. Questions do not have to wait until the next visit to the hearing care professional. The level of acceptance of the hearing aids increases significantly, especially in difficult hearing situations – promoting patient satisfaction.
AudiologyOnline: What about your existing primax hearing aids? Will they be getting an upgrade, too?
Alina: Our new primax platform – primax star – enables all primax hearing aid to be compatible with TeleCare 2.0 and its 4-band equalizer.
AudiologyOnline: Is your fitting software getting any new features?
Alina: Yes. Connexx 8.3 will give you more personalized fittings than ever before. The new Personal Hearing Profiles are generated based on a questionnaire and a tone test that assess the patient's cognitive functions and preferences. This information, combined with audiogram data, make our First Fit more accurate and personalized than ever before. The SmartOptimizer™ tracks program usage together with volume to suggest hearing aid settings changes. This enables intelligent fine-tuning adjustments based on actual wearer usage, and can be applied with a simple mouse click. Finally, the new Performance Guide lets you recommend optimal performance levels based on the analysis of situational data logged by the hearing aids and the patient's preferences and priorities, such as music, restaurant, and social events.
AudiologyOnline: When will Pure BT 13 be available on the market?
Alina: The Pure 13 BT is being announced on March 24 and will be featured at AudiologyNow! 2017 where it can be pre-ordered for shipping on May 1.

AudiologyOnline: Where can our readers find more information about Signia Pure 13 BT primax and your Spring launch?
Alina: We invite everyone to find out more about our new products by visiting www.signiausa.com/ProPure13 And as always, our Customer Care representatives are available to answer any questions at (800) 766-4500.