AudiologyOnline: Congratulations on launching this cool new product called Styletto. Can you tell us what makes Styletto so unique?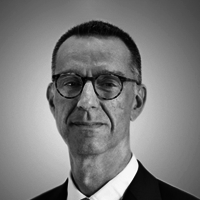 Eric Timm: Certainly. Styletto is a cutting-edge hearing aid designed to be a stylish accessory that enables your patients to go about their day with confidence and pride in how they look and how well they hear. It is a brand-new form factor that we call the Slim-RIC (Slim Receiver-in-Canal), which will create an opportunity for hearing care professionals to reach patients who otherwise would not wear hearing aids.
AudiologyOnline: Styletto looks very different from the traditional RIC device. Can you tell us the driving force behind Signia developing this product?
Eric Timm: Studies show that despite continued efforts to destigmatize hearing aids over the years, 9 out of 10 people with mild to moderate hearing loss still don't wear them. One reason is that many people envision hearing aids as the big, bulky devices of the past, and they fear wearing them will make others perceive them as old or infirm.
The current hearing aid options available often fail to convert those skeptical about using them. We recognized the need to rethink what a hearing aid should be entirely to attract patients who have rejected wearing hearing aids in the past. This is how we arrived at Styletto's unique design.
AudiologyOnline: Sounds like you have a very specific target group for Styletto in mind. How do you know it will attract new patients?
Eric Timm: I'm so glad you asked. We have conducted extensive market research, including a survey of 500 US consumers with hearing loss, to assess the potential market impact of Styletto.* When our participants were presented with a traditional RIC, a BTE, or no hearing aid at all, nearly a quarter selected the "no hearing aid" option. However, when Styletto was included as an option, 9 out of 10 people selected a hearing aid—and the majority chose Styletto. So, this finding makes us confident in Styletto's ability to attract new patients and convert them into proud hearing aid wearers.
AudiologyOnline: What were other findings in your study?
Eric Timm: Another part of the study showed how just having Styletto on display at a hearing practice can influence more patients to come through the door. We showed participants two pictures of a hearing practice display that were identical except one included Styletto as a hearing aid option. When asked which of the two offices they would visit, 84 percent said they would visit the office that included Styletto in their display. This is proof that Styletto can differentiate a hearing care practice and attract new patients who would not have considered hearing aids before.
AudiologyOnline: With this slim design, what kind of battery or power cell does Styletto use?
Eric Timm: Instead of the industry's conventional round batteries, Styletto uses a unique, pin-shaped rechargeable lithium-ion battery. In addition to allowing for our sleek, Slim-RIC design, this new power solution also supports an active wearer's on-the-go lifestyle. Styletto comes with a slim, portable charging case, which also doubles as a power bank. Once fully charged, the case can power Styletto for four days of use, free of plugs or cables. For the patient, this means convenient handling and reliability during weekend getaways or business trips.
AudiologyOnline: Tell us about the technology inside Styletto.
Eric Timm: Despite the groundbreaking new design, Styletto doesn't skimp on features. It includes the latest advancements from the proven Signia Nx platform, such as energy efficiency and Own Voice Processing (OVP™) for a natural sounding own voice. The ultra HD e2e® binaural link provides clear speech understanding even in loud environments, enhanced spatial awareness, and offers an extended dynamic range. So, it's a device that patients will be proud to wear, and it has the features that will allow them to hear clearly in every situation.
AudiologyOnline: When will Styletto be available on the market?
Eric Timm: Styletto can be ordered starting September 4. And it will be available in three elegant color schemes: Dark Granite, Cosmic Blue, and Snow White.
AudiologyOnline: Where can our readers find more information about Signia Styletto?
Eric Timm: We invite everyone to find out more about Styletto by visiting www.pro.signiausa.com/styletto and as always, our Customer Care representatives are available to answer any questions at (800) 766-4500. Additional information and more resources including CE courses can be found on the Signia Partner Page on AudiologyOnline.
References
Haakvort, C. & Burton, P. (2018). Increasing Style, Reducing Stigma: The Styletto Solution. Signia Whitepaper.