Carolyn Smaka: Alina and Eric, thank you for your time today. Tell me about the new strategic partnership that was just announced.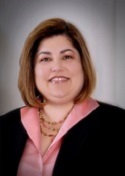 Alina Urdaneta: Thank you for the opportunity, Carolyn. We're excited to announce that Siemens is entering a strategic partnership and an investment agreement with a company called audibene. audibene is the largest Internet portal dedicated to hearing care case management in Europe. They are based in Berlin; they have about 180 employees and actually three dogs in the office. [laughter]
It's a very vibrant company that is focused on the online channel, specifically targeting Baby Boomers, who are currently an underserved section of the market. The average age of the people that buy from audibene is 61 years old. audibene is keen on addressing the desire of this demographic to look for information online before they make a major purchase.
Their value proposition is in their digital media, search engine marketing, and social media reach that draws people to their site. They provide excellent online content on hearing loss and hearing products. They have a very robust program with knowledgeable people answering the phone, including sales consultants, audiologists and hearing care professionals. It's a good combination of sales and clinical consulting, with the objective of referring consumers to one of the 800 providers in their network.
It's a company that's only two and a half years old and they have managed to create the largest network of its kind in Europe. Their providers are independent hearing care professionals that consult with patients, conduct hearing testing, determine hearing loss and select the right hearing aids for the patients. audibene pays the professional a fitting fee, and it's very much a process of several touch points with the professional and the patient to ensure that it's a wonderful experience for both sides. The idea is to expand this model to other markets globally. From a US perspective, we see this as a fantastic opportunity to drive leads to independent providers and to grow the market, especially from the underserved Baby Boomer segment.
Carolyn: Yes, we keep hearing that the Boomers are coming, but the market data doesn't seem to be showing an impact yet.
Alina: That's right. So we're excited that just two months shy of being part of Siemens, we already have announced this major acquisition with a goal to benefit professionals and this segment of the market, early in their journey.
Carolyn: What's new on the technology side?
Alina: From a technology perspective, we are showcasing the binax platform, which has enabled us to make the claim with clinical proof that people wearing binax can hear better than people without hearing loss in demanding listening environments like restaurants, cocktail parties and such. We recently extended the platform to include a whole line of BTEs and custom products. We expect the same audiological performance on the BTEs and all of the custom products with two microphones, as found in the two independent clinical studies that were conducted with the RIC models.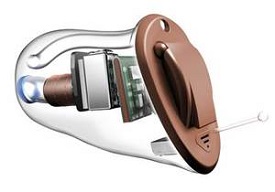 Insio binax CIC.
The other big news is that even our CICs and IICs with one microphone, by virtue of having an exchange of audio signals and binaural processing, now offer automatic and adaptive directionality. Eric will go into more details about this feature, that we call binaural OneMic directionality.
We also have some expanded features, such as additional tinnitus therapies and streaming capabilities for EasyTek and our wireless accessories. People that have existing binax products can add these new features simply by visiting their hearing care professional and having their hearing instruments programmed accordingly.
In addition, binax was first introduced in the premium and advanced technology levels, and they are now available at the standard level that we call the 300 or 3bx level.
Carolyn: Thanks Alina! Eric, tell me more about binaural OneMic directionality. How exactly does that work?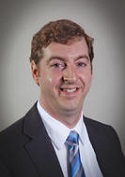 Eric Branda: We based this technology on what is already happening with two-microphone directional binax RICs. By transmitting audio signals between a pair of two-microphone binax instruments, we can look at information from all four microphones at once on the left and right sides, like a virtual eight-mic array.
On a single-microphone CIC, we'll take information from both the left and the right microphone, and look at that on both sides. So if I have two microphones to work with on each side, I've got a virtual four-mic array. By combining this processing, we now have CICs and IICs with directionality.
In terms of measurements, we use an S-AIDI (sequential AIDI) rather than traditional AIDI. The S-AIDI on binax CICs is about 5.1 dB. This closely correlates to a directivity index (DI) measurement, so you see a nice improvement over an omnidirectional situation. And, we're taking advantage of pinna effect plus the binaural processing.
With a binaural set of two-microphone binax custom instruments, with the pinna effect, we get an S-AIDI of 10.5 compared to the RICs with a 9.2. So we can anticipate good performance for wearers. As you know, one of the biggest complaints for the hearing aid wearer is performance in noise. Another thing that's important to wearers is small, discrete instruments, which traditionally meant a trade-off in terms of performance in noise. With binax, we can now provide good performance in noise with small, attractive instruments.
And, we can now make these instruments even smaller due to mechanical design changes.
Carolyn: What kind of changes?
Eric: CICs have been a challenge for manufacturers due to limited real estate for the microphone, windscreen, chip, vent, battery and other components.
These things have generally been crowded up around the faceplate end of CIC instruments. At the other end is only the receiver, so we turned the receiver and moved the wireless coil. We can also now calculate the optimal vent size for the performance that we need, and creatively build instruments that are smaller than our previous generation more than 30% of the time.
Carolyn: That sounds like a considerable difference. Tell me about the binax BTE models.
Eric: We're introducing three new binax Motion BTEs: SX, SA, and PX. The SX and the SA models have completely new housing designs. They have 60 dB peak gain and utilize a size 13 battery, but the housing design is comparable to what you would expect with a smaller 312 battery case – they're that small.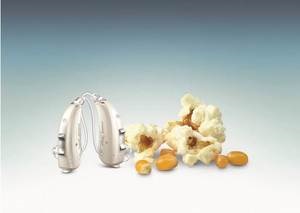 Motion BTE.
All of the BTEs still have the narrow directionality and all of the processing of binax. The SX offers rechargeability, and the SA uses the same housing, and has direct audio input capability and no rechargeability. Motion PX binax uses the same proven housing as the micon product, and has a 75 dB peak gain and a size 13 battery, along with binax processing. We've maintained low power consumption in these models, and we continue to prioritize the performance for the wearer.
I'm excited about the fact that we are expanding the features to the already existing product line by offering Adaptive Streaming and new tinnitus options. We've got our performance levels, but now anyone who has a Pure 7bx, for example, can go to their hearing care professional, have a quick and easy software update in the office, and access these new features.
Carolyn: What is Adaptive Streaming?
Eric: With Adaptive streaming using the EasyTek, the streamed volume automatically adjusts to the changing background noise so that speech is always audible.
Motion easyTek App.
Carolyn: Is that like the feature in car stereos, where the volume adjusts based on the background noise?
Eric: Yes, it's the same concept.
Carolyn: Tell me about the new tinnitus options.
Eric: We know that each patient with tinnitus is unique, and that it is important to have individualized therapy. Studies show that a lot of people prefer nature-type sounds for sound therapy. So, we've added four new tinnitus therapy signals inspired by the ocean. This gives professionals a good variety of signals to work with to customize sound therapy for their patients with tinnitus.
Carolyn: Thanks for the details on the technology, Eric. Lastly, I wanted to mention what an honor it was to have Shilo Harris at AudiologyNOW! His address to the General Assembly sponsored by Siemens was indeed a highlight of the convention.
Alina: Yes, I couldn't agree more. Shilo is a Texan native, his father was in the army, and his grandfather was also in the army. In 2004, he was deployed to Iraq. In February 2007, he was with other soldiers in a Humvee doing a reconnaissance mission and they hit a roadside bomb, which was devastating. Three of them died during the attack. Shilo and the driver survived. Shilo went through a very grueling recovery experience, including being put in a medically-induced coma for several weeks so they could treat burns over much of his body.
In his book Steel Will he talks about how he went to hell and back to become the person and motivational speaker that he is today. He talks about his experience during the attack, right after the attack, and what he and his family went through during his recovery over several years. He talks about his faith and how he believes God had a plan for him, and so he is sharing his story. He has hearing loss and is trying new technology with Siemens through the Veteran's Administration. Coming to AudiologyNOW! he says, was near and dear to his heart as he understands the impact of hearing loss. As Siemens sponsored the General Assembly, he was gracious to sign books in our booth.
Carolyn: I don't think there was a dry eye there. Thanks to Siemens for helping to share his inspirational story.
Alina and Eric, I appreciate your time today in detailing the latest technology and initiatives from Siemens.
Further information can be found at https://usa.bestsoundtechnology.com/ or at the Siemens Expo Page on AudiologyOnline.