AudiologyOnline: Great to speak with you, Erin. Let's discuss Sonic's current hearing aid product portfolio, starting with the premium product family, Celebrate.
Erin Reichert: Thank you. Sonic's products are all built on the Speech Variable Processing Technology Platform, to provide real benefits for wearers. These include wireless connectivity, binaural processing and great sound quality.
Celebrate was designed to help make the situations that patients encounter in everyday life more meaningful and memorable. Celebrate focuses on speech, and has the flexibility to adapt to more listening environments.
It accomplishes this through the combination of a few key features working together. Speech Variable Processing preserves the soft nuances in spoken words for better understanding. Speech Priority Noise Reduction works to separate speech from surrounding noise. Speech Priority Volume Control enhances speech frequencies when changing the volume, and the new Reverb Reduction helps control reverberation present in large spaces such as churches, cafeterias, auditoriums, etc.
Celebrate's Environment Classification automatically analyzes incoming sounds binaurally on models with binaural capability, and makes the necessary adjustments to the signal processing for the situation. It includes an Airplane Environment to address the challenge of hearing on a noisy airplane, and also allows the professional to configure a Custom Environment tailored to each patient's specific needs.
Of course, several other state-of-the-art features such as the latest directional microphone technology, Frequency Transfer, Adaptive Feedback Canceller, Data Logging and Data Learning, and others, all contribute to an exceptional listening experience.
AudiologyOnline: What styles are available with Celebrate?
Erin: Celebrate is available in two technology levels – Celebrate100 and Celebrate80 - and a full range of styles, so that it can be fit for mild to severe-to-profound hearing losses. The models include a miniBTE (Behind the Ear), Power BTE, a miniRITE (Receiver In the Ear), and all custom models from ITE (In the Ear) down to an IIC (Invisible in the Canal).
A full line of accessories enables wireless connectivity down to a CIC, and delivers a hassle-free listening experience. The Sonic Product Guide provides at-a-glance charts detailing all of the models, features and options, making it easy to select the right solution for each patient.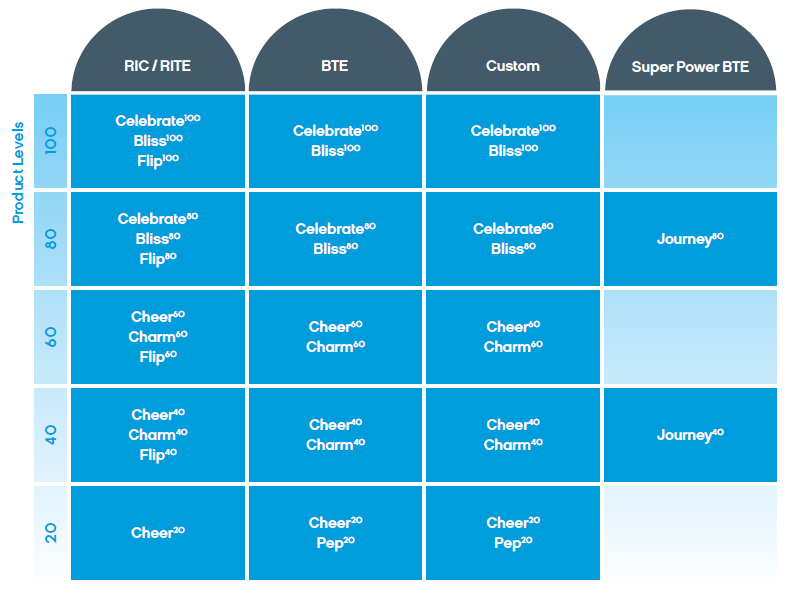 Sonic product line-up.
AudiologyOnline: Moving on to Cheer – it looks like a comprehensive product line as well.
Erin: Yes, Cheer is available in three technology levels and a variety of styles including four BTE models, and wide range of custom options from ITE to IIC.
AudiologyOnline: What differentiates Cheer from Celebrate?
Erin: With Celebrate you will find our premium features offered with a greater number of control states for greater fitting flexibility. In addition, you will have access to more listening environment options, and the option to select our impressive Speech Priority Volume Control, which turns up speech frequencies more than frequencies less important for speech. With Cheer, many of our premium and adaptive features are available however with less granularity of control making it perfect for that price conscious patient. Cheer is our first product line that offers two amplification strategies – one that focuses on fast phonemic compression and one that focuses on envelope cues of the speech signal. All Celebrate 100|80 and Cheer 60|40|20 models offer the full array of wireless connectivity options and accessories, so we've got you covered with both families where wireless is concerned.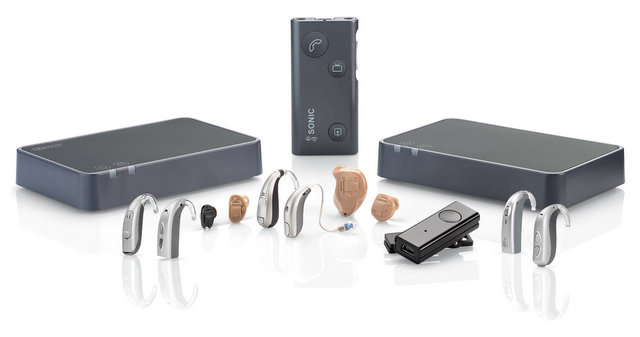 Celebrate, Cheer and Journey models, with accessories.
AudiologyOnline: It is great to see the focus on the needs of the super power users with the Journey BTEs. Tell me about those.
Erin: Built on the Speech Variable Processing Platform to make speech a priority, Journey also includes our Frequency Transfer frequency lowering feature. This ensures that speech is optimized and is as accessible as possible to meet the needs of wearers with severe to profound hearing loss. An analog volume control and an LED indicator are additional features of Journey that are required when fitting this group of wearers. Journey is available in two technology levels and includes standard wireless.
AudiologyOnline: The last products I'd like to touch on is the standard, or instant fit, solutions. With all the great options we discussed today, how do these products fit in?
Erin: We know that only 1 in 10 people with milder hearing losses choose professional treatment. If someone perceives a slight problem, they may not want to invest a lot of time and resources into the solution. These products help professionals to serve these patients with a tiny, great fitting, easy-to-wear stock solution that can be custom programmed. The Standard IIC contains just the right balance of features, while the Celebrate CICW contains many first-rate features including built-in wireless capabilities. These in-demand features are not found in other comparably priced devices.
Invisible-in-the-Canal (IIC) model.
AudiologyOnline: In past interviews, we've discussed Sonic's 4S Foundation as the basis for Sonic's products and business practices. Is it still applicable today?
Erin: Absolutely! The 4S Foundation stands for: Sound that's natural, Speech understanding in noise, Simplicity in everything we do, and Style that stands out. As our products and our business continue to evolve, this foundation consistently serves as the basis for our mission in providing fresh, real solutions for our partners and for patients. You'll see it throughout all of our products, in our software, and in all of our policies and practices.
AudiologyOnline: Thank you Erin! For more information, please visit www.sonici.com or the Sonic Expo Page on AudiologyOnline, or contact Sonic at 888.423.7834.