Carolyn Smaka: Congratulations on Unitron's 50th anniversary! Tell me about how the company started.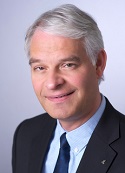 Jan Metzdorff: It would be my pleasure. The company was founded in 1964 by three German immigrants living in Newfoundland - Fred Stork, Rolf Strothmann, and Rolf Dohmer. At that time, they were working with electronics of different as owners of a television and radio sales and service business they called the company Universal Technologies, which was later abbreviated to Unitron.
They saw a market opportunity with hearing aids as a natural extension of their expertise with other electronics. It was a new industry, and there were no hearing aid manufacturers in Canada. By trial and error, they built their first hearing aids with various electronic components. It was a traditional "garage company "or" basement company" as they say, meaning that a few visionary people started it from the bare bones. They showed their hearing aids at trade shows, received feedback, and little by little improved the devices. It took a few years to establish a business model and a stable product on which to build the business. They moved the company to Kitchener Ontario, which was more populous and also had a big German population where they felt right at home. The rest, as they say, is history. We celebrated our 50th anniversary last month, and we were honored to have founding partner Rolf Dohmer with us to attend the festivities.
Carolyn: There have obviously been many changes and highlights throughout the years. What are some that come to mind?
Jan: From the technology side, as you know, through the '70s and '80s, we used analog technology. The '80s brought a lot of development in custom devices, programmable hearing aids, and power devices, which solidified Unitron's position in the market. Many people remember the Unitron US80 Super Power BTE, which was the instrument of choice for severe and profound hearing losses for many years.
In the 90s, we were on the forefront of developing the first digital chip. We called it the Toccata chip, which caught the attention of the entire market.
Digital technology was a big game changer in the industry. Moving from analog to digital was a challenge for many companies, from both a competency and resource perspective. The digital transition was expensive and difficult. As a result, many companies came together to pool their resources and so we saw consolidation – the industry went from 30 to 40 hearing aid companies down to about 7 or 8 big players like we have today. Unitron acquired Lori Labs and Argosy, and Sonova later acquired Unitron.
Today, Unitron is still based in Kitchener, Ontario. We have close to 200 people in our corporate office, with more than half of them working in research and development. We are part of the Sonova group, but we have our own R&D capabilities, we develop our own audiologic rationales, and we develop our own algorithms and features, which are quite unique and innovative.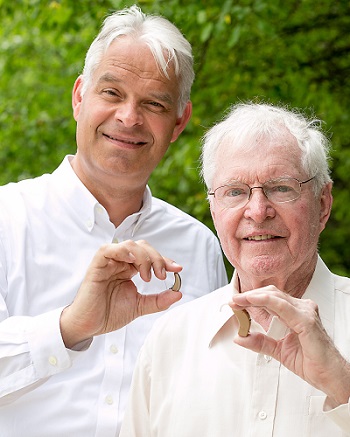 Unitron President Jan Metzdorff holding Moxi Kiss RIC (left) with Unitron founding partner Rolf Dohmer holding a 205A BTE from 1966 (right).
Carolyn: What are a few examples of innovation from your current portfolio?
Jan: Let me first start with SmartFocus™ which is a powerful algorithm that easily and simultaneously adjust multiple adaptive parameters in our hearing instruments to provide a wearer with comfort and clarity across a variety of listening conditions. SmartFocus brings together many features much like a conductor brings together the many instruments in an orchestra. SpeechZone 2 is another great example of innovation. SpeechZone 2, made possible by binaural spatial processing, locates speech within 360 degrees of the wearer. It quickly determines if speech is coming from the front, back, left or right side of the listener and automatically selects the optimal microphone strategy to ensure the best possible speech understanding in noise. It is quite unique and at the very forefront of directional technology today. In addition, our Flex solution enables professionals to easily offer new patients the ability to trial any technology level, or upgrade a hearing aid that has been sold to a higher technology level. In addition to the patient benefits, Flex helps hearing care professionals differentiate themselves from the more aggressive retailers. Unitron has a long history of unique technology developments like these that gives us our own identity and value proposition in the marketplace.
One of our strengths that make these developments possible is the collaboration between the audiology team and the R&D team. They work closely together to bring forth features that have tangible benefits for people with hearing loss. There is a grounding that happens in the R&D process when you have audiologists in the room; they keep us focused on whether new features or technologies will really make a difference to the people who will be using them.
Carolyn: Has anything remained constant since Unitron's early days?
Jan: When the company was founded, there was a feeling of family among the founders that carried through to relationships with their customers. Over the years this has been maintained and is still a big part of how we operate at Unitron. Our company culture includes being a personable and service-oriented organization. A few years ago we conducted a strategic review. We surveyed our customers to see what they considered our strengths and weaknesses, and why they chose to do business with us. Our service orientation, friendliness, and the way we treat the hearing care professionals we do business with resonated very strongly with them.
This became a key pillar of what we call our customer experience strategy. At Unitron, we spend an equal amount of time and resources on developing the people side of the company as we do on the technology side. We value relationships with our customers and look to them for feedback in our products and programs. We invest in our internal people as well. People like to come to work here, and that comes through in how they do their work everyday. I believe this has been true since the early days of Unitron, and continues to be important as we move forward.
Unitron founding partners in the early days.
Carolyn: What can professionals expect to see coming from Unitron, in terms of technology development?
Jan: Unitron will continue to focus on two things: developing strong relationships with our customers and product development. We have to continue to remain competitive with our offerings, and at the same time ensure that our customers have success in their businesses and with their patients.
As an industry, we still see a huge barrier for people to accept and use hearing aids. The penetration rate of hearing aids among people who need them is very low in North America. On the technology side, our product development will continue to draw upon a few very basic philosophies. First of all, when you see a hearing aid, you should be positively surprised by the design, size, and the overall look and feel. We have created a new design language for our products that we will continue to build upon to ensure fresh and contemporary designs. Second, when a consumer puts a hearing aid in his or her ear, it should be very comfortable, and should sound very good. Sound quality is important to us. That may seem obvious, but in reality there is a risk that advanced signal processing algorithms may result in a trade off in sound quality. At Unitron, we will continue to ensure that we have the latest and best technology to help in even the most difficult listening situations while maintaining an excellent sound quality.
We will also continue to enhance our Flex solution, which helps break down barriers for people who are reluctant to try hearing aids. Flex:trial gives consumers the opportunity to try hearing aids risk-free for a week or two with no obligation or cost. And it provides our hearing healthcare providers to easily offer a service differentiator in a competitive marketplace.
Carolyn: You also mentioned a focus on developing strong relationships with customers. Can you expand on that?
Jan: Yes, when I refer to continuing to develop strong relationships with our customers, I mean to not only be a company they like doing business with, but one that truly understands what they will need to succeed today and into the future. We appreciate the changing world they are operating in, particularly the independent healthcare provider, and they can not only expect great products to fit, but services that will help them adapt their business processes and sales and marketing approach to ensure differentiation in the markets they serve.
Unitron has experienced wonderful growth in these past few years, thanks in part to the growth we have seen in North America. We will continue to invest in resources to support and grow this important market.
Just as Unitron founding partner Rolf Dohmer celebrated our 50th anniversary with us last month, I hope to get invited back to Unitron in 50 years to celebrate our 100-year anniversary.
[laughter]
Carolyn: I'll be sure to contact you for an interview at that time, too. Kidding aside, congratulations on this milestone and thank you for talking with me today.
For more information, please visit unitron.com or the Unitron Expo Page on AudiologyOnline.