Carolyn Smaka: Welcome, Cynthia! Tell me about how the Vestibular Disorders Association (VEDA) got started. When and by whom was it founded?
Cynthia Ryan: In 1983, a group of vestibular patients and professionals established a support group in Portland, Oregon. Their goals included to collect and disseminate information about vestibular disorders and related topics; to educate the public and healthcare professionals about vestibular disorders and their effects, and to establish and nurture a support network for people and families affected by dizziness and balance disorders.
In 1989 this group incorporated into a non-profit as Vestibular Disorders Association (VEDA).
Carolyn: What are VEDA's goals/missions today?
Cynthia: VEDA's mission is to inform, support and advocate for the vestibular community. We envision a global community where vestibular disorders are widely recognized, rapidly diagnosed, and effectively treated.
Our primary goal is to reduce diagnosis times and pre-diagnosis doctor visits for vestibular patients while improving treatment effectiveness. We do this by empowering patients with information that helps them understand their condition, validation that they are not alone in their struggle, and support to help them cope with the everyday challenges of living with a vestibular disorder.
We are collecting data that describes the vestibular patient experience and using that data to advocate for better training for medical professionals and tools that help them diagnose and treat vestibular patients more effectively.
Our key strategic goals include:
Community - To build a large & influential community of patient and professional members, as well as family and caregivers, who are engaged and motivated to help remove barriers to reducing diagnosis times and increasing treatment effectiveness.
Advocacy - Become an influential advocate for improved vestibular patient diagnosis, treatment & support.
Partnerships - Form alliances with a range of organizations to increase VEDA's impact, speed results & expand resources.
VEDA's leadership includes vestibular patients, professionals, and family members. We have a small staff of 3.5 FTE, an active governing board of directors, a medical advisory board with vestibular specialists who are top in their field, as well as committees, volunteers, and ambassadors who help us achieve our goals.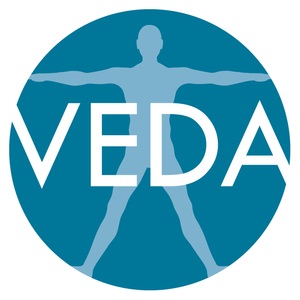 As the executive director, my background includes extensive experience in finance and nonprofit management. My mother has lived with Meniere's disease for over 30 years, so I also bring a deep personal connection to VEDA's mission.
Our board president, Sheelah Woodhouse, is a certified Vestibular Physiotherapist and National Director of Vestibular Rehabilitation with LifeMark and Centric Health, with locations across Calgary, Canada. Sheelah brings a wealth of knowledge about vestibular rehabilitation therapy combined with the business savvy of an entrepreneur, and a passion for educating the public, medical community and insurance industry about the assessment and treatment of those with vestibular disorders.
Tony Staser is VEDA's development director. His previous work experience includes the American Heart Association and the Ronald McDonald House Charities. Tony has a gift for bringing people together in collaborative efforts. He draws his inspiration from this mother, who suffers from BPPV.
Carolyn: What are the benefits of joining VEDA for audiologists?
Cynthia: VEDA connects audiologists to vestibular patients. One benefit of VEDA membership is a customizable listing in our popular online provider directory. Professional members collaborate with other vestibular healthcare providers from multiple specialties through our online forum. Other benefits include cobranded educational publications for your patients, access to trainings and conferences, the opportunity to publish articles on our website, and a subscription to our quarterly newsletter, On the Level, with case studies, patient spotlights, research updates, and more.
Carolyn: Very few audiologists specialize only in vestibular assessment/treatment. Does VEDA offer benefits for audiologists who only occasionally perform vestibular testing?
Cynthia: Yes. Vestibular disorders can be difficult to diagnose, especially in complex patients with comorbid conditions. If vestibular patients are not a significant part of your practice, you can still benefit from access to our free educational publications, members' forum, and referral directory.
Carolyn: What have been some of VEDA's key milestones or accomplishments?
Cynthia: VEDA has over 70 peer-reviewed educational publications covering vestibular disorders, diagnostic and treatment options, coping strategies, and more. VEDA's annual website visitors have increased from a little over 600,000 in 2012 to almost 3 million in 2014. This is a testament to the resources and benefits we offer, and the need there is for this type of information. We have seen a similar increase in our Facebook followers, which currently total more than 10,000.
VEDA's signature event, Balance Awareness Week, which takes place in September, reached over 250,000 people in 2014 through social media alone, and millions through worldwide media coverage.
Carolyn: That's impressive. What are VEDA's future goals or directions?
Cynthia: VEDA is working on developing triage protocols for primary care providers to help them differentiate between vestibular and non-vestibular forms of dizziness so they can refer patients to the appropriate specialist.
We are continually enhancing our educational resources with new publications, infographics, videos, and webinars. In 2015, VEDA is focusing on balance and aging/falls prevention, as well as concussion-related vestibular dysfunction.
Always at the forefront of VEDA's efforts is increasing awareness about vestibular disorders. We will be initiating global initiatives that connect patients experiencing vestibular symptoms with information, tools, and hope.
Some of VEDA's long-term goals are to lobby for increased funding for vestibular research from the National Institutes of Health, and better insurance coverage for vestibular testing and treatment.
Carolyn: What are the barriers for people seeking help for vestibular disorders?
Cynthia: The key barriers to reducing diagnosis times for vestibular patients are lack of awareness among the public and lack of knowledge within the medical community.
Because vestibular disorders are "invisible" – i.e. symptoms are not physically obvious to the observer – they are often misunderstood, even to the extent that patients are accused of malingering or intoxication. As a result, vestibular patients are further isolated and often experience depression and anxiety.
To reduce the time it takes to diagnose vestibular disorders we must increase training for medical school students and residents. Systemic change of this nature is daunting and protracted, and creative solutions are needed to engage the medical community.
An aging population means that more and more people will be visiting their primary care provider with symptoms of dizziness, vertigo, and imbalance. VEDA sees this as an opportunity to prepare the medical community for the "vestibular tsunami" that awaits them through education, awareness, and training.
Carolyn: Thank you for your time and for the information, Cynthia. Interested readers can find more information at www.vestibular.org