AudiologyOnline: What is a lead generation strategy?
Tina Soika: Private practices lose upwards of 30 percent of patients each year to competitors. As buying processes change, practice owners need to find new ways to identify and connect with new and returning patients and then deliver a personal message that resonates with them. How you go about staying in front of your customers and at the top of their minds is your lead generation (or what we call "lead gen" for short) strategy.
AudiologyOnline: What types of activities make up a lead gen strategy?
Tina: It is imperative that you identify your efforts in order to build upon your efforts. If you don't know what activities you are already taking part in, how can you possibly know if they are working or how to move forward? At AHAA, we have identified 12 unique ways you can reach current and potential patients — everything from traditional marketing avenues to digital and social media marketing to community outreach events to physician referral programs. I encourage you to take a few minutes and utilize our Lead Generation Assessment to see what efforts you are currently undertaking and what avenues you can improve upon.
​AudiologyOnline: Can you define ROI and explain why it is important?
Tina: We all know that marketing can be expensive! At AHAA, we work hard to make sure that our Associates get the most value from their marketing investment by regularly analyzing their return on investment (ROI). During regular phone calls, our Marketing team does a thorough job of examining each item in the individual marketing plan we put together for every Associate. When the call is over, that Associate knows exactly what marketing efforts are working, which ones aren't doing as well, and any suggested adjustments.
​AudiologyOnline: How do you go about collecting the numbers and what do they mean?
Tina: We routinely analyze our customers' marketing program results and assess our Associates' performances against their own marketing plans, the plans of their peers, and industry benchmarks. In creating these comprehensive marketing ROI reports we then analyze and report trends back to them. This infographic illustrates the process.
(Click on image to view full infographic, or download pdf here)
AudiologyOnline: We hear a lot about digital marketing today - what activities exactly make up digital marketing?
Tina: In simplest terms, digital marketing is comprised of the following:
Mobile marketing — Marketing on or with a mobile device, such as a smart phone, mobile marketing can provide customers with time and location-sensitive, personalized information that promotes goods, services and ideas.
Organic search — Organic search results are listings on search engine results pages that appear because of their relevance to the search terms, as opposed to being advertisements.
Content marketing — Content marketing is a strategic marketing approach focused on creating and distributing valuable, relevant and consistent content to attract and retain a clearly-defined audience — and, ultimately, to drive profitable customer action.
Social media marketing — Social media marketing refers to the process of gaining traffic or attention through social media sites. Social media itself is a catch-all term for sites that may provide radically different social actions.
Email marketing — Broadly, the term is usually used to refer to sending email messages with the purpose of enhancing the relationship of a merchant with its current or previous customers, to encourage customer loyalty and repeat business, acquiring new customers or convincing current customers to purchase something immediately, and adding advertisements to email messages sent by other companies to their customers.
AudiologyOnline: Why is digital marketing an important component of lead generation?
Tina: In today's marketplace, if your patients can't find you online, you don't exist! For better and worse, consumers are more connected than ever before and, 81 percent of the time, they research purchases online prior to engaging with a professional! Digital marketing delivers an infinitely more affordable product to a much wider audience than traditional offline marketing. It also provides a wider range of data to evaluate effectiveness and allows you to tweak any number of variables on the fly.
​AudiologyOnline: What does it mean to diversify your marketing efforts?
Tina: Digital marketing and its associated channels, for example, are important, but not to the exclusion of all the other marketing channels available. That is because it's not enough to just know your customers; you must know them better than anybody else so you can communicate with them where, when and how they are most receptive to your message. To do that, you need a consolidated view of customer preferences and expectations across all channels — Web, social media, mobile, direct mail, point of sale, etc. Marketers can use this information to create and anticipate consistent, coordinated customer experiences across all mediums that will move customers along the buying cycle. The deeper your insight into customer behavior and preferences, the more likely you are to engage them in lucrative interactions.
​AudiologyOnline: Why is it better to spread out your marketing efforts across multiple mediums?
Tina: As the old saying goes, in order to avoid the pitfalls that can happen if you put all your eggs in one basket, you need to diversify. That isn't to say that you can't enjoy the fruits of a successful effort, but where diversification is feasible, make it happen to alleviate the burden upon your business should one avenue of marketing ever be taken away.
A good rule of business is to never have more than 10 percent of your practice's business to come from one specific marketing campaign. Why? Most businesses can sustain a decrease in inbound traffic by 10 or 20 percent, but not 100 percent — the equivalent of relying exclusively on only one marketing avenue.
By leveraging a diverse arsenal of content, a brand will also keep things unpredictable and exciting for its consumers, which is impactful in this age of multimedia stimulation. As long as a company continues to deliver fresh and unique content types, audiences will surely remain engaged.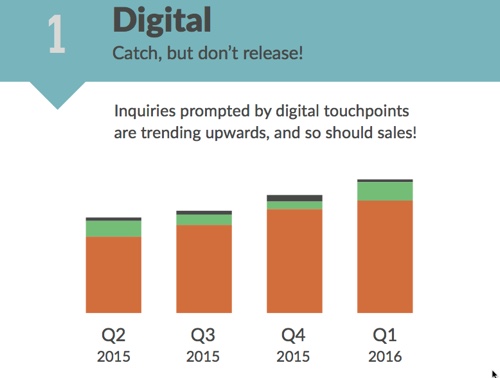 (Click on image to view full infographic, or download pdf here)
​AudiologyOnline: What marketing efforts are you currently undertaking and where can you use more attention?
Tina: As a marketer — and, like it or not, we are all marketers — you must always be asking yourself, "What's next?" Once you've mastered one aspect, what is the next logical step in generating business? How can you tap into new leads and what new tools exist to entice current patients?
For example, telemarketing drives additional appointments for all of your activities and it is a great foundation for your lead generation endeavors. When you pair a personalized call from a telemarketing specialist with your patient data, you can expand your reach by contacting every segment of the database you already own. That means appointment confirmations and reminders, inquiring about cancellations and no-shows, after care check-ins, and out of warranty opportunities. If you send out a direct mail piece or schedule an upgrade program, telemarketing can be used to call your mailing and invite lists to set additional appointments.
Another immediate tactic in your lead generation plan should be Physician Marketing, especially when you consider that there are over 48 million Americans who have some form of hearing loss, but only 12 percent of patients who visit their primary care physician receive a hearing test!
Implementing a successful physician-referral program will enable you to educate physicians, grow your practice, and help more people hear well. We have found that those practices that enjoy the most success from referral relationships with physicians committed to employing a dedicated Practice Development Representative who visits physician practices and other key referral sources to establish and maintain referral relationships.
​AudiologyOnline: What resources are available to help you create and execute a solid lead generation strategy?
Tina: I encourage practices to take a few minutes and put their current lead generation efforts to the test. Our Lead Generation Assessment can help develop a strategy that's right for each business by evaluating what is currently missing from the opportunity stream - take the Lead Generation Assessment here. The interactive self-assessment (think TurboTax) walks you through a series of self-guided questions to determine your current level of lead generation strengths and weaknesses. The resulting scorecard will provide a clear picture of any lead generation gaps and give recommendations for addressing those gaps.
For a practice's longevity, there is no substitute for mapping out a strategy that utilizes the most visible and reliable channels today in order to create and deliver a consistent yet versatile message that will impress, engage and make patients more likely to commit to the practice long-term.
AudiologyOnline: Thanks, Tina. For readers that would like more information, where should we direct them?
Tina: Thanks for the opportunity. For more information, please email us at marketing@AHAAnet.com or reach us at 800-984-3272.