Los Angeles, May 4, 2021 — The winners of Fast Company's 2021 World Changing Ideas Awards were announced today, honoring the businesses, policies, projects, and concepts that are actively engaged and deeply committed to pursuing innovation when it comes to solving health and climate crises, social injustice, or economic inequality.
AudioCardio has been selected as a finalist in the Wellness category of Fast Company's World Changing Ideas Awards. AudioCardio has developed a novel solution that hopes to help people suffering from hearing loss and tinnitus.
AudioCardio is a mobile app that delivers inaudible (to the user) sound therapies designed to help maintain and strengthen your natural hearing ability.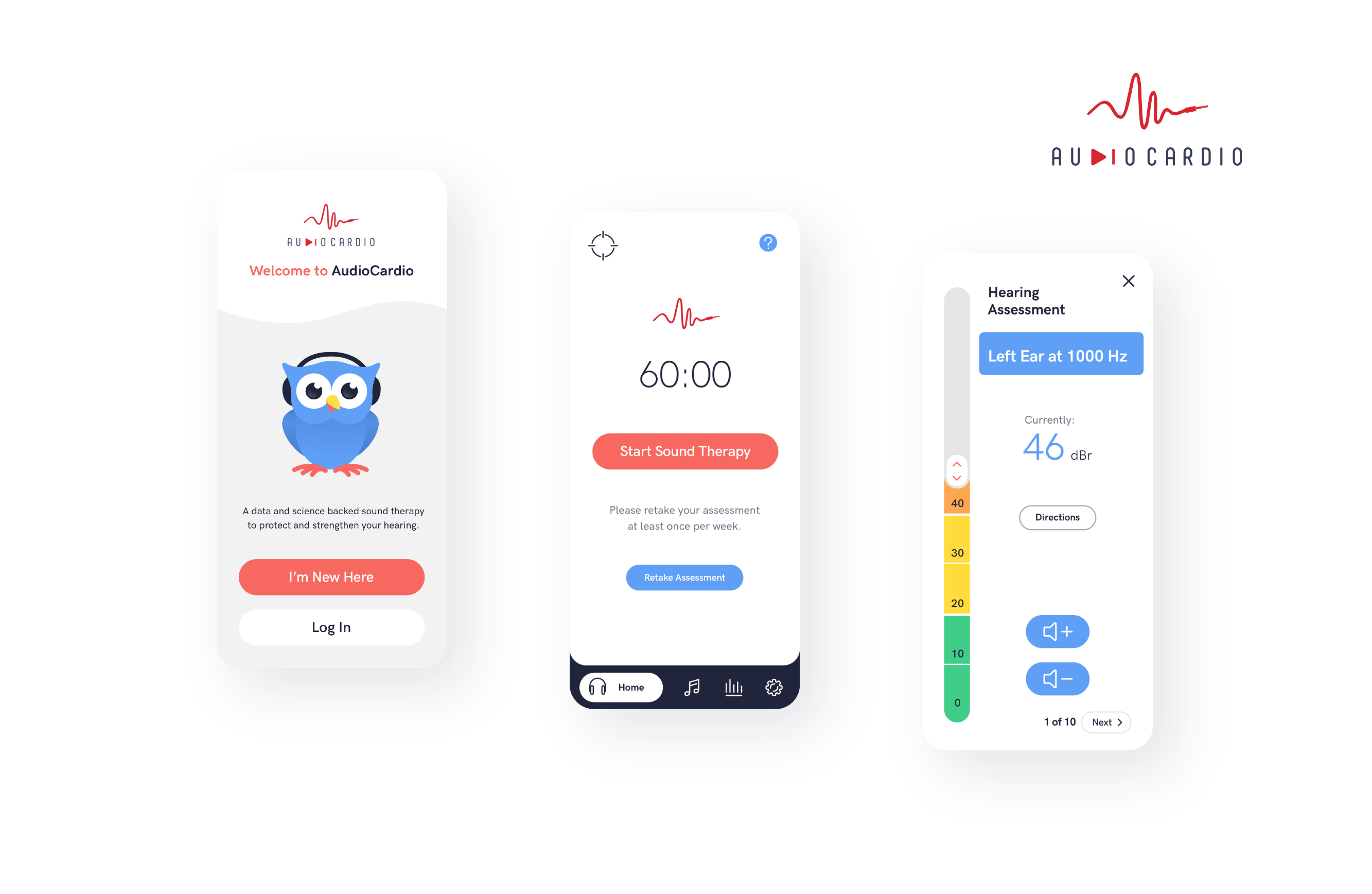 The mobile app delivers evidence-based sound therapies that stimulate the inner ear cells to help promote and support the neural pathways necessary for sound to travel from our environment to the brain. These pathways form stronger connections the more frequently they are used. AudioCardio's sound therapies work by consistently and repeatedly stimulating the inner ear cells in hopes of helping form and strengthen these connections, commonly referred to as neuroplasticity.
AudioCardio hopes to provide a complementary solution to current clinical practices that will allow clinicians to better support their patient's needs. AudioCardio's sound therapy is intended to help individuals with mild to moderate hearing difficulty. AudioCardio's sound therapy targets frequencies between the 1 kHz and 12 kHz ranges and has also been known to help individuals with tonal tinnitus between those same ranges. Although results can vary, more than 75% of the participants a double-blind randomized controlled study with Stanford University had a change in their hearing threshold by 10 decibels or more within three weeks.
AudioCardio's mission is to provide an easily accessible and affordable hearing solution while driving education and awareness around the importance of hearing health and the secondary physical and mental issues associated with untreated hearing loss.
Now in its fifth year, the World Changing Ideas Awards, a panel of eminent Fast Company editors and reporters selected winners and finalists from a pool of more than 4,000 entries across transportation, education, food, politics, technology, and more. Plus, several new categories were added, including Pandemic Response, Urban Design, and Architecture. The 2021 awards feature entries from across the globe, from Brazil to Denmark to Vietnam.
Fast Company's Summer 2021 issue (on newsstands May 10) highlights, among others, some of the world's most inventive entrepreneurs and companies tackling exigent global challenges.
We're honored to be recognized for our work in the hearing industry and the impact that our technology can make on the 100s of millions of people who lack adequate care and solutions. There are many barriers to receiving care, including cost and access to specialists, but a major underlying problem is the negative social stigma associated with solutions on the market. We're proud to be providing a solution that removes these barriers to provide better access and care for all." - Chris Ellis. CEO
"There is no question our society and planet are facing deeply troubling times. So, it's important to recognize organizations that are using their ingenuity, impact, design, scalability, and passion to solve these problems," says Stephanie Mehta, editor-in-chief of Fast Company. "Our journalists, under the leadership of senior editor Morgan Clendaniel, have discovered some of the most groundbreaking projects that have launched since the start of 2020."
About the World Changing Ideas Awards: World Changing Ideas is one of Fast Company's major annual awards programs and is focused on social good, seeking to elevate finished products and brave concepts that make the world better. A panel of judges from across sectors choose winners, finalists, and honorable mentions based on feasibility and the potential for impact. With the goals of awarding ingenuity and fostering innovation, Fast Company draws attention to ideas with great potential and helps them expand their reach to inspire more people to start working on solving the problems that affect us all.