Company strengthens hearing diagnostic and screening portfolio.
Schaumburg, IL | May 30, 2017 – Otometrics/Audiology Systems is pleased to announce the addition of the Bio-logic brand to its offerings. The expanded portfolio now includes a full line of Bio-logic hearing screening and diagnostic products. In addition to system sales, Otometrics/Audiology Systems is now an authorized service provider across the United States for Bio-logic products, and offers a full range of hearing supplies and accessories for Bio-logic equipment.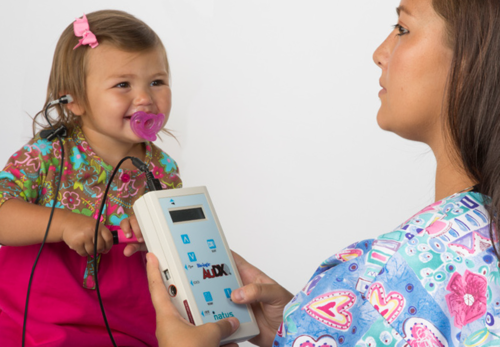 Otometrics/Audiology Systems Hearing Screening Program Manager Diane Sabo, PhD, says, "A stronger portfolio is simply one of the benefits of being part of the Natus Medical Incorporated organization and we are very excited to bring our customers more brands and more options to fit their patient care needs. Existing Otometrics/Audiology Systems customers now have direct access to products and supplies from a brand they are very familiar with."
Since 1979, Bio-logic devices have been designed and manufactured to provide professionals an objective screening and diagnosis of hearing loss. The products incorporate the latest technologies and objective physiological test methods including Otoacoustic Emissions (OAE) and full range of Auditory Evoked Potential (AEP) techniques. Bio-logic brand systems are designed to be modular and can be upgraded easily with proprietary software additions to serve as a cost effective single solution for all screening and diagnostic needs.
According to Yuce Hekimoglu, PhD, Global Marketing and Technology Manager at Natus Medical, "I am confident that together with Otometrics/Audiology Systems' strong sales, service and back office teams we can provide an even better customer experience for Bio-logic equipment users." He continues, "Our partnership with Otometrics/Audiology Systems gives us yet another opportunity to broaden our reach and help customers. With this new nationwide dedicated sales channel, we are making our premier solutions even more accessible to nurses, audiologists, otolaryngologists and trained technicians who can benefit from our market leading, reliable and proven systems with the help of our partner's industry recognized professional and experienced teams."
Bio-logic product support will continue to be routed through (847) 949-5200 or (800) 272-8075 for technical assistance.
For more information about Otometrics/Audiology Systems full line of products, customers and interested professionals are encouraged to contact their local sales representative or the national Customer Care hotline (855) 283-7978 or visit www.audiologysystems.com/products.
About Otometrics and Audiology Systems
Otometrics/Audiology Systems, a division of Natus Medical Incorporated, is your source for Madsen®, Aurical®, ICS® and Bio-Logic branded hearing care and vestibular balance equipment. We are also pleased to offer a range of sound rooms under the Genie® brand name. Our goal is to inspire great clinicians to be even better. Audiology Systems' highly-trained staff bring a consultative and professional approach to hearing and balance education, sales, service and calibrations. Our software integration group can assist with data back-up and security, Noah Networking and EMR integration. Visit www.audiologystems.com to learn more. For more information about Otometrics, please visit www.otometrics.com. For more information about Natus Medical, please visit www.natus.com. You may also learn more on the Otometrics and Audiology Systems Expo Page on AudiologyOnline.