Naperville, IL, 06/10/2013 - Connect Hearing opens two completely new and innovative clinics in Upland and Temecula in Southern California. These two clinics are the face of the new Connect Hearing brand identity and offer valued customers an improved patient experience. Connect Hearing will celebrate these openings with their customers by holding open house events in both clinics.
Our new brand promise: "Outstanding understanding"
"At Connect Hearing we believe that we can only deliver the best possible hearing solution by listening to our customers' personal needs and their individual life situation with a passionate and professional attitude. Only by truly listening we are able to deliver sustainable and outstanding hearing solutions." says Adrian Hunn, Director of Marketing at Connect Hearing.
The King Concept, the new patient-centered focus
In medical retail, a brand identity only comes to life with real world experiences, hence the new clinic model. That's why Connect Hearing has developed a completely new concept. In its center lies the patient who should always be the absolute focus of attention and should feel welcomed and at home. Furthermore, a brand identity cannot only be visual but should be experienced with all senses. Consequently, these new clinics are equipped with a unique and specific light, sound and visual concept.
Marcello Celentano, CEO and President of Connect Hearing, Inc. is excited; "Hearing is one of our core senses and connects us to family, friends, and the world around us. We are convinced that the best way to help our customers hear better is to have our personalized and professional solutions targeted to patients' individual needs. The personalized solutions will then enhance lifestyles and improve understanding. This is why the new clinic concept revolves around the customer. We've done a lot of patient research; we were collaborating with experts inside and outside of the industry to create our new Connect Hearing clinic concept. We are excited to see the results of our hard work over the last few months and we are proud to reveal our improved experience to our patients."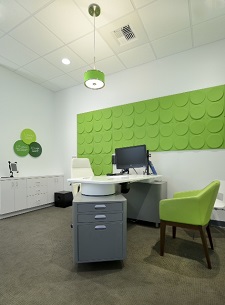 Modern technology in a cozy atmosphere
During the counseling process Connect Hearing uses state-of-the-art, hi-tech equipment in order to achieve the best possible clinical results. The interior decoration combines a comfortable and cozy reception area with soundproof but open Solution rooms, where customers enjoy a professional but stress-free consultation process. Tablet PC's prepare customers for their upcoming visit, and at the end of the solution-finding path they are kindly asked to tell their personal story and experience.
Rollout during the next two years
After thoroughly testing their Pilot stores and talking to customers regarding their experiences, Connect Hearing plans to refurbish all of their US clinics using this same principle.
About Connect Hearing:
Connect Hearing, the largest network of hearing care clinics in the US, is offering exceptional hearing care for people who would like to understand, hear and connect to life again in over 2,500 local communities throughout the nation. The Chicago-based company is a fast growing division of Sonova (SOON:US), the world's leading provider of innovative hearing healthcare solutions.