When Mr. Nelson Mandela opened the Eduplex in Pretoria, South Africa in 2002, his words were "What you are doing here is changing tragedy into triumph". Today, twenty-one years later, the Eduplex has become a model for inclusive education internationally. Here, 3-4 deaf children are included in each class where they learn alongside their normally hearing friends, without sign language.
Eduplex serves as a model for inclusive education and school design internationally.
By acquiring spoken language every deaf child has privacy (no need for signing interpreters,) becomes independent and has various career choices, thereby becoming part of society at large.
The question is, is this possible?
Successful inclusion of deaf children is possible with today's modern medical technology e.g. early identification programmes; hearing aids; cochlear implants; intelligent wireless technology and classroom amplification systems. Together with the emphasis on the development of listening skills and spoken language; intensive parent guidance programmes; acoustically treated quiet classrooms; interactive gardens; the maximum use of visual resources; a professional team in the school; and the support of assistant teachers in every class, an ideal learning environment is created for every learner – both deaf and normally hearing.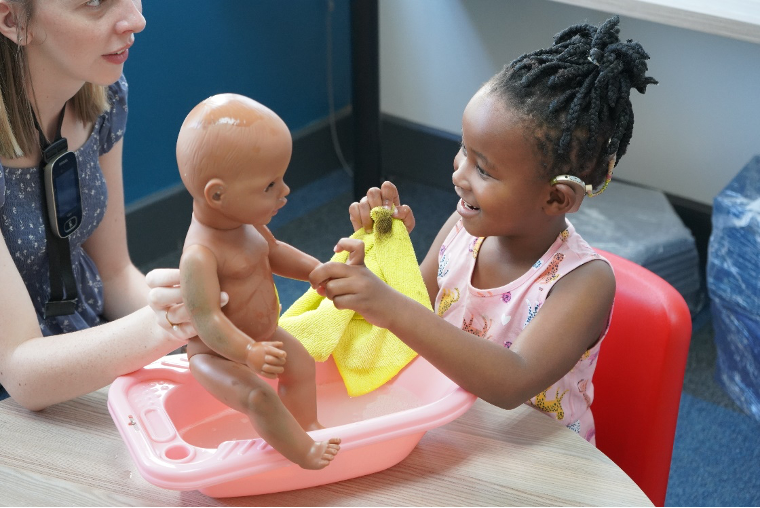 Monique Thorn, speech and language therapist, busy with a therapy session with Mashudu Nefale (4 yrs) ©Eduplex
Since the inception of the Eduplex High School, eight years ago, a 100% Grade 12 (final school year) pass rate was achieved with an average of 2.3 distinctions (above 80%) per child.
One of our profoundly deaf children, Mitchell Black, was the first deaf person to be allowed to study medicine in the history of South Africa. Mitchell is currently in his 6th year of studies, and one of many Eduplex success stories where deaf children function independently in the workplace - proof of Eduplex's high academic standards and the support given to these children and their parents while they were in school.
To take the Eduplex model to the world, the Eduplex Training Institute (ETI) was established as an online, blended learning, and practical workshop training centre. The online training includes regular interaction with lecturers as well as practical training and an examination at the end of the course. Courses include Hearing Aid Acousticians Advanced programme (9 months); Paediatric Audiology; Inclusion and other educational courses.
To date professionals and parents from 47 countries have been trained by ETI. Various books have been published under their name and are also distributed in the USA. (See www.eduplextraining.com for more information.)
Eduplex is a non-profit organisation developed by The Foundation for Children with a Hearing Loss in SA, and consists of a Pre-, Primary-, and High school with 840 learners, 73 of whom are deaf. The school receives no government funding and 45 of the 73 deaf children come from the poorest of the poor communities and are fully dependent on financial support. The financial generosity of families in Europe and South Africa makes it possible for these 45 children to attend Eduplex. The support includes the school fees; audiological management and speech therapy; hearing aids; school uniform; two meals a day; school outings and other educational expenses – truly changing tragedy into triumph.
Eduplex is a Christian school with a biblical worldview. Nico van der Merwe is the founder and director of the Eduplex school, whose vision is 'to make a difference in deaf education'. This simple statement coupled with a profound conviction, has succeeded in creating a world renowned facility in an astonishingly short space of time.
To give a deaf child the gift of hearing is one thing, to give them a future, quite another.
For more information contact
Jayne de Smidt
If you want to support the Eduplex and make a difference in the education of deaf children in South Africa, scan this QR code and you can make a donation via PayPal. On behalf of the children we say thank you so much!