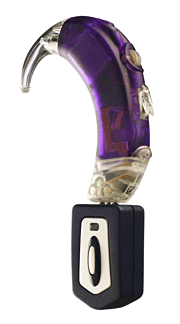 Eden Prairie, Minn.
- The Starkey Laboratories family of companies introduces ELI (Ear Level Instrument), the hearing industry's first Bluetooth®-enabling device and the world's smallest Bluetooth audio device. ELI offers wireless communication between hearing instrument wearers and a growing assortment of modern Bluetooth signal sources.
Starkey President Jerry Ruzicka said, "ELI offers hearing instrument wearers the freedom to communicate with Bluetooth-compatible telephones, televisions and computers. ELI's digital signal provides wireless relief from the many problems associated with telephone use by hearing instrument wearers."
Research shows that hearing instrument wearers report excellent results with their instruments in normal listening situations, but often take their instruments out when they use the phone because of feedback, poor signal strength and electromagnetic interference. When paired with a Bluetooth-enabled phone, ELI's signal automatically overrides the hearing instrument's microphone signal, improving the signal and clarity for the wearer. When the call is finished, ELI simultaneously returns to the instrument's normal microphone mode.
ELI is easily connected to Behind-The-Ear (BTE) hearing instruments with a Direct Audio Input (DAI) or worn on a neck loop for wireless signal transmission to hearing instruments with a telecoil. No additional hardware is required for use.
ELI is powered by a rechargeable lithium-ion battery. A single charge provides 140 hours in standby mode or 2.5 hours of continuous use. ELI is FCC, CE and Bluetooth compliant, and there are no line-of-sight requirements.
Bluetooth technology is today's standard for short-range wireless connectivity. Bluetooth is an international wireless-communication protocol. The standard includes software and hardware, which allow secure, two-way audio or data streaming.
ELI is the first in a complete line of Bluetooth-compatible applications from Starkey. Future technologies include custom instrument options and direct integration into the hearing instrument. Starkey is also developing a Bluetooth communication device designed for people with normal hearing.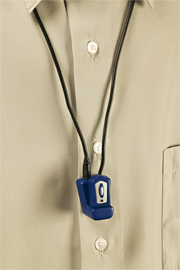 ELI is exclusively available from the Starkey family of companies, including Audibel Electronics, Micro-Tech Hearing Instruments, NuEar, Omni Hearing Systems, Qualitone and Starkey Laboratories.
For more information about ELI, visit
www.elihearing.com
or contact Starkey Laboratories at 800.328.8602
About Starkey Laboratories
Headquartered in Eden Prairie, Minnesota, Starkey Laboratories, Inc. is a worldwide provider of comprehensive digital hearing systems, including custom and standard devices, protection products, instrumentation and unique business solutions. Founded in 1967, Starkey owns the Audibel, Micro-Tech, NuEar, Omni and Qualitone companies and operates facilities in 24 countries. Starkey is the recognized world leader in the design and development of innovative custom digital hearing instruments. For more information visit
www.starkey.com