Schaumburg, IL | March 6, 2017 – Otometrics and Audiology Systems announced today that its FittingNOW! 2017 Expert Series is open for registration.
Dr. Gus Mueller, facilitates the 7-hour FittingNOW! Expert Series. In addition to assisting their patients in selecting the appropriate hearing instruments, hearing care professionals are faced with choices and decisions about the protocols to use for assessments, fittings, and follow-up. This workshop provides information on tools and techniques to facilitate these decisions. Focusing on Probe Microphone Measurements (PMM) and Hearing Instrument Test (HIT) box options, a range of procedures that can be used at various points of the fitting process will be discussed and demonstrated. Highlights include step-by-step instructions for common probe microphone measures, use for measure of audibility, verification of prescriptive fittings, MPO, and assessment of special features.
The course is scheduled to take place on May 12, 2017. For a limited time, attendees can register for only $99! Attendees can earn up to 0.7 CEUs. View course details at: www.audiologysystems.com/fittingNOW.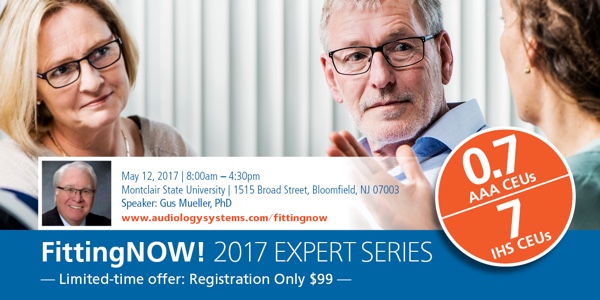 In addition to FIttingNOW!, Otometrics/Audiology Systems offers a series of training opportunities designed to help clinicians and hearing care professionals maximize the use of hearing and balance instrumentation. According to Audiology Education Manager Kathleen Hill, AuD, "Our courses encompass clinical audiologists, hearing instrument specialists, research professionals, academics and industry professionals. We work in close collaboration with industry experts to create learning opportunities that will help our clients and clinicians maximize the use of hearing and balance instrumentation." She adds, "We are very excited to be working with Dr. Gus Mueller to bring you the Expert Series 2017."
For more information about the all course offerings, customers are encouraged to contact their Otometrics/Audiology Systems local sales representative, call (855) 283-7978 or visit www.audiologysystems.com/education.
About Otometrics and Audiology Systems
Otometrics/Audiology Systems, a division of Natus Medical, is your source for MADSEN®, AURICAL® and ICS® branded hearing care and vestibular balance equipment. We are also pleased to offer a range of sound rooms under the GENIE® brand name. Our goal is to inspire great clinicians to be even better. Audiology Systems' highly-trained staff bring a consultative and professional approach to hearing and balance education, sales, service and calibrations. Our software integration group can assist with data back-up and security, Noah Networking and EMR integration. Visit www.audiologystems.com or the Otometrics and Audiology Systems Expo Page on AudiologyOnline to learn more.
For more information about Otometrics, please visit www.otometrics.com.
For more information about Natus, please visit www.natus.com.