PADUA, Italy - February 2, 2023
The Triangle audiometer is a state of the art screener that features:
A graphical display with capacitive touchscreen
A rechargeable lithium battery
Bone conduction with masking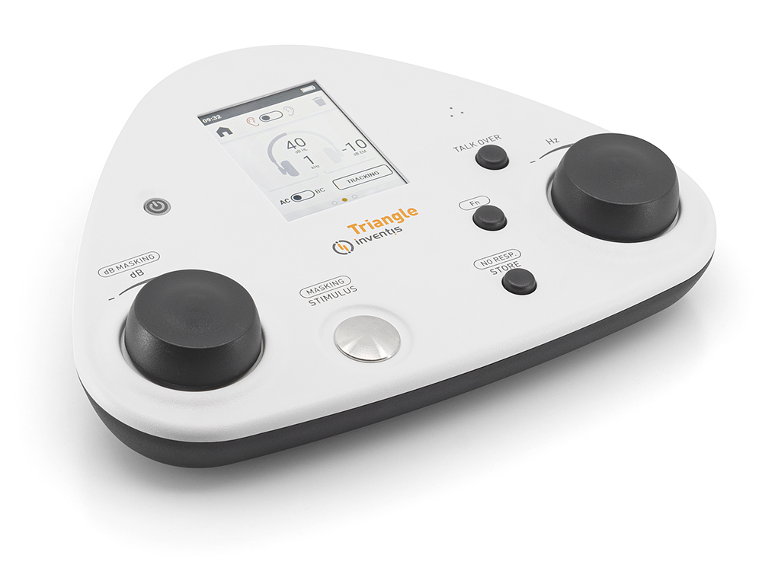 It is extremely handy and easily transportable (425 gr). The presence of a rechargeable Li-Ion battery (12+ hours of continuous use) and the internal memory to store the exams (of up to 100 patients), makes Triangle the perfect choice for professionals on the move.
To learn the full functions of the Inventis Triangle, please view the video series:
Introduction: Triangle is capable of performing pure tone audiometry exams in air conduction, and also upon option license activation, bone conduction. It is available either with RadioEar DD45 supra-aural headphones or RadioEar DD65 circum-aural headphones for better isolation from outside noise.
Manual audiometry: The use of keyboard and touch controls allows modification of exam parameters and sends stimuli to the patient during manual pure tone audiometry.
Automatic audiometry: Automatic air conduction pure tone audiometry is simple to perform by choosing between the Hughson- Westlake, Quick Search and Fixed Intensity protocols.
Installation: What does the package include, how to recharge Triangle and how to transfer exams from Triangle to the computer where Maestro software is installed.
Make yourself comfortable!
Please visit the website: https://www.inventis.it/en-na/products/portable-screening-audiometer-triangle#video scroll down the page, click on YouTube and enjoy the show!
About Inventis
Inventis is a high-tech Italian company that develops and manufactures cutting-edge devices for audiology and balance diagnostics.
Despite the young age, Inventis offers one of the most comprehensive portfolios on the market, including audiometers, middle ear analyzers, solutions for hearing aid fitting, and balance diagnostics.
Inventis is currently represented in more than 60 countries with a direct presence or with solid and committed local distributors.