PADUA, Italy - March 1, 2023
Harp is an advanced diagnostic audiometer, the ideal choice for a wide range of users, from hearing aid dispensers to audiologists, clinics and hospitals.
Available in 2 configurations: Basic and Plus
PTA and speech audiometry (in AC, BC and FF), supra-threshold tests, TEN Test and QuickSIN™ available upon request (Plus only)
Built-in memory card for the speech material (Plus only)
Hybrid Technology: can be operated through the PC
Opt. integrated thermal printer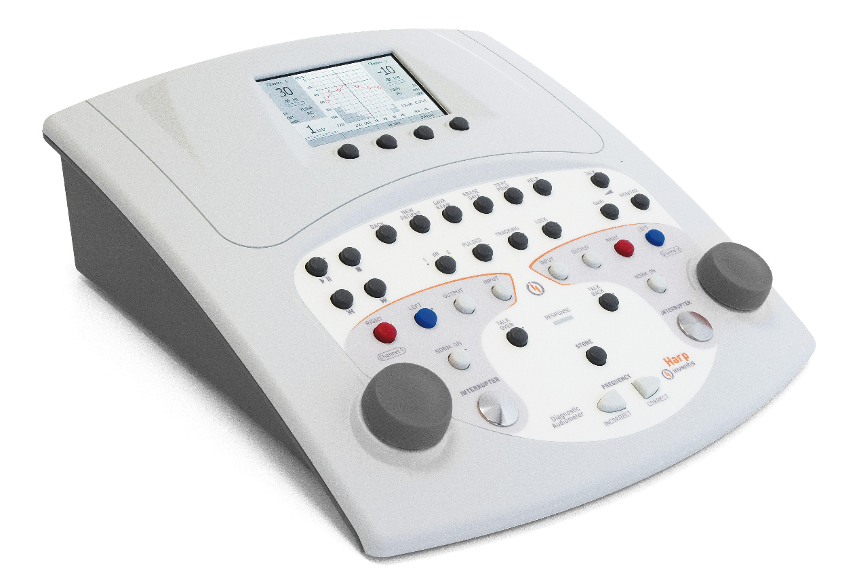 Have a look at the video series in order to take full advantage of the functions of Inventis Harp:
Introduction: Harp is capable of performing air, bone and speech audiometric exams, as well as several supraliminal tests. You can decide whether to operate Harp in the traditional stand-alone mode thanks to the colour display and the dedicated navigation buttons or control it through the computer via Maestro software.
Pure tone audiometry: The available settings and the simplicity of performing Pure Tone Audiometry with the Harp.
Speech test: The input signal for speech audiometry can be a microphone for live speech, an external audio source or only for the Plus model, the internal flash memory, on which the speech material is already stored. QuickSIN is optionally available on the Harp Plus upon request.
Other tests: The supraliminal tests that can be performed with the Harp, along with other tests, such as Stenger and Master Hearing Aid, and TEN test optionally available on the Plus version.
Installation: What does the package include, all the connections available, Maestro software installation procedure, its interface and how to transfer the exams to the software from the Harp audiometer.
Make yourself comfortable!
Go to the website: https://www.inventis.it/en-na/products/diagnostic-audiometer-harp
scroll down the page, click on YouTube and…enjoy the show!
About Inventis
Inventis is a high-tech Italian company that develops and manufactures cutting-edge devices for audiology and balance diagnostics.
Despite the young age, Inventis offers one of the most comprehensive portfolios on the market, including audiometers, middle ear analyzers, solutions for hearing aid fitting, and balance diagnostics.
Inventis is currently represented in more than 60 countries with a direct presence or with solid and committed local distributors.