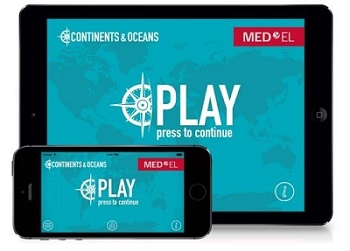 Global game is latest release from BRIDGE to Better Communication Program.
October 1, 2014 – Durham, NC - MED-EL USA has launched the game Continents & Oceans designed to test and improve listening skills for people with cochlear implants. The free app is the latest offering from MED-EL's BRIDGE to Better Communication support program.
Continents & Oceans features three levels that get progressively more challenging. Players listen to both male and female voices as they name the continents and oceans of the world and tap the screen to verify what was said. Different accents increase the difficulty level to challenge players, who are scored based on how fast they respond. Players can compete with others from around the world to get the best score for each level. Top scores are posted on a global leaderboard.
BRIDGE to Better Communication, MED-EL's comprehensive rehabilitation support program, offers more support materials than any other hearing implant company. Reportedly developed with leading educational and hearing specialists from around the world, the program consists of a wide variety of information and materials to meet the hearing rehabilitation needs of adults, teens, and children, as well as their parents, audiologists, speech therapists and teachers.
Continents & Oceans is a free app available through the App Store and Google play. Links to download the game are also available through MED-EL's website, http://www.medel.com/us/
About MED-EL
MED-EL Medical Electronics is a leading provider of hearing implant systems worldwide. The company was founded by Austrian scientists and industry pioneers Ingeborg and Erwin Hochmair, who together developed the world's first microelectronic, multichannel cochlear implant in 1977. The cochlear implant was and remains the first replacement of a human sense, the sense of hearing. In 1990, the Hochmairs laid the foundation for the successful growth of the company when they hired their first employees. In 2013, Ingeborg was awarded the prestigious Lasker-DeBakey Clinical Medical Research Award in recognition of her contributions to the development of the modern cochlear implant. MED-EL is the only hearing implant manufacturer to have its founder and CEO hold this distinction. Today, the privately-held company has more than 1,500 employees around the world. Individuals in more than 100 countries enjoy the gift of hearing with a MED-EL Hearing Implant System.
MED-EL's mission is to overcome hearing loss as a barrier to communication and quality of life. The company offers the widest range of implantable solutions worldwide to treat the various degrees of hearing loss, including cochlear, middle ear and bone conduction implant systems as well as a system for combined electric and acoustic stimulation. For more information, visit http://www.medel.com/us/ or the Med-El Expo Page on AudiologyOnline.