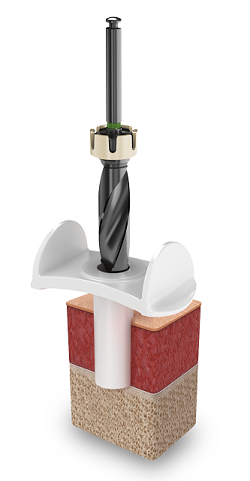 A Truly New Perspective on Tissue Preservation.
Copenhagen, DK November 30 -- Oticon Medical has long recognized the benefits of tissue preservation surgery in bone anchored hearing surgery for reducing post-op complication and improving cosmetic outcomes. This week, Oticon Medical introduced a further refinement of the proven tissue preservation surgery for use with the company's Ponto System. The new FDA-cleared Minimally Invasive Ponto Surgery (MIPS) is performed with minimal skin penetration and less interference to soft tissue than ever before. The reduced level of intervention aims to minimize post-op complications. A minor punch incision removes only the soft tissue that corresponds to the shape of the Ponto abutment. The suture-free surgery enables improved cosmetic outcomes for the patients, with no scar formation around the abutment site.
"For patients and surgeons, tissue preservation has been one of the most important surgical developments in the bone anchored hearing in terms of quicker surgery, shorter healing time and less numbness and pain1," said Oticon Medical President Jes Olsen. "With Minimally Invasive Ponto Surgery, we provide a truly new perspective on tissue preservation with strong patient benefits -- suture-free surgery with no scarring and aiming for fewer post-op complications."
Minimizing Post-op Complications
Minimally Invasive Ponto Surgery aims to reduce the risk of any complications following surgery by minimizing the surgical intervention. The new surgical technique is performed with a minor incision without scar formation around the site. Only the soft tissue that corresponds to the shape of the Ponto abutment is removed. By maximizing tissue preservation, MIPS leaves patient's blood supply, micro circulation and nerves as intact as possible.
A complete kit of new surgical components have been tailor-made to support Minimally Invasive Ponto Surgery. The core of the new instrumentation is the cannula that together with the new state-of-the-art drill system delivers a bone- and tissue-friendly system setup for surgical control and precise tactility.
The full drilling procedure is performed through the cannula which protects the soft tissue and holds the cooling fluid during drilling. The new drills are designed for more efficient drilling with a twist drill design that helps remove bone chips from the drilled hole and also allows cooling fluid to reach the bone2. The implant insertion is guided by the insertion indicator that supports the operator in judging when the implant is fully seated. Finally, the new soft healing cap is fitted to stay in place during the short healing period.
Designed for Tissue Preservation Surgery
Oticon Medical offers the most extensive family of abutments for variation in skin thicknesses, all ideally suited for Minimally Invasive Ponto Surgery. With a pure titanium surface and the revolutionary OptiFit™ geometry, Ponto abutments are scientifically proven for tissue preservation surgery1. The even, supportive surface and perfectly matched interface of Ponto abutments create an optimized fit that leaves no pockets or pathways where skin needs to grow back or where bacteria can collect.
Increasing Patient Benefit
Sixteen clinics in 6 countries participated in an evaluation of MIPS. The evaluation involved surgeons who currently perform BAHS surgery, all experienced in tissue preservation techniques2. At the conclusion of the trial, 94% of the participating surgeons indicated that they would continue to use MIPS and 87% reported that they believe the new surgical technique provides further benefits for patients2. "Tissue preservation has been a great improvement for patients. With MIPS, the cosmetic outcomes are even better," said Malou Hultcrantz, Professor, MD, PhD of Karolinska University Hospital and Karolinska Institute, Sweden.
Post-operative patient response to the new surgical procedure was overwhelmingly positive. One patient, a 48-year-old Network Manager from the UK, reported, "The healing time was incredible. There was very little discomfort, very little pain, no mess, mint. Absolutely brilliant! Now it just sits there seamless. It is almost like it doesn't exist."
A large multi-center randomized control clinical trial of MIPS is ongoing under the lead of Prof. Stokroos and his team at Maastricht UMC+. The results of the trial are expected during 2016. Based on the initial experience and the training of the surgeons, Prof. Stokroos reported that the new MIPS technique is a clear, simple and fast surgical procedure that is easy to learn. With no need for sutures, and no incision scar, the single-stage MIPS provides favorable cosmetic results3.
Partners in Hearing – for Life
MIPS is recommended for adult patients with normal bone quality and bone thickness above 3 mm, where no complications during surgery are expected. MIPS may also be suitable for children with normal bone quality and bone thickness above 4 mm, typically 12 years or older4.
"Oticon Medical is committed to remaining at the forefront of advances in patient-centered solutions that extend the potential for treatment and successful outcomes for patients," said Jes Olsen. "We aim to be a lifelong partner to our patients by continuing to provide quality solutions that improve quality of life now and in the future."
For more information about Minimally Invasive Ponto Surgery, visit www.oticonmedical.com/mips and www.oticonmedical.com/mipsvideo. You may also learn more on the Oticon Medical Expo Page on AudiologyOnline.
References:
Johansson M, Holmberg M, Hultcrantz M. (2014). "Bone anchored hearing implant surgery with tissue preservation– A systematic literature review," Oticon Medical white paper, M52107.
Johansson, M. L. and Holmberg, M. (2015) "Design and clinical evaluation of MIPS – A new perspective on tissue preservation", Oticon Medical white paper M52425.
Calon, T., Johansson, M. L., and Holmberg, M. (2015). "First RCT of a Novel Minimally Invasive BCHI Surgical Technique." Oral presented at the Osseo, Lake Louise, Canada, May 2015.
M52188 Addendum to Surgical Manual (Oticon Medical)