New immittance solution, advanced fitting and verification features and a smart mid-range audiometer give hearing care professionals more ways to help their patients to better hearing.
Schaumburg, IL - March 31, 2017 – Otometrics A/S, the leading global manufacturer of audiology instrumentation and software solutions will unveil at AudiologyNow! 2017 several new solutions and features to help hearing care professionals boost efficiency and accuracy throughout their clinic.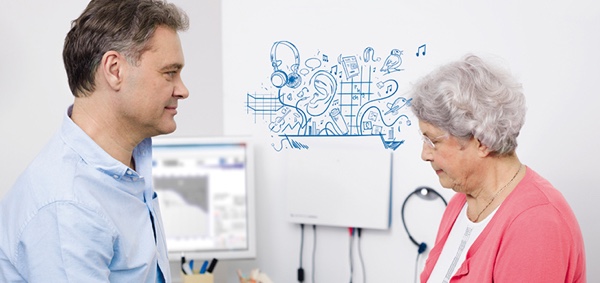 New Madsen® Zodiac solution delivers streamlined immittance testing
The Madsen Zodiac will be featured at AudiologyNOW! booth #641. The Madsen Zodiac is a new immittance testing solution built from the ground up with special focus on the probes, and the way clinicians work during immittance testing. It comes in three versions – Quick Check for screening and Diagnostic or Clinical for advanced testing. The dedicated immittance probes are ergonomic, lightweight and easy to use, helping clinicians to achieve faster and more stable placement and a reliable seal.
"Madsen Zodiac is the only immittance testing solution with a dual probe option," says Lars Bladt Rasmussen, Product Manager at Otometrics. "This allows the clinician to keep both a screening probe and a diagnostic probe connected at the same time – all the time – ready to use for uninterrupted workflow, bringing greater control, confidence and efficiency to immittance testing."
New industry-first features deliver faster and easier verification with Aurical
Otometrics also presents new offerings and functionality in Aurical® – the market-leading, complete modular fitting solution – that make verification faster and easier. Tight integration between Aurical and hearing instrument fitting software enables fitting verifications automatically from within ReSound Aventa® using AutoRem and Phonak Target™ using TargetMatch. The integration between Aurical and Phonak Target – now as the first in the industry – make it possible to do automated fitting to target in a coupler from inside the new Target 5.1 fitting software.
What's more, Aurical makes fitting verification faster and easier with the ProbeTube Assistant™ -- a new feature that provides on-screen guided placement of the probe tube during PMM so clinicians can be absolutely sure the probe tube is placed correctly.
These new features make verification faster and easier for hearing care professionals and thereby help them incorporate fitting verification as a standard process in their clinics," says Peter Kossek, Senior Product Manager at Otometrics. "What's more, Aurical supports the industry standard for this kind of integration, so we are prepared for others to make integrated solutions with Aurical."
New PC-based audiometer and customized hearing care reports
Participants at AudiologyNow! 2017 will also be able to experience a live demo of another new release from Otometrics – the Otometrics Madsen A450 PC-based audiometer. Compact, modern and easy to use, the new Madsen A450 audiometer delivers the tests and frequencies needed to perform accurate hearing assessment and complements the more advanced and well-known Madsen® Astera2 audiometer from Otometrics.
Aurical, Madsen Zodiac, Madsen Astera2 and Otometrics Madsen A450 all run on the latest version of OTOsuite® -- the modern, intuitive and easy-to-learn software platform that supports and streamlines the entire patient journey. OTOsuite version 4.82, released with Madsen A450, offers an improved reporting function that gives hearing care professionals an easy way to create customized reports.
"We are proud to present all the new solutions and features we've been working on over the last year," says Wendy Switalski, AuD, Field Development Audiology Manager at Otometrics/AudiologySystems. "We continue our focus on helping hearing care professionals gain more time for patient care by delivering solutions that drive efficiency and accuracy throughout their clinic. From immittance testing and hearing aid verification to basic and advanced audiometry and balance testing, Otometrics has the most complete portfolio of reliable solutions for busy hearing care professionals." For more information about Aurical, Madsen Zodiac, Madsen Astera2 and Otometrics Madsen A450 please visit www.audiologysystems.com
About Otometrics
Otometrics is the audiology industry leader providing instrumentation and software solutions to hearing and balance care professionals worldwide. For more than 50 years, Otometrics has been helping hearing and balance care professionals succeed in improving the quality of life for their patients and patients around the world by delivering expert knowledge, reliable solutions and services – providing a trusted partnership.
Otometrics develops, manufactures and markets computer-based audiological, otoneurologic and vestibular instrumentation in more than 80 countries under the Otometrics brands, including Madsen® Aurical®, ICS® and Oscilla®. Otometrics is part of Natus Medical Incorporated (North America NASDAQ: BABY) – a US-based leading provider of healthcare products, devices and services used in the newborn, neurology, sleep, hearing and balance markets. For more information, please visit www.otometrics.com and www.natus.com. Otometrics/Audiology Systems is the national U.S. distributor for Otometrics products and other leading brands. To learn more, visit www.audiologysystems.com or the Otometrics/Audiology Systems Expo Page on AudiologyOnline.