BLOOMINGTON, Minn.--(BUSINESS WIRE)--ReSound announced today its plans to return to CES in Las Vegas to demonstrate and raise awareness of ReSound's industry-leading Smart Hearing solutions and increase consumer awareness of their hearing health through on-site hearing tests. Returning for the company's fourth consecutive year, ReSound introduced the first Made for iPhone® hearing aid at CES in 2014 and continues to lead the industry by combining excellent sound quality and unique wireless technology to develop solutions that make a true difference for people living with hearing loss.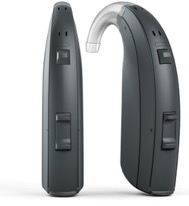 ReSound Smart Hearing aids return to CES with CES Best in Innovation Award for accessible technology (Photo: Business Wire)
At CES 2017, held January 5-8, ReSound will feature its full line-up of Smart Hearing solutions through interactive activities and live demonstrations. Located at Booth #43530 in Tech West, Sands Expo, Halls A-D, the company is part of the Accessible Tech Marketplace. GN sister company and world leader in wireless headset technology, Jabra, will be exhibiting alongside ReSound as well.
Booth attendees will have several opportunities to experience ReSound's incredible Smart Hearing technologies that are available to people with hearing loss, through:
Simulations of hearing situations to help visitors understand the dramatic, and often nuanced differences of living with hearing loss
Live demonstrations of ReSound LiNX2™, the world's first full family of Made for iPhone hearing aids, including hands-on demos of the ReSound Smart™ app, offering revolutionary personalization of hearing aid settings and direct sound streaming capabilities
Free, immersive sound booth hearing test, giving visitors an assessment of their hearing health
"ReSound has had a great experience exhibiting at CES for the past three years, and we are excited to return in 2017 to share our comprehensive portfolio of Smart Hearing technologies," said Kim Lody, North America President and Senior Vice President for GN Hearing. "At ReSound, we are committed to innovation and always prioritize users as the company develops its breakthrough design and technological capabilities. We are excited to share how ReSound is driving the hearing industry forward and transforming the user experience through new developments in audiology, connectivity, design and apps."
ReSound Already Recognized with Top Award
Leading up to CES 2017, ReSound has already been recognized as a standout leader in technology and innovation. In November, ReSound was awarded a Best of Innovation Award in the Accessible Tech category for ReSound ENZO2™, the smartest super power hearing aid for people with severe to profound hearing loss. The CES Best of Innovation Award recognizes the highest-rated product or technology in each category, making ReSound ENZO2™ the best Accessible Technology to be seen at CES.
The award marks the latest in a number of recognitions for the company, ReSound Smart Hearing aids, and the ReSound Smart app. This is the first time a ReSound product has been awarded CES's highest honor of Best of Innovation.
ReSound's revolutionary hearing aid technology is available through a global network of hearing care professionals. Consumers can find more information about ReSound's portfolio of Smart Hearing aids by visiting www.resound.com or the ReSound Expo Page on AudiologyOnline.
About ReSound
ReSound is a brand of GN Hearing A/S. GN Hearing is the medical device division of The GN Group, a global leader in intelligent audio solutions operating in the fields of med-tech, hearables and intelligent audio. Our award-winning ReSound Smart Hearing merges audiological sound processing with the power of mainstream innovation. People with hearing loss can use them like wireless stereo headphones, and can personalize any listening situation with the accompanying app. Smart Hearing is changing the conversation from the limitations of wearing a hearing aid to the possibilities gained by wearing one of the world's smartest devices. Founded in 1869, employing over 5,000 people, and listed on Nasdaq Copenhagen, GN makes life sound better.