7 out of 18 toys tested increase the risk of hearing loss in less than 15 minutes.
Saint Paul, MN – "Push my buttons and you won't want to stop", pleads the packaging on a cute and cuddly child's toy. While you may be compelled to push those buttons, the Sight & Hearing Association (SHA) encourages consumers to be aware that those buttons they are pushing may have the potential of causing enough noise that can result in hearing loss in less than 15 minutes. SHA's 16th Annual Noisy Toys List, reports that toy manufacturers are still producing dangerously loud toys. Of 18 toys tested this year, seven blasted above 100 decibels (dB), which can damage hearing in less than 15 minutes.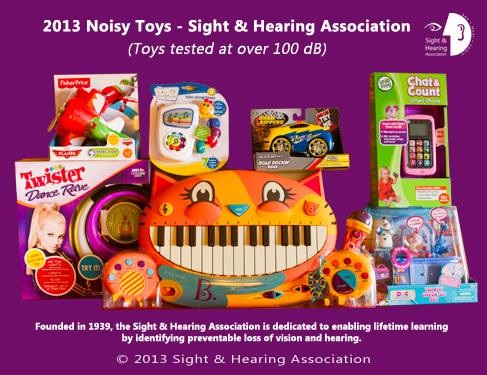 Sight & Hearing Association - 2013 Noisy Toys Study | Copyright 2013 Sight & Hearing Association (https://www.sightandhearing.org)
Walking through the toy aisles at various stores, SHA selects toys that appear to be too loud for consumers. Toys are brought back to their office, and a hand-held sound level meter is used to measure the sound. Measurements are taken with the sound level meter placed directly on the speaker and 10 inches from the speaker. This year's top toy offender is marketed for infants – The Baby Einstein Company's Take Along Tunes, exposes babies to classical music, yet the tunes sound off at a rock concert level, with numbing crescendos peaking at 114.8 dB. According to the National Institute of Occupational Health and Safety, exposure to decibel levels at a close distance would cause hearing damage almost immediately. Exposure to noise levels above 85 dB for no more than eight hours is the federal threshold for hearing protection. SHA reminds consumers that hearing loss is cumulative and it typically does not happen from one event; it gradually happens over time and that is why it is important to protect hearing at a young age.
Toys are required to meet the acoustic standard set by the American Society of Testing and Materials, which states that the sound-pressure level produced by toys shall not exceed 85 dB at 50 cm from the surface of the toy. "The problem with this standard is 50 cm is longer than the average arm length of an adult. We test toys based on how a child would play with them, not how an adult would play with them. If you watch a child playing with a noise-producing toy, you will see them hold it close to their face, next to their ears or within their arms length, which is closer to 10 inches (25 cm)", explains Kathy Webb, Executive Director of SHA.
Parents can do a few things to make it a little quieter this holiday season. SHA recommends testing the toy before you buy it. Webb suggests you, "push buttons and rattle toys as you walk through the toy aisle and if a toy is too loud for you, it will be too loud for your child. Look for toys that have volume controls and if you must buy a noisy toy, or your child receives a noisy toy as a gift, place clear packing tape over the speaker, it will reduce the sound level enough to make the toy ear-safe." The University of Minnesota/Department of Otolaryngology confirmed in a study that covering noise-producing toys with tape or glue will significantly reduce the noise level of a toy, making it safer for children.
Founded in 1939, Minnesota-based Sight & Hearing Association is dedicated to enabling lifetime learning by identifying preventable loss of vision and hearing. If consumers have a noisy toy to report, they can contact SHA at kwebb@sightandhearing.org or the Consumer Product Safety Commission at (800) 638-2772.
If you would like to receive a pdf copy of the complete 2013 Noisy Toys List, please contact SHA at kwebb@sightandhearing.org.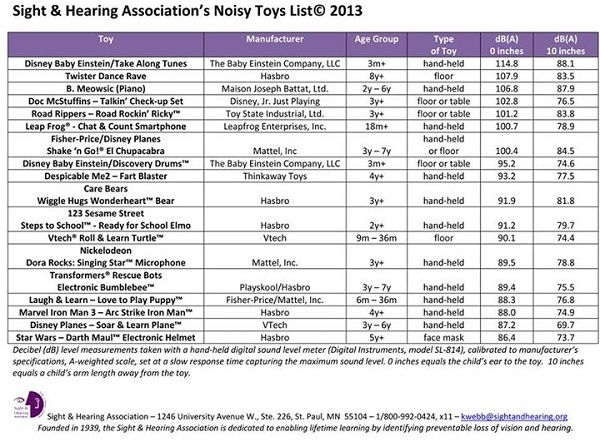 Source: https://www.facebook.com/notes/sight-hearing-association/sight-hearing-association-releases-annual-noisy-toys-list/10151815913311378