Signia employees and customers packed 35,000 meals for hungry children in Puerto Rico
Event conducted in partnership with No Child Hungry, the feeding program of My Neighbor's Children
Event held as part of Signia's annual sales meeting held this year in Short Hills, NJ
Sivantos, the manufacturer of Signia brand hearing aids, recently held its annual US Signia National Sales Meeting in Short Hills, New Jersey. This year's weeklong training event included a philanthropic opportunity for the sales and other customer-facing departments, with approximately 110 employees working along with about 20 customers to assemble 35,000 meals for hungry children suffering in the aftermath of Hurricane Irma and Hurricane Maria in Puerto Rico.
This philanthropic event was conducted in partnership with My Neighbor's Children, an organization that assists people in need both domestically and abroad. Their No Child Hungry program focuses on feeding children by creating "meal packing" events, holding food drives, and offering financial support. These meals are certified and regulated by the FDA, and designed to be nutritious and filling.
No Child Hungry volunteers provided the supplies and trained Signia attendees on how to pack the meals safely and efficiently. It took approximately 1.5 hours for the group to assemble the meals, which consisted of six-serving bags of fortified rice and soy protein. The meals were immediately shipped to Florida to be loaded onto a ship along with other donations earmarked for Puerto Rico.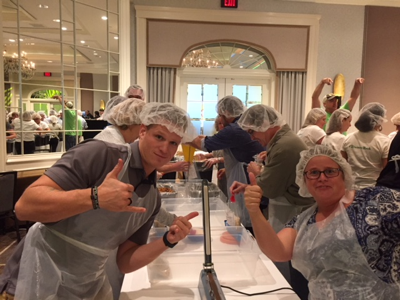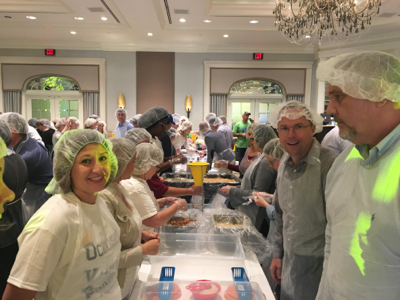 "When we can all come together as a team and give back, it makes a huge difference," said Steve Mahon, CEO of Sivantos US. "We thank No Child Hungry for giving us the chance to help the most vulnerable, the children left hungry and displaced by these natural disasters."
More information about Signia hearing aids can be found at www.signiausa.com or the Signia Partners Page on AudiologyOnline.
About the Sivantos Group
The business operations of the former Siemens AG hearing aid division have been incorporated into the Sivantos Group since early 2015. Sivantos can look back proudly on more than 130 years of German engineering and countless global innovations. Today Sivantos is one of the leading hearing aid manufacturers worldwide. Thus the former Siemens hearing aid division, with more than 5,000 employees, achieved revenues of 835 million euros in the fiscal year 2014/15 and a reported EBITA (with normalization) of 206 million euros. Sivantos' global distribution supplies hearing aid specialists and sales partners in more than 120 countries. Particularly high value is placed on product development. To this end, Sivantos aims to develop into the world's leading company in the coming years with its brands Signia, Siemens, Audio Service, Rexton, A&M, HearUSA and audibene. The owners of Sivantos are the anchor investors EQT along with the Strüngmann family as a co-investor. Sivantos GmbH is a brand license holder of Siemens AG.
More information can be found at www.sivantos.com.