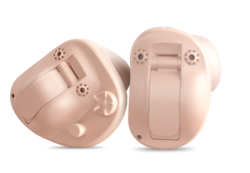 Today, Widex announced the new WIDEX CUSTOMTM - a completely redesigned in the ear hearing aid with a 40% smaller engine compared to previous models.
"Widex CUSTOM delivers a powerful combination of superior sound and perfect fit. Tailored for the individual user, CUSTOM gets its strong performance from the UNIQUE-platform - which provides unsurpassed sound performance whether used in a BTE, ITE or ITC hearing aid," said Jørgen Jensen, CEO, Widex.
CUSTOM features all the benefits of the UNIQUE platform such as, sound classifier, soft level noise reduction and the largest sound window in the market, along with Widex BEYONDTM. It also provides easy, customisable control via a new programme button and volume wheel. Additionally, the battery door has been redesigned for quick and easy battery changes.

CUSTOM connects to Widex's extensive range of assistive listening devices. The combination of a 312 battery and the lowest power consumption in the industry lets CUSTOM maintain connection for longer without sacrificing sound quality.
"With the launch of Widex CUSTOM, even more people will be able to get a very discreet, custom-fit hearing aid without sacrificing their ability to enjoy the most powerful hearing aid technology available," according to Jørgen Jensen.
Learn more at www.widex.com or the Widex Partners Page on AudiologyOnline.