Learning Objectives
After this course, participants will be able to:
Identify the steps to completing a fitting with Noahlink Wireless.
Identify the best Phonak hearing solutions for appropriate patients.
List uses and benefits of wireless connectivity.
Introduction
Phonak has been in business for more than 70 years. Those of you who have been fitting Phonak for many years probably remember some of our earlier custom solutions or products, such as the Claro. Earlier this year, we launched the Virto B Titanium product: the first titanium-shelled custom instrument. You may also remember our first RIC product, the microPower.
We've come a long way! We launched the Audéo B platform last August and we now have an additional RIC option for your patients.
Over the last 70 years, Phonak would not have been as successful if we didn't reflect on ourselves as a company. During that reflection process, we decided who we are and who we aspire to be, which led to our brand statement: For people who live life with energy and passion, Phonak is the brand that is continuously pioneering hearing solutions that are life-changing.
We believe in changing lives and creating a world where life is on for everyone. The solutions we have developed over the years have enabled you, as a hearing healthcare provider, to meet the needs of your patients. Furthermore, using our products, your patients can live fulfilling and empowered lives, so that they can thrive socially and emotionally in their desired activities. We offer the broadest portfolio of innovative solutions, and I'm excited to share with you today our newest solution, which may fill in some of the gaps for your patients.
Hearing loss is experienced differently by everyone; as such, every patient has unique needs. We have high quality solutions for pediatric patients who are in the critical stages of developing speech and language skills. Some patients need a power solution. Some patients have issues with hearing in noise and at a distance, and we've created solutions for that. These days, patients hearing aid technology that works automatically, without having to reach up and touch a button to change programs. Also, many patients are looking for rechargeability. As technology has advanced, we've become accustomed to charging our cell phones every night, so it makes sense to have that option in a hearing aid as well. Some patients have single-sided hearing or concerns with tinnitus. About 60% of patients that walk in your door are looking for something that's invisible, and they also want customization and direct connectivity.
Phonak now has a portfolio that fulfills all of those needs. From our Sky V platform, to Roger to help with speech and noise over distance. We have the first lithium ion rechargeable hearing solution, where the patients can get 24 hours of device life on a simple three-hour charge. We have the rest of our portfolio, including our Bolero BTE and custom products. For patients looking for invisibility, we have Lyric and the titanium custom device. We're also launching the rest of the Virto B line today. For the purposes of today's course, we will not cover the Virto B product line, but we should have a course coming up in the near future to cover that topic. Finally, we now have a made-for-all RIC solution so that your patients can have direct connectivity to any Bluetooth-enabled cell phone. There truly is an option for everyone.
Data from the Pew Research Center shows that 77% of people over the age of 50 do own a smartphone (April 2017). Of those with smartphones, 66% are Android users and 33% are Apple users. Of the millennials, 28% have an iPhone, whereas 61% have an Android. As we look at older populations, people age 50 to 64 who have a phone, 23% own a flip phone, 49% have an Android product, and 23% have an iPhone. As we get into the 65 plus category, 13% have no cell phone. However, 23% have a flip phone and 38% have an Android. Clearly, according to this data, the majority of smartphone users across all age groups are on the Android platform.
At Phonak, we wanted to make sure that when we developed a product, we were meeting the needs of all patients and not just catering to a few. Some hearing aid products on the market only cater to 23% of the population. We cater to 97% of the population with our new product. You and your clinic are now going to have an option, not only for iPhone users, but also for patients who use Android or other Bluetooth-enabled cell phones.
Phonak Audéo™ B-Direct
Audéo B-Direct is our first hearing aid that uses a Phonak proprietary 2.4 GHz radio chip. It's capable of offering direct connectivity to any Bluetooth cell phone. In fact, I received my Audéo B-Direct hearing aids last week, and I was wearing them over the weekend to test them out in different scenarios. I went to the Verizon store, walked over to the flip phone section, and I was able to successfully pair their flip phone to my hearing aids. It's exciting to be able to offer this solution for all of your patients, and we are confident you will feel that it has been worth the wait.
This is our Audéo B family (Figure 1). The device outlined in green is our Audéo B-Direct hearing aid. It looks very similar to a 312 instrument. The case is a little bit smaller and thinner than a size 13 instrument. To give you a comparison, the hearing aid immediately to the right of the green rectangle is our rechargeable option, and the one furthest to the right is our Audéo B-13, which has both a push button and a volume toggle. You'll see that the Audéo B-Direct is definitely smaller than those two options on the right. With that being said, it's easy to look at the case size and erroneously pop in a 312 battery. If the hearing aid is being intermittent, make sure that you have the proper size 13 battery in it.

Figure 1. Audéo B family of hearing aids.
With the addition of the Audéo B-Direct, we now have six RIC models within the Audéo B family, so you can offer your patients a very broad portfolio of product choices.
Audéo Belong
The Audéo Belong platform (Figure 2) has a new design, an IP 68 rating, and new microphone positioning. If you have a patient who wants direct connectivity to a cell phone, hands-free calling, direct connectivity to the TV, and a product that's easy to connect and use, I would go with the Audéo B-Direct. If you have a patient who is looking for convenience (e.g., they don't want the hassle of handling batteries, they want something that's easy to charge and use), the Audéo B-R is a great solution for them. Remember that the rest of our Audéo B products are also very versatile. If you need a T-coil or more control, longer battery life, you can choose from one of our other four Audéo B options in a size 10, 312, the 312T (which has a T-coil), as well as the 13 with additional onboard controls. You definitely have a lot of flexibility and options for your patients.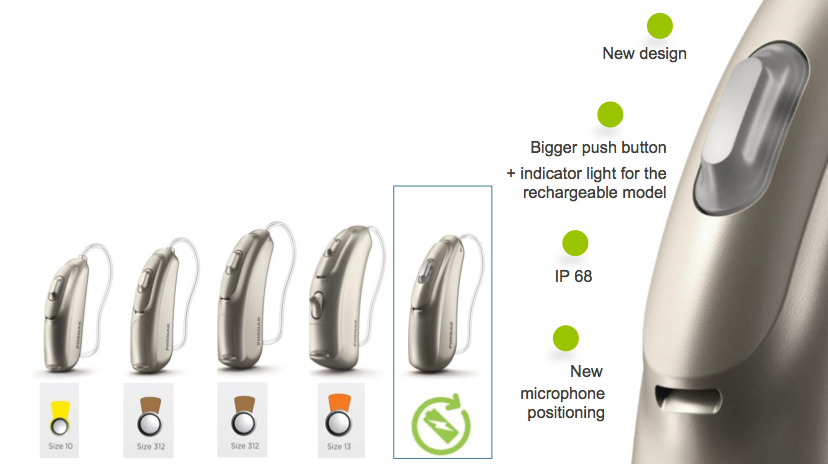 Figure 2. Audéo Belong platform.
Introducing Audéo B-Direct
The Audéo B-Direct delivers direct connectivity to any cell phone. You can answer or decline phone calls with a touch of a button on the hearing aid. Audéo B-Direct delivers a hands-free phone call experience, which is convenient if you live in an area that has banned cell phone use while driving unless it's a hands-free device. Additionally, we have a new TV streaming solution, which is easy to set up and use with our simple "plug and play" technology. The Audéo B-Direct is available in 90, 70, and 50 levels of technology. It is currently not available at the 30 level. If you needed to fit a 30 level instrument, you would have to go with one of our other products.
During the course of the presentation, as we introduce you to the features of Audéo B-Direct, we will review the following key areas:
Direct connectivity – Made for all
Hands-free calls
Plug and play TV streaming
Improved user interactions
Product characteristics
Wireless fitting
SWORD = Sonova Wireless One Radio Digital Chip
Sonova has been working on developing the SWORD chip for years. There wasn't anything available on the market that was able to do what we wanted, which was to provide a solution for all patients. We didn't want patients to have to be tied to a cell phone. In the event that they break or lose their phone, they don't have to worry whether they have an iPhone or an Android, and they don't have to worry about switching. They're truly not tied to any type of phone solution, thanks to the SWORD chip. This proprietary radio chip supports Bluetooth Classic protocol, with the hands-free profile. It will work with any cell phone that has Bluetooth 4.2 technology, as well as most other Bluetooth cell phones.
It is important to note that due to the current technical limitations created by the need to deliver a solution that's compatible with all Bluetooth-enabled cell phones, it is true that the Audéo B-Direct streams phone calls to one ear. In the development of the Audéo B-Direct, we prioritized the need to connect to all cell phones over the need to stream binaurally. However, the SWORD chip sets the stage for this capability to grow, and for the technology to evolve.
What is Bluetooth?
Bluetooth is a worldwide open wireless technology standard for exchanging data over distances between two paired devices. It was originally invented in 1994 by the Ericsson Corporation to replace wired technology in order to rapidly transfer voice and data. There are two main types of Bluetooth that exist today: Bluetooth Classic and Bluetooth Low Energy (LE). Bluetooth Classic is probably what we think of when we hear the word Bluetooth, and this type of Bluetooth is ideal for streaming audio. There's also Bluetooth Low Energy, which is ideal for applications that don't require a continuous connection, but they do depend on long battery life. This allows us to use the remote control app, as well as the fitting, binaural control, and things like that. At the moment, Bluetooth Low Energy is not suitable for audio, because it doesn't have that capability. Bluetooth standards organizations are working on a standard for streaming audio directly to hearing aids. Hopefully, we will see that technology come down the pipeline in the next few years.
Benefits of Bluetooth
Some valuable benefits that Bluetooth allows include:
Connectivity to all phones
Good quality voice and audio
It is the universal standard that allows phones to communicate with other devices
Hands-free calling
Multiple protocols for data exchange
In the Audéo B-Direct, we use the following three features:
Bluetooth Classic with Hands-Free Profile (HFP) protocol for hands-free phone calls
Bluetooth Low Energy (LE) protocol for fitting and remote control
AirStream, Phonak's proprietary protocol used for audio streaming with the new TV connector
Direct Connectivity: Made for All
Thanks to SWORD, a Made for All (MFA) direct connectivity solution is possible. In other words, we have direct connectivity to all cell phones with Bluetooth 4.2 wireless technology. The Bluetooth Classic hands-free profile essentially turns your Audéo B-Direct into a wireless Bluetooth headset. That's how we're able to deliver connectivity to all cell phones. Your patients are able to enjoy the freedom of this universal connectivity. It will even work with most older Bluetooth cell phones. It will work with Bluetooth-enabled DECT phones, not to be confused with the DECT phone that we have at Phonak. In this case, DECT is used as an industry term. They can use the Plantronics BT800 wireless Bluetooth adapter, for instance, so it will have quite a bit of functionality there. Patients can also use applications such as Skype, FaceTime, and WhatsApp for phone calling. Furthermore, navigation apps (such as Google Maps) will stream the voice alerts and directions directly to the patient's ear.
Hands-Free Calls
Audéo B-Direct supports hands-free phone calls. You can answer the phone with one tap of your push button. When you're finished, if you push the button again, it will hang up the call. The patient can decline a phone call with a long press of the same button. One of the benefits of this is that you don't have to have your cell phone right next to you. If I'm driving in the car and my phone is in my purse, I don't have to dig it out to accept the phone call, because the microphone on the hearing aid will pick up my voice using Own Voice Pick Up. As I'm talking, the hearing aid is sending my voice back to the cell phone so I don't have to hold the cell phone up as the microphone. The hearing aid does all of that for you. There's also optimal listening, thanks to a feature called Environmental Balance. If there is background noise, the client can adjust their hearing aids until their optimal listening environment is achieved. Environmental Balance will adjust the balance of the streamed signal and the environmental noise. For the caller, sound cleaning will be applied to the speaker's voice before it is heard at the other end.
Plug-and-Play TV Streaming: the TV Connector
According to recent statistics, 94% of hearing aid wearers watch television at least once a day. One study in 2015 found that the average American spends about four and a half hours a day watching TV. Not surprisingly, it is rated as the number one leisure activity in the United States. In another poll of TV watchers, 85% of people stated that they consider being able to hear well when watching TV as very important or extremely important. Unfortunately, the reality is that 60% of hearing aid wearers are less than satisfied with how they hear the television.
In a Sonova B2C segmentation study from 2017, they determined the top four activities that are restricted because of hearing difficulty. These include:
Watching TV (32%)
Participating in social activities with family, neighbors, friends (30%)
Dinner in a restaurant in large groups (20%)
Spending time with family and friends at home (16%)
Watching TV consistently rates highly as one of the areas in which clients desire a better listening experience. Clearly, TV watching is important to patients, which is why we wanted to develop an additional solution to meet their viewing needs.
The TV Connector is Phonak's new plug-and-play solution, offering simplified and exemplary streaming for Audéo B-Direct hearing instruments. It is easy for clients to set up and offers quality, stable audio streaming for multiple listeners by turning their hearing instruments into stereo, wireless TV headsets. Other solutions on the market often require each viewer to have their own streamer, and they are more cumbersome to set up. One of the reasons that a lot of hearing healthcare providers shy away from fitting accessories specifically for the TV is that patients want you to come to their house to help set it up. This is truly much easier than that.
The TV Connector uses Airstream™, a Phonak proprietary 2.4 GHz streaming protocol which offers high quality audio streaming from any television directly into the hearing aids. Designed with the end user in mind, it is easy to use straight out of the box with no complicated pairing or connection steps. It is an easy plug-and-play setup when installing for the very first time. Some benefits of AirStream technology include:
High quality, stereo audio signals to Audéo B-Direct hearing aids with very low streaming delay
Audio streaming with the TV Connector, without the need for body worn/around-the-neck streaming interface
Broadcasting to an unlimited number of listeners with one compatible accessory
Lower energy consumption than any suitable Bluetooth classic protocol/profile
Easy plug-and-play connection to the television
Up to 80 hours of streaming and listening enjoyment with one hearing aid battery
Since we're using the proprietary streaming protocol, it delivers low hearing aid battery consumption. Patients can stream up to 80 hours on one single battery. The sound quality is fantastic. Plus, it is very small and lightweight, and fits in the palm of your hand. You can also connect it to other media sources, such as a cell phone and a computer. Of course, its primary use is for the television. When your patient walks into the streaming zone, it connects to the TV automatically. It is important to note that this is not backwards compatible with our other products. As of right now, this will only work with the Audéo B-Direct product.
The TV Connector comes with two types of cable: a 3.5-millimeter cable and an optical cable. We recommend the optical cable for the best sound quality, if the patient has an optical port on the back of their TV. If not, they can always use the 3.5 mm cable and the audio output port. It needs a power source, so all the patient has to do is plug it into a power source and they can plug the cable into the appropriate port on their television. They can also use RCA cables, which are not included with the TV Connector, but know that it is another option. Once you hit the connect button on the back of the TV Connector, the patient simply has to be nearby (within 15 meters) in order to establish that connection. Again, they'll hear a confirmation beep and they'll be connected. If they want to disconnect from it, they can do so with a long press on the hearing aid button, and it will go out of TV mode. Also, our new remote app will enable the patient to change programs. The TV Connector will stream to both ears to watch TV.
In order to make certain that our TV Connector would be easy to use, we conducted a study. We gave patients our TV Connector, as well as other TV solutions on the market. We asked the patients to connect the audio cable, connect the power plug, and connect the device to the TV. What we found was that Phonak's TV Connector is eight times easier for patients to use and connect than our competitors. Furthermore, our product streams binaurally directly to both hearing aids. It delivers good sound quality, and works up to a distance of 15 meters (49 feet). We offer direct streaming with no interface. If you have multiple listeners in the same house, they can all utilize the TV connector as long as they're wearing an Audéo B-Direct. A side benefit for you as the hearing healthcare provider, is that it is so easy to set up, you can focus on other aspects of the fitting process, rather than spending time explaining the accessories.
Improved User Interactions
With Audéo B-Direct, we also have some improved user interactions. The first of which is called Environmental Balance, or Ambient Balance. This feature allows patients to adjust their hearing aids to either hear more of their streamed signal, or more of their environment. There are three ways to access Environmental Balance when streaming: through the phone volume buttons, using the hearing aid push button, or via the Phonak Remote app.
Figure 3 shows a graphic representation of what Environmental Balance looks like. The hearing aids will always default to having a stream signal that is equal to the surrounding signal. In other words, the patient will be able to hear environmental sounds equal to the stream signal. For example, if I'm sitting at home alone using the TV connector to watch a program, I'm not trying to communicate with anyone. Let's say the dishwasher is running in the background, but I just want to focus on my TV program. I might increase the volume of the streamed signal in one of three ways: by using the right button of the hearing aid, by turning the volume up using my cell phone, or by increasing the volume on the app. For every step that you go up, the streamed signal will increase, and the surrounding environmental noise will decrease proportionately.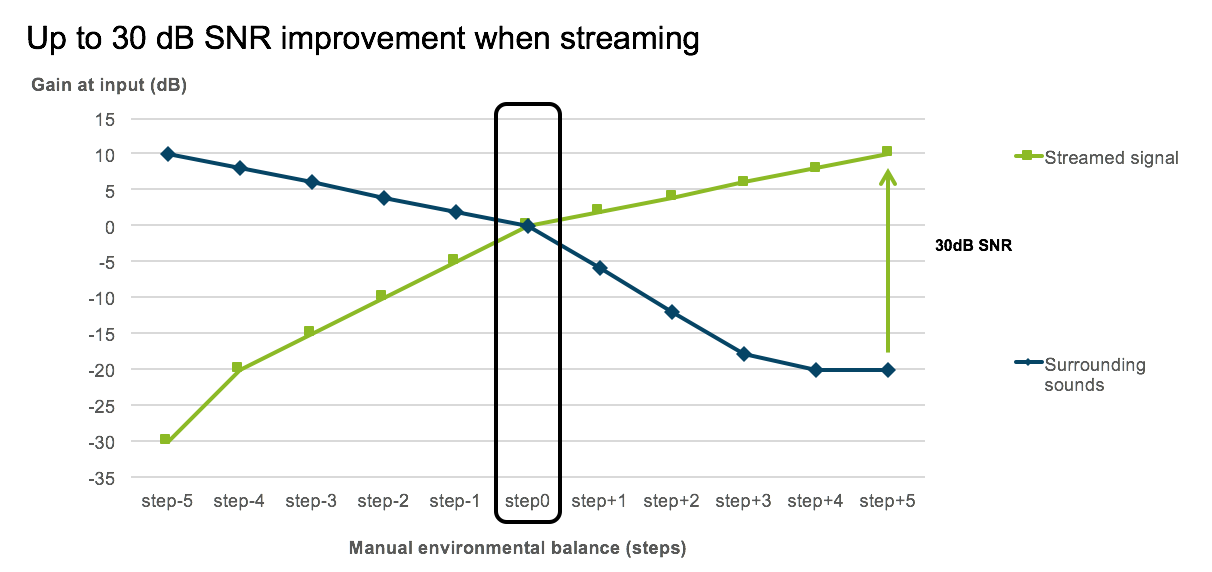 Figure 3. Environmental Balance.
Now, let's say that I receive a visitor into my home, and I no longer want to focus on the streaming signal. I want to focus on my guest and what they're saying to me. In that case, I can turn the volume down by pushing the left button on the hearing aid, or I can use volume down on the cell phone or the app, in order to decrease the streaming signal and increase the environmental sounds. If I'm taking a phone call in a noisy environment, most likely I'll want to increase the volume of the stream signal so that I can focus on that phone call. If you get a set of demo aids in your office, I would recommend playing around with that feature.
All direct connectivity devices are required to have an airplane mode. To switch into airplane mode, open the battery door and hold down the push button at the same time. Next, close the battery door as you continue to hold the push button for about 10 seconds. This will put the devices into flight mode.
Also, when the Audéo B-Direct comes in for a repair, we do always restore any programming settings; however, Bluetooth pairings will need to be reestablished by the patient. The way that you reestablish that pairing mode and make it discoverable is by opening and closing that battery door. Then they should be able to see their devices in the Bluetooth section of whatever they're trying to connect it to.
Remote App
We worked with patients to develop the Remote App. We wanted to make sure that they could navigate the app with ease, and that it would meet their needs. Using the app, they can change programs. They can change the Environmental Balance by sliding the toggle in the app either left (TV) or right (surrounding/environmental). They can also see the average wear time since their last appointment with you. It's almost like data logging for the patient so that they can see how much they've been using it.
Additional app features not pictured on this slide include a tinnitus noiser and battery status. With the Tinnitus Noiser, the patient can adjust the volume of the tinnitus noise generated in the hearing aid. Also, the patient can check their battery status on the app, in case they missed their low battery alert signal.
Product Characteristics
The Audéo B-Direct has some unique design characteristics. The size of the device is comparable to a 312 device. Dependent on the amount of streaming your patients are doing, they should be able to get about six days of battery life out of the hearing instrument, which includes using the phone for one hour per day and also three hours of TV viewing per day. One of the reasons we went with the size 13 battery is we wanted to deliver better battery life so that patients weren't having to change the battery every other day. When you see the case, it truly does look like that 312 size. With the TV Connector, the Audéo B-Direct 13 battery can stream up to 80 hours. Again, that's because of our proprietary way of streaming media.
The Audéo B-Direct looks very much like the Belong family (Figure 4), although the microphones will appear a bit different due to new microphone positioning to reduce hair and wind noise, for your patients who spend a lot of time outdoors. Audéo B-Direct is the smallest 13 size RIC product in the Audéo family. It has an IP 68 rating, which is the highest IP rating that can be achieved for a hearing aid. It's dust-resistant and moisture-resistant. It has AutoSense OS, so the hearing aids will change programs automatically based on the environment of the wearer. The push button is very simple to use, to answer and decline phone calls. It has the same receivers that you would use with any of our other RIC products, so those are backwards compatible and forwards compatible. You don't have to worry about getting a new receiver kit or anything like that. We were able to achieve the small size because the components that we placed inside of it are different from our other technology. We used kind of the same concept that we used in the Audéo B-10 to get it so small. We used a different battery contacting concept, which allows us to get that thinner case design.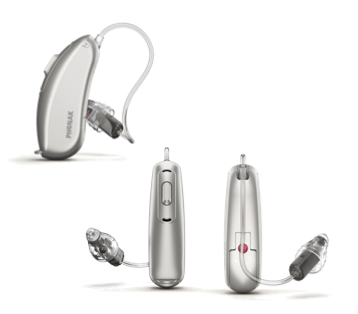 Figure 4. Audéo B Family.
Wireless Fitting
With a direct connect device comes a unique wireless fitting workflow. This new approach supports all of the features and functions you already know and love, while also introducing new benefits offering flexibility to your Audéo B-Direct fittings. Before we dig into this new wireless fitting workflow, let's take a look back at how hearing instrument fittings have changed over time.
With the HiPro and Noahlink, we introduced the flexibility to program hearing instruments using a wired connection. This approach opened new opportunities, but at the same time, also introduced cables, thus limiting the ability to easily move around. Then, we moved to wireless fittings via the iCube I/II. This freed us from the wired connection and offered the ability to move around. However, it still required clients to wear a fitting device around their neck. With the introduction of a new wireless fitting device, Noahlink Wireless and Phonak's latest innovation, Audéo B-Direct, we are finally able to remove this dependency on a body worn fitting device and offer a truly cable free fitting experience for you and your clients. You simply plug it into your computer, and it should install the drivers automatically. It facilitates a fitting workflow that's very unique to Phonak, and I think you'll be excited about some of the features that we have enabled.
Note that the ability to do wireless fittings is compatible with the Audéo B-Direct only. Our previous products don't have the same chip in the hearing aid that would allow you to use wireless fitting. However, many of you might have the Airlink 2 in your office, which can be used. You may need to upgrade the firmware in order to fit a Phonak product, but that is the same thing as the Noahlink Wireless, just so that you're aware.
In February of 2016, we conducted an online survey of 230 fitters across the United States to gain information about how they most often programmed hearing aids. Did they program them on the desk prior to the fitting appointment? Or did they wait until the fitting and program it on the patient's ear in the clinic? We found that the majority of fitters did program on the desk prior to the fitting.
When you are using wireless Noahlink technology to conduct a fitting, there is the potential that the software could detect multiple sets of hearing aids, if they're all in the discoverable mode. At Phonak, we wanted to create an easier way for you to identify these hearing aids. Therefore, we devised a patented fitting software feature, such that when you press the button on the hearing aid, it will visually identify it in the software. If you do connect and you see multiple sets of hearing aids, you can just press that button, and on screen it will visually identify the hearing aid by highlighting it in green, and you can go ahead and select whether that's the right or the left hearing aid.
Just to back up a bit, in order to put the hearing aids into discoverable mode, simply open and close the battery door and it will be active/discoverable for three minutes. After that three-minute period, if you have not taken any action, the screen will turn gray to indicate that it's out of discoverable mode. If you see that turn gray, open and close the battery door again, and it will go back into discoverable mode. The patient generally needs to be within 10 feet of the Noahlink Wireless device, so they can be located where they would normally sit in your office. There's no intermediary fitting device worn by the patient, no additional adapters, components or cables. You don't have to reach your arms around the patient to put the neck loop on them. It's a more comfortable, less intrusive fitting experience.
Another thing unique to Phonak is that the first time you pair the patient's hearing aids to the Noahlink Wireless, that information will be saved in their Noah file. On subsequent follow up appointments, you don't have to put it back into pairing mode. You don't have to pull it the hearing aids off their ears if you don't want to. That just has to happen one time. With that being said, if you send it in for repair and it comes back, you probably will have to pair it again. However, if they're just in the office for a normal follow-up and the hearing aid is working great, you shouldn't have to pair them again. Again, in the software, you will have visual and auditory feedback; you can play the beep, and when they push the button, the hearing aid will send information back to Target to indicate whether the button has been pushed or not.
Figure 5 shows the software. You'll notice the additional "Bluetooth and Streaming" tab along the bottom when you're fitting Audéo B-Direct. At the top, you'll also notice there's a new icon near the upper right that currently has a little orange popup next to it. Anytime you see orange in our software, that's alerting you to pay attention to something that may require action. Audéo B-Direct will always default to the right ear as the streaming ear for phone calls. It's a good idea to make sure to ask your patients which ear they would prefer for the phone. Once you determine if it's right or left, you can indicate their preferred phone ear in the lower middle portion of the screen. You will also have the ability to rename the patient's hearing aids so that in discoverable mode, you can see the name they have chosen. For HIPAA reasons, I would advise against using any kind of personal information in the name, but use more of a nickname, similar to how you would name your Wi-Fi network. Also, if for some reason you need to delete all the Bluetooth pairings, you can do so by using the "Delete Bluetooth pairings" button at the bottom center of the screen.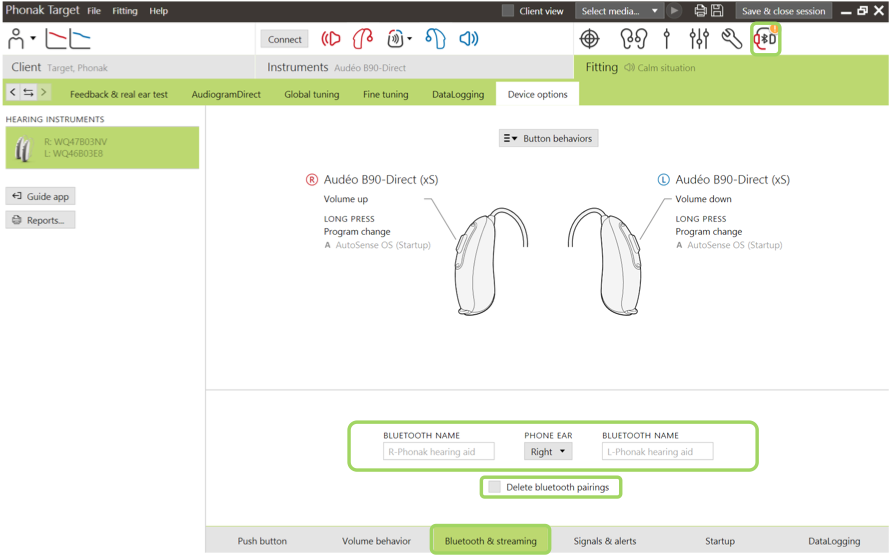 Figure 5. Software snapshot.
Additionally, it will always indicate on the screen what the push button is doing and how it's functioning (Figure 6). You can change the mode using the button labeled "Button behaviors." If you wanted to switch to TV connector, you would select TV connector from the drop-down menu, and it would tell you exactly how the buttons are functioning and what beeps they're going to hear.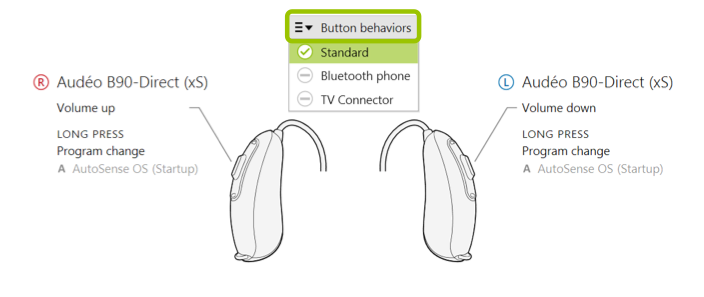 Figure 6. Button behaviors.
Looking back at Figure 5, you have the option to print out the instructions and they will be customized to how you have them set up. You can print using the report function on the far left side of the screen, or there is a printing icon at the top of the screen that you can use. Another nice thing about the report screen is that you can change the language.
Final Thoughts
In closing, the Audéo B-Direct offers universal connectivity with any Bluetooth-enabled cell phone, tablet or computer. Patients are going to enjoy the freedom of being able to easily connect to any Bluetooth-enabled device, regardless of the brand or operating system. It is truly hands-free; the patient doesn't need to have their phone in their hand. They can walk away and respond to phone calls with a touch of their hearing aid. We also have the new TV connector, which will work with an infinite amount of Audéo B hearing aids. Now, Phonak truly has a solution for every need, and that includes direct connectivity. Not only are your Android users going to be excited about these features, but you'll also have plenty of iPhone users who will love this technology.
Citation
Abel, C. (2017, October). A new age of communication powered by purposeful innovation. AudiologyOnline, Article 21326. Retrieved from www.audiologyonline.com