Learning Outcomes
After this course, participants will be able to:
Explain the history of the study of earmolds, and the pros and cons of an open vs closed earmold fitting.
Describe the basic study set-up that can be used to differentiate different earmold coupling systems.
Describe the objective and subjective findings obtained for open vs. closed earmold coupling systems.
Introduction
There was a time when the study of earmold acoustics was a big part of every audiology graduate hearing aid class. Decades ago many audiologists cut their teeth on the classic book chapters by Sam Lybarger, and the comprehensive monograph written by Robyn Cox (Cox, 1979). In the 1980s, the work of Mead Killion led to interest in new types of innovative earmolds, including the use horn tubing, made popular by Cy Libby's production of the Libby Horn.
Audiologist's interests in venting, damping and horning soon diminished, as custom instruments became fashionable in the 1990s, enjoying a market share as high as 80% (in the U.S.). In the early 2000s, however, the love affair with CICs and other custom products began to fade, and our interest in earmolds and their modifications returned. There were two main factors which encouraged this shift to BTEs and the use of earmolds. One was the development of dual-microphone directional technology, which at the time only was available in BTEs. A second prominent factor was the rebirth of open-canal fittings. The popularity of open fittings grew quickly, as often they were used with new BTE products that were smaller, had a discrete fitting tube (or wire in a tube), and most importantly, some manufacturers had developed a much-improved feedback reduction system.
Today, while there still remains a sizeable difference among manufacturers (Marcrum, Picou, Bohr, & Steffens, 2018), feedback reduction systems have continued to improve, which allows audiologists to use an open fitting, and in a mild-to-moderate hearing loss, often obtain the desired gain that previously only was possible with a more closed earmold. This has then brought us back to the discussion of earmold acoustics. What are the pros and cons of an open fitting vs. a closed fitting? Has the current trend of fitting 50% or more of patients with an open ear-tip gone too far?
At one time, going back to the 1980s (e.g., Cox and Alexander, 1983), there was some thought that an open/vented fitting was maybe better than closed because it helped make speech sound more natural. With the high fidelity of today's instruments, however, there is little evidence to support this. In fact, just the opposite may be true. Obtaining prescriptive gain in the lower frequencies with an open fitting sometimes simply isn't possible, or often requires maximum or near-maximum amplifier gain, which has the unwanted effects of higher circuit noise, greater battery drain, and possible distortions. A long-standing advantage of an open fitting is that the patient's own voice sounds more natural, as the occlusion effect is less likely to occur. It's possible, however, that with the right signal processing, a natural own-voice impression can be obtained with a closed fitting, which we will discuss shortly.
An obvious advantage of a more closed fitting is that desired gain in the low frequencies can be more easily obtained, and the probability of acoustic feedback is greatly reduced. With more severe losses, a relatively closed fitting is the only way desired gain can be obtained. Another major advantage of a closed fitting, which isn't as well documented, is related to the advanced signal processing of the instruments, in particular digital noise reduction (DNR) and directional technology. Consider DNR—in most cases the unwanted noise has a low frequency emphasis. But with an open fitting there is little gain in the lows; the speech-to-noise difference (DNR benefit) cannot be any larger than the gain present for speech in quiet (simply stated, you can't take away what isn't there). Moreover, the open fitting allows low-frequency noise to pass directly to the eardrum with little or no attenuation. This is illustrated in Figure 1, adapted from Mueller and Ricketts (2006), which shows the magnitude of DNR in the real ear for an open fitting, for a hearing aid that had essentially equal DNR effects across frequencies for a closed fitting. Observe that in the mid-to-high frequencies, there is 10-15 dB of DNR benefit, but for 1000 Hz and below the DNR effect is negligible, yet this is where it is most needed.
Figure 1. The real ear aided response (REAR) using a 65-dB speech noise signal for DNR-Off vs. DNR-On. The lower curve on the chart shows the frequency-specific magnitude of the DNR (the difference between the two REAR measures). Measurements were obtained for an instrument which had relatively equal DNR magnitude across all frequencies when a closed fitting was employed.
The same general principles apply to directional technology. The findings of Ricketts, Bentler and Mueller (2019), who report on 14 different directional products with open fittings, illustrated that the average directivity index (DI) with this coupling was only around 2.0 dB. This is in contrast to average DIs of over 4 dB for directional instruments with closed fittings tested in the same laboratory.
The patient benefit for using a closed ear coupling for DNR and directional processing was clearly shown in behavioral research by Magnusson, Claesson, Persson & Tengstrand (2013). These authors conducted speech recognition-in-noise testing for both open and closed fittings for different hearing aid settings. They found that for omnidirectional processing, only a slight advantage for the closed earmold was observed. However, when both DNR and directional processing were activated, the SRT-50 revealed a 3 dB SNR mean advantage for a closed vs. an open fitting.
So, we have the potential advantage of an open fitting, which most notably is the improved sound of one's own voice, but to obtain this, we give up much of the advantages of DNR and directional technology (and also increase the risk of acoustic feedback). Is it possible to have it both ways? In recent years Signia has developed an algorithm referred to as Own Voice Processing (OVP). This feature is designed to automatically detect the user's own voice, and then, instantaneously, alter the gain and output to make the voice sound more natural to the user—see Hoydal (2017) for details. Clinical studies have been conducted to evaluate the efficacy of the Signia OVP algorithm (Powers, Froehlich, Branda, & Weber, 2018; Froehlich, Powers, Branda & Weber, 2018). Overall, for both ratings of naturalness and satisfaction, OVP has been shown to make a significant improvement. The positive impact of OVP was perhaps best illustrated by the findings comparing the satisfaction of own-voice for Signia OVP-On with a closed fitting, to two competitive products with open fittings—group satisfaction for their own voice was 86% for Signia compared to 58% and 37% for the two competitors (Powers et al, 2018).
This earlier research reveals that if OVP is applied, in most cases there is no additional patient benefit for an open fitting. The purpose of the current study, therefore, was to further compare the effects of open vs. closed fittings for both objective and subjective measures. It is critical for all applied hearing aid research such as this to take into account real-world use, and hence, much of the data reported here is based on an extended field study of the different ear coupling systems.
Study Design
Participants
The participants were 36 hearing-impaired subjects with mild to moderate bilateral hearing loss, and who were experienced users of bilateral hearing aids. All 36 completed all phases of the study. The mean age was 73 years; 21 males and 15 females. The mean time of previous hearing aid use was 8.3 years.
Design and Methods
The hearing aids used in the study were the Pure 13 7Nx or Pure 312 7Nx with M receivers. The hearing aids were fitted to the Signia Nx-fit at the "experienced" acclimatization level. All special features were activated except for frequency lowering; default settings were used. OVP training was conducted and this feature also was activated for all experimental testing.
Three different acoustic couplings were used for each component of the testing: Signia open dome, Signia closed click-sleeve, and a customized click mold (with a venting of 0.8 mm). For experimental testing, the selection order of the acoustic coupling was counterbalanced for each condition and participants were randomly assigned for each test condition.
In the laboratory, comparative testing of the different coupling systems was conducted for the user's impression of sound quality and their speech understanding of different sound samples. In addition, aided speech recognition testing in the sound field was conducted for both a quiet listening condition and in background noise. The speech recognition test material was the Göttingen Sentence Test; 20 sentences for each measurement condition. The speech-in-quiet presentation level was 55 dB SPL, and for the speech-in-noise measure, the sentences were presented at 65 dB SPL, with a -4 dB SNR employed.
Comparison testing also was conducted in the participants' home listening environment. For this portion, the participants wore each of three different ear-coupling fittings for one week, and each evening made diary entries to record their daily impressions. The ordering of use of the different coupling systems was counterbalanced. The hearing aids were rated for speech understanding for four different assigned conditions: listening in quiet, in background noise (other talkers), while on a busy street, and listening to a TV movie. Judgments also were made for music quality. At the end of the trial, a rating of overall satisfaction for the everyday use environment was made.
Results: Laboratory Measures
Using each of the three different coupling systems, the participants made judgments of both speech quality and speech understanding. The judgments were made on a four-point scale: Very Bad, Bad, Good, and Very Good. Recall that these were all experienced users, so it's possible that judgments were influenced by how similar the current Nx-Fit was to the programming of their own hearing aids. Our primary interest, however, was not in the absolute ratings, but the comparison of the different ear couplings, and those results are shown in Figure 2. Observe that for speech quality, there were minor differences among fittings, although not statistically significant. The subjective ratings for speech understanding also were very similar for the three different fittings.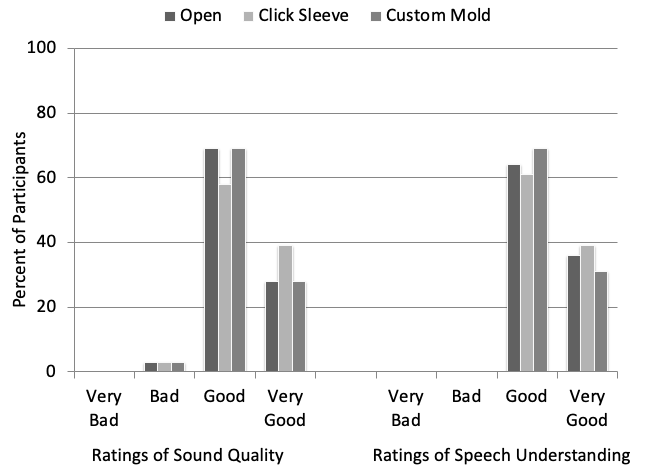 Figure 2. Shown are the participants' subjective judgment ratings for speech, for both quality and understanding. Ratings shown for the three different ear coupling systems: open fitting tip, click sleeve and custom earmold.
The results for the speech recognition testing, in quiet and in noise, are shown in Figure 3. The test material was the Göttingen Sentence Test. For speech recognition in quiet, mean scores were similar for all three conditions, although a slight advantage was observed (4 to 6%) for the more closed fittings. A ceiling effect may have contributed to the similarity of these findings. A sizeable difference, however, was observed for the speech-in- noise measure. Performance went from 59% for the open, to 72-74% for the other two earmold conditions. We assume this was due to the increased effectiveness of DNR and directional technology, which we discussed earlier. Recall that the speech in noise testing used a very difficult SNR=-4 dB, and therefore, the mean findings of 72-74% reflect the effectiveness of the signal processing.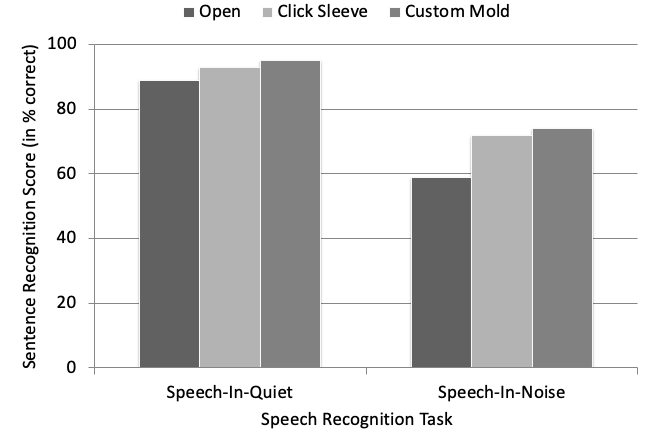 Figure 3. Shown are speech recognition results (shown in percent correct) for the Göttingen Sentence Test (20 sentences; SNR=-4 dB for the testing in background noise) for each measurement condition. Results shown for both testing in quiet and in background noise with the three different ear coupling systems: open fitting tip, click sleeve and custom earmold.
Results: Home Trial
For the home trial, the participants were asked to log their daily use of each earmold configuration. As shown in Figure 4, daily use was very similar for each condition. On average, the hearing aids were used 12 hours/day, and at least 5 hours/day for all participants.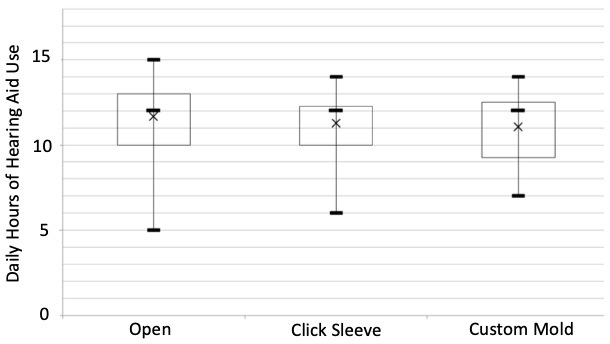 Figure 4. Shown are the means, medians, range, 25th and 75th percentiles for daily use for the three different ear coupling systems: open fitting tip, click sleeve and custom earmold.
During the home trial, the participants were given very specific listening situations in which to compare the different earmold coupling. This was to encourage ratings for a wide variety of situations, and ensure broad real-world applicability. These situations and the participants' ratings for each situation are shown in Figure 5. Not surprisingly, the highest overall ratings were for speech in quiet, and the lowest were for speech in background noise (other talkers and on a busy street). In general, the ratings for the three different ear coupling systems were quite similar for the five different conditions. There was a trend, however, for more satisfaction (5-10%) for the two more-closed couplings for the two speech-in-noise listening experiences.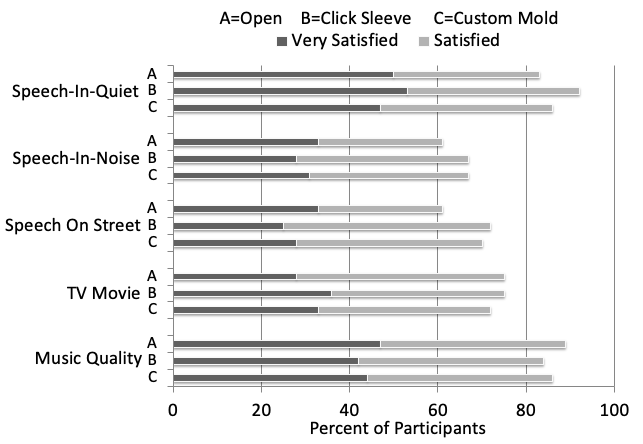 Figure 5. Shown are the satisfaction ratings ("Satisfied" or "Very Satisfied") for five different real-world listening situations for the three different ear coupling systems: A=open fitting tip, B=click sleeve, and C=custom earmold.
In a final measure, the participants rated their overall satisfaction with the three different fittings (Dissatisfied, Satisfied or Very Satisfied). These data are shown in Figure 6. The results for the open fitting tip and the click sleeve are very similar. What is noticeable, however, is the low number of "Very Satisfied" rating for the custom mold. Interviews at the completion of the study revealed that this was not due to acoustic reasons, but related to the comfort of the fit—when compared the soft silicone instant couplings, the more bulky, harder custom molds were less desired.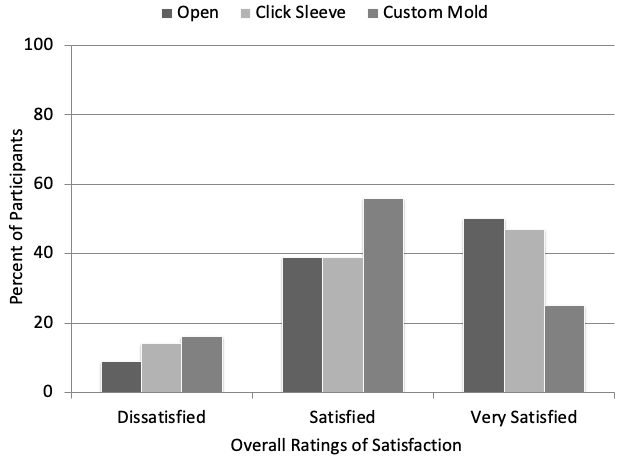 Figure 6. Displayed are the overall satisfaction ratings (Dissatisfied, Satisfied, and Very Satisfied) for the three different ear coupling systems: open fitting tip, click sleeve and custom earmold.
Discussion
As we have shown in previous research, with the Signia OVP technology, it is possible to obtain own-voice satisfaction with a mostly-closed ear coupling that is equal to what occurs with an open fitting tip (Powers et al, 2018; Froehlich et al, 2018). The question then becomes—what is the advantage of an open fitting? To determine if indeed there are sound quality or speech understanding benefits of an open fitting, we compared open ear tips to the Signia click sleeves and custom earmolds. For both laboratory and real-world testing, judgments of speech quality were comparable for all three types of fittings. There was no substantial advantage for an open ear coupling over a closed sleeve for any situation. A slight advantage for closed, however, was observed for speech understanding in both the laboratory and in the real world.
So are there noticeable advantages for a more closed fitting? Most certainly. We discussed several of them earlier, and the results of this study supported our contention that DNR and directionality are more effective when there is not an open pathway to the eardrum. The results of our clinical speech testing in noise revealed a sizeable advantage in speech understanding (13-15%) when one of the two closed couplings were used.
The speech recognition-in-noise advantage found in this study favoring closed fittings is in agreement with previous study in this area. Froehlich and Littmann (2019) reported on research with20 individuals with bilateral mild-to-moderate hearing losses. All participants were fitted bilaterally with Signia Pure 7 Nx, programmed to the Nx-fit algorithm for a bilateral fitting for experienced users. In this research, experimental laboratory testing was conducted with four different ear couplings: Signia open fitting tips, Signia vented click-sleeves, Signia closed click-sleeves and custom-made unvented canal earmolds.
The target speech material was the sentences of the Oldenburger Satztest, commonly referred to as the OLSA. The target sentences were presented at 0° with competing noise from seven other loudspeakers equally spaced at 45° increments, starting at 45° (i.e., 45°, 90°, 135°, etc). The results from Froehlich and Littmann (2019) are shown in Figure 7.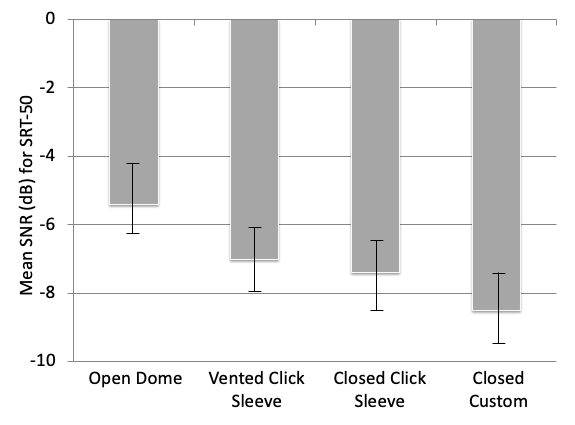 Figure 7. Shown are the means, 25th and 75th quartiles for the OLSA SRT-50 for the four different ear coupling systems: Signia open fitting tips, Signia vented click-sleeves, Signia closed click-sleeves and custom-made unvented canal earmolds.
Observe that the findings are aligned much in the same way as found in our current research—see Figure 3—the more closed the fitting, the better the performance. A mean 3dB SNR advantage occurred when going from the most-open to most-closed coupling, remarkably, the same benefit reported in the research of Magnusson et al (2013) discussed earlier. For the speech test that was used in the Froehlich and Littmann (2019) research (the OLSA; Figure 7), each dB of SNR improvement corresponds to roughly 17% improvement in speech understanding (Wagener, Brand, & Kollmeier, 1999). This suggests that the average patient who is fitted with closed rather than open will experience a 50% improvement in speech understanding for some listening situations in background noise.
In summary, our research shows that the ear coupling system selected can have a substantial impact on the patient's benefit with amplification, especially for understanding speech when background noise is present. While "open" has become fashionable in recent years, we contend that if the hearing instrument has an effective algorithm for handling the user's own voice, then the possible advantages of open clearly are out-weighted by the benefits of a more-closed fitting.
References
Cox, R.M. "Acoustic Aspects of Hearing-Aid-Earcanal Coupling System". Monographs in Contemporary Audiology, Volume 1, Number 3. Educational Publications Division, Maico Hearing Instruments: Minneapolis, MN, 1979.
Cox RM, Alexander GC. (1983) Acoustic versus electronic modifications of hearing aid low-frequency output. Ear Hear. 4(4):190-196.
Froehlich M, Powers TA, Branda E, Weber J. (2018) Perception of own voice wearing hearing aids: Why "natural" is the new normal. Audiology Online. April 30.
Høydal EH. (2017) A new own voice processing system for optimizing communication. Hearing Review. 24(11):20-22.
Froehlich M, Littmann V. (2019) Closing the Open Fitting: An Effective Method to Optimize Speech Understanding. Hearing Review. 26(4).
Magnusson L, Claesson A, Persson M & Tengstrand T. (2013) Speech recognition in noise using bilateral open-fit hearing aids: The limited benefit of directional microphones and noise reduction. International Journal Audiology 52(1): 29-36.
Marcrum SC, Picou EM, Bohr C, Steffens T. (2018) Feedback reduction system influence on additional gain before feedback and maximum stable gain in open-fitted hearing aids. Int J Audiol. 57(10):737-745.
Mueller HG, Ricketts TA. (2006) Open-canal fittings: Ten take-home tips. The Hearing Journal. 59(11):24-39.
Powers T, Froehlich M, Branda E, Weber J. (2018) Clinical study shows significant benefit of own voice processing. Hearing Review. 25(2):30-34.
Ricketts TA, Bentler RM, Mueller HG. (2019)Essentials of Modern Hearing Aids.San Diego: Plural Publishing.
Wagener K, Brand T, Kollmeier B. (1999) Entwicklung und Evaluation eines Satztests fur die deutsche Sprache Teil III: Evaluation des Oldenburger Satztests. Z Audiol. 38(3): 86-95.
Citation
Froehlich, M., Giese, U., Powers, T. (2019). Why open hearing aid fittings are often not the best choice for the patient. AudiologyOnline, Article 24982. Retrieved from www.audiologyonline.com