Question What are ClearCaptions' products and services and what do they cost? Answer
ClearCaptions offers real-time phone captioning that allows you to see every word said on the call. For both your home phone and mobile.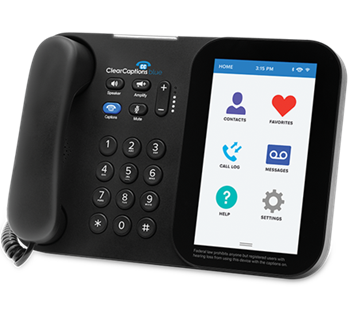 Blue™ from ClearCaptions:
Full-color touchscreen display
Amplified handset
Answering machine with captioned messages
Hands-free speakerphone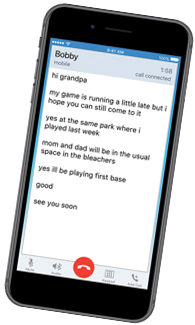 ClearCaptions Mobile for iPhone®*:
Captions for incoming and outgoing calls
Personalized mobile captioned-call phone number
Integrates with iPhone Contact list
E911 support with geo-locating
*Available on iPhone 5s or higher
ClearCaptions is a Federal Communications Commission (FCC) certified telephone captioning provider. Our captioning service is funded and paid for through Title IV of the Americans with Disabilities Act (ADA), a fund which established the Telecommunications Relay Service. There is no cost to qualified individuals whose hearing loss necessitates the use of captions on a telephone.
In addition to the no cost products and captioning services, ClearCaptions will always offer a "white glove" service. Free delivery, installation and product training for every person. This is completed by one of the 100 plus territory managers across the US. passionate about helping seniors and working with hearing care professionals to educate as many people as possible.
"FEDERAL LAW PROHIBITS ANYONE BUT REGISTERED USERS WITH HEARING LOSS FROM USING INTERNET PROTOCOL (IP) CAPTIONED TELEPHONES WITH THE CAPTIONS TURNED ON. IP Captioned Telephone Service may use a live operator. The operator generates captions of what the other party to the call says. These captions are then sent to your phone. There is a cost for each minute of captions generated, paid from a federally administered fund."
For more information, please visit clearcaptions.com or the ClearCaptions Partner Page.