AudiologyOnline: Congratulations on the software release. Could you orient our readers towards Earlens and direct drive technology?
Dr. Mandikal Vasuki: Thank you. Earlens is a paradigm shift in the treatment of mild to severe sensorineural hearing loss. The concept of Earlens is simple – if you can directly drive the eardrum, you can transmit much more information to the middle ear system than by just delivering amplified sound via air molecules to the eardrum. And it is this fundamental concept that makes it very different. Earlens is a hearing aid that produces no sound but can deliver audible amplified signals from 125-10,000 Hz. The Earlens system consists of a behind-the-ear Processor, a custom Ear Tip, and a custom Lens. The Processor converts incoming sound signal to digital signal, applies advanced signal processing features and then transmits it to the Lens via a low power inductive link. The Lens then vibrates the eardrum precisely at umbo to transmit amplified signal over a broad frequency range. Earlens wearers enjoy the exceptional sound quality through a widely vented fitting without any acoustic feedback. The benefits of this technology have been researched in a number of publications – Folkeard et al. (in press); Vaisberg et al., 2020; Vasuki et al., 2020; and Arbogast et al., 2019.
AudiologyOnline: Thanks for that overview. What differentiates Earlens from the other hearing aids and why should audiologists consider including it in their practice?
Dr. Mandikal Vasuki: Earlens is a non-acoustic, non-surgical medical treatment of sensorineural hearing loss that allows a practice to clearly differentiate from competitors, whether those be Big 6, OTC offerings, or Big Box brands. Earlens must be dispensed and serviced by trained and skilled healthcare providers and cannot be dispensed online or at Costco. Patients instantly hear the difference that is created by true broadband audibility delivered via direct drive of the middle ear – with all audio from 100 Hz to 10 kHz processed and audible, creating a superior listening experience in terms of sound quality and performance. Earlens also represents a significant revenue generation opportunity for the practice, including ongoing, prepaid service revenue due to the unique business model. Beyond that, practices should feel proud to recommend Earlens to their patients due to the substantial clinical evidence demonstrating the benefits of audible amplification of speech and sounds up to 10 kHz that are not achievable with conventional acoustic technology – Earlens is capable to doing what clinicians have always aspired to do: provide the greatest possible restoration of audibility, with a natural, high quality listening experience, no feedback, and a comfortable, widely-vented fitting.
AudiologyOnline: How does one fit a hearing aid that produces no sound?
Dr. Mandikal Vasuki: Because Earlens does not produce sound, a process called calibration is needed which is equivalent to in situ audiogram measured using the Earlens system. The calibration provides a conversion factor for the system, so that it precisely knows how much vibration is needed to produce a given level of sound. Once measured, the fitting software automatically applies this conversion factor behind the scenes. Think of it as the converter you purchase when you are traveling to another country with a different power requirement. Because you are directly measuring the conversion factor via the process of calibration, the gains produced are automatically verified for that fitting. Thus, every time calibration is run, it results in verified fittings. And calibration only takes less than 3 minutes for two ears. I do not think anyone can imagine running real-ear measurements in 3 minutes. The rest is similar to how you would fit a traditional hearing aid with the exception of venting – no occlusion is needed to prevent feedback or to generate low frequency output so when streaming audio, more bass can be provided without changing the widely-vented configuration.
AudiologyOnline: What new features were introduced as part of this release?
Dr. Mandikal Vasuki: There are two major features that were introduced with this release – calibration guidance and fitting wizard. We introduced the concept of calibration guidance to help clinicians know where calibration values should be for a given hearing loss. Calibration is a measure of system health. When calibration is within the guidance range, the clinician can be assured of a successful fitting. For any reason, if calibration values are out of the guidance range, the system has built in intuitive warning messages to notify the clinician.
The fitting wizard is another powerful tool to help clinicians optimize patient fittings. For example, many Earlens wearers are listening to a broad bandwidth of sound for the very first time and may need specific gain adjustments. The fitting wizard lists commonly encountered perceptual reports and provides guidance on fine-tuning. With the introduction of this feature, clinicians have fine-tuning recommendations at their fingertips.
In addition, we introduced some exciting improvements that patients can experience once firmware is updated on their devices. These include:
Improved automatic directionality
Mobile application (MFi) enhancements
Performance improvements
At Earlens, we recognize that the value of clinicians' time and have released wireless programming improvements that will enable faster fittings.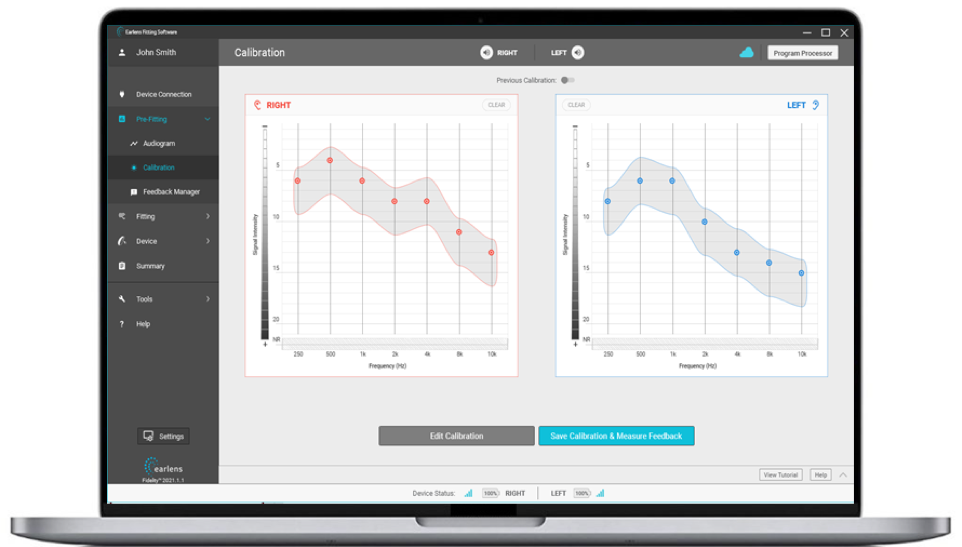 Calibration guidance screen for Earlens FidelityTM fitting software
AudiologyOnline: How does Earlens FidelityTM help to optimize fittings?
Dr. Mandikal Vasuki: We introduced Fidelity guardrails as part of Earlens FidelityTM 2021.1.1. This feature helps to optimize Earlens fittings and prevent fitting errors. Let me go into a little bit of background information to explain how this works. Earlens is the only hearing aid technology that provides extended high frequency amplification up to 10 kHz. Age-related hearing loss typically presents as a sloping hearing loss with greater hearing losses in the high frequencies. Some patients may have hearing thresholds outside the Earlens candidacy range in the extended high frequencies (such as 8 kHz and 10 kHz) but may still be fit with Earlens so they can experience broadband amplification. For those patients, the software will highlight regions of limited audibility on the tuning screen. This highlight alerts the clinician so that they can program the patient appropriately and decrease gains, if necessary, in regions of limited audibility. Moreover, the software also has built-in intuitive messages to further help clinicians.
AudiologyOnline: How can clinicians get a copy of Earlens FidelityTM 2021.1.1 software?
Dr. Mandikal Vasuki: Sites that have our prior version of Fidelity software would see a pop-up notifying them of the software upgrade. They can click on the message box to download and seamlessly install the new version of the software. Sites that have an older version of the Earlens fitting software (ELF) can contact their regional representatives for USB or download links.
AudiologyOnline: Have you received any feedback from clinicians?
Dr. Mandikal Vasuki: Absolutely! Clinicians report they are impressed with the calibration guidance feature. This feature has been helpful for audiologists as they can know when to refer a patient to the ENT physician.
AudiologyOnline: Where should people go for more information?
Dr. Mandikal Vasuki: For more information, people can check out the newest continuing education (CE) courses from Earlens, including: Recorded Webinar - Silent Hearing Aid: Common Hearing Aid Concepts Through a New Lens presented by Pragati Rao Mandikal Vasuki, PhD
The latest courses, as well as videos and other resources, can be found on Earlens Partner Page on AudiologyOnline. Professionals can also visit the Earlens website, www.earlens.com
References/Additional Reading
Folkeard, P., Van Eeckhoutte, M., Levy, S., Dundas, D., Abbasalipour, P., Glista, D., Agrawal, S., & Scollie, S. (2021). Detection, Speech Recognition, Loudness, and Preference Outcomes with a Direct Drive Hearing Aid: Effects of Bandwidth. Trends in Hearing (in press)
Arbogast, T.L., Moore, B.C., Puria, S., Dundas, D., Brimacombe, J., Edwards, B., & Levy, S.C. (2019). Achieved gain and subjective outcomes for a wide-bandwidth contact hearing aid fitted using CAM2. Ear and Hearing, 40(3), 741.
Vaisberg, J., Folkeard, P., Levy, S., Dundas, D., Agrawal, S., & Scollie, S. (2020). Sound quality ratings of amplified speech and music using a direct drive hearing aid: Effects of bandwidth. Otology & Neurotology. doi: 10.1097/MAO.0000000000002915
Mandikal Vasuki, P. R., Eskridge-Mitchell, E., & Dundas, D. (2020). Full bandwidth streamed audio with an open-fit: Is it possible? Available at www.hearingreview.com