Carolyn Smaka: Welcome, Brent. Would you tell me about your background and your role at Envoy Medical?
Brent Lucas: I tell people I've been with the company since I was in high school, as my father was one of the founding investors in the company back in 1995 and I've been following it from day one. I've always been in love with the technology and potential life changing effect it can have on people. I started officially working for the company as an intern during law school and then became in-house counsel for the company after passing the Bar. Over time I moved into business development. My current position is Business Development Director and I spend most of my time introducing audiologists and ENTs to the Esteem® Hearing Implant and educating them on how they can "co-manage" Esteem patients with the otologists and neurotologists doing the surgery. I think my favorite part of the job is watching an audiologist or physician talk with an Esteem patient for the first time – there is a look of disbelief and amazement. It's pretty cool and it never gets old.
Carolyn: How did Envoy Medical get started?
Brent: The company, then St. Croix Medical, was started in 1995 by a small group of investors willing to take a very big risk. The goal of the company was to take a perfectly simple idea created by two audiologists – Don Schaffer and Ron Gooden – and make it a reality. That perfectly simple idea was to create a prosthetic hearing device that used the natural ear to pick up sound – avoiding the imperfections of an artificial microphone – and then improving upon that signal to address a person's hearing loss before directly and mechanically stimulating the impaired cochlea through the stapes.
The early years of the company were focused mainly on research and development and feasibility. It goes without saying, but there were a lot of really smart and dedicated people that made this product a reality. We did our first in-human feasibility study in 2001, and began our clinical trials in Europe in 2004. The Esteem received CE Mark in May 2006. We began our pivotal studies here in the U.S. in 2006 and finally received FDA approval on March 17th, 2010.
Our name changed to Envoy Medical in 2006. Our worldwide corporate headquarters are in St. Paul, Minnesota. We have offices in Germany, Italy, and France. We are also close to getting regulatory approval in Brazil. We have about 900 implants world-wide; approximately150 of those are overseas.
Carolyn: Liz, can you provide an overview of the Esteem device?

Liz Anderson: The Esteem is a totally implanted, active middle ear hearing device that consists of three components. The first is the Sensor, a piezoelectric transducer that abuts the incus and detects natural movement of the tympanic membrane. The mechanical vibrations received from the incus are converted to electrical signals that are sent to a Sound Processor. This component is implanted behind the ear in the temporal bone, similar to a cochlear implant's receiver. The Esteem Sound Processor filters and amplifies the signal, then sends the processed signal to a third component, the Driver, which is another piezoelectric transducer coupled to the stapes footplate. The electrical signal arriving at the Driver is converted back to mechanical energy, moving the stapes in the usual fashion at the oval window to transmit the signal to the cochlea. The Sensor can be thought of as analogous to the microphone of a hearing aid, and the Driver is analogous to the receiver or speaker of a hearing aid. Because there is nothing in the ear canal and the tympanic membrane is used as a microphone, many Esteem users report a natural quality to sound that they did not previously experience with hearing aids.1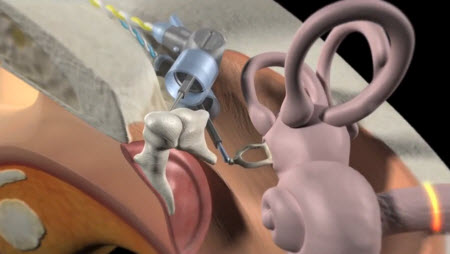 How the Esteem® Hearing Implant Works (Click on image to launch video in youtube).
Carolyn: Who is a candidate for Esteem?
Liz: The Esteem is appropriate for individuals 18 years or older with stable, moderate to severe sensorineural hearing loss, unaided word recognition of ≥ 40% on monosyllabic words, at least 30 days of experience with appropriately fit hearing aids, and enough space in the middle ear to allow for placement of the device.
Carolyn: If I have a patient who might be a candidate, what is the process?
Liz: If you have patients who are interested in and may be good candidates for the Esteem, you can either refer those patients to an Esteem Hearing Implant Certified Audiologist– a provider locator can be found on our website – or you can look into becoming an Esteem Hearing Implant Certified Audiologist yourself.
The candidacy process would start with an audiological evaluation. If an appropriate candidate audiometrically, the individual will meet with the implanting surgeon to determine surgical candidacy. If the implanting surgeon determines the individual is in fact an Esteem candidate, the surgeon will provide a detailed informed consent discussion prior to scheduling the surgery to insure the individual has appropriate expectations and is aware of the risks of surgery, such as taste disturbance.2
The surgical procedure typically takes about four hours and is performed under general anesthesia. The Esteem is activated by the audiologist after the ear has healed from surgery, usually about two months post-operatively. Initial gain settings at activation are generally lower than they will be after some acclimatization has occurred, and progressive programs may be created, where the individual can gradually increase the amount of gain by using a different program or a different volume step. The patient will return to the audiologist for an adjustment of the device a couple of months after activation. After that, they typically return for follow-up annually or as needed.
If you have a patient who is interested in the Esteem, you can always direct that patient to our website, www.esteemhearing.com, or have them directly contact our customer service department to request more information at info@esteemhearing.com or 877-900-3277. Our customer service representatives do an excellent job of introducing the Esteem to an interested patient by being able to answer a wide variety of basic questions about the Esteem.
Carolyn: Why would someone choose an Esteem implant over a traditional solution like hearing instruments? What are the advantages and disadvantages of Esteem?
Liz: Many patients report an improved naturalness of sound and improved speech perception in noise, when compared to traditional hearing aids.1 But many of the advantages of the Esteem have to do with lifestyle issues. Since Esteem is fully implantable, individuals can swim and shower with it, hear at night, and it is weather- and sweat-resistant for outdoor activities. In addition, the Esteem may be advantageous for individuals with manual dexterity issues or challenges with the day-to-day maintenance of hearing aids.
Brent: There are many great technologies on the market today, but the Esteem is truly in a class of its own. It is the only fully implanted active middle ear hearing device on the market today. There are many advantages to the Esteem that we can list based on it being fully implanted, not using an artificial microphone or speaker, having a battery that lasts years not days or months, and it directly and mechanically stimulating the cochlea through the stapes, but it is going to depend on the individual patient to see what advantage they value the most.
Let's list some of those advantages. It is fully implanted therefore making it invisible and 100% waterproof. The fact that it is fully implanted also means there is no daily maintenance, no daily, weekly, or monthly battery changes, no taking it in and out throughout the day, and no problem sleeping, showering, exercising, or even swimming with it on. It is truly a 24 hours a day, 7 days a week hearing solution for those people who don't want to have to worry about their hearing loss or damaging their hearing aid when life happens.
There are no external components in the ear, behind the ear, or in the ear canal, so there is no chance for ear wax getting in the device, moisture causing damage, ear canal pain or discomfort, or it getting lost. It does not interfere at all with the natural benefit and resonance of the pinna, ear canal, and ear drum working together to capture and pick up sound. It does not use an artificial microphone or an artificial speaker, so there is very little distortion and patients report a more crisp and natural sound.1
People who have had experience with amplification and are unsatisfied with the limitations and frustrations of hearing aids or partially implanted devices using artificial microphones and external components, may find the Esteem to be the lifestyle and quality of life option they have been looking for but never could find.
Others who have trouble changing hearing aid batteries, putting their hearing aid in or on every day, or complying with everyday hearing aid use may also find advantages with the Esteem but for different reasons.
It is not the right option for everyone, but for those who are candidates, the Esteem can be a completely life-changing device. I would encourage all hearing professionals to make their patients who may be indicated for the Esteem aware of it as a potential option, now or in the future.
Carolyn: Does insurance cover the Esteem implant?
Brent: It is not covered by Medicare or Medicaid and is generally not covered by private or supplemental insurance programs.
Carolyn: What do you think the total market is for Esteem?
Brent: Overall estimates range from somewhere around 12 to 16 million people who are clinically indicated for the device, just in the U.S. The limiting factors for large-scale market penetration are mostly cost, and in some cases, the ability or desire to undergo surgery.
Carolyn: What studies have been conducted or are underway?
Liz: Prior to FDA approval in 2010, we conducted an IDE (Investigational Device Exemption) pivotal clinical trial that began in 2008 and included three surgical sites with a total of 57 patients.1 The primary outcome measures for that study included SRT, word recognition score measured at 50 dB HL, incidence rates for serious adverse device events, residual cochlear function measured by bone conduction, and the APHAB and another quality-of-life questionnaire. In a nutshell, the clinical trial results showed that the Esteem improved SRT by approximately 30 dB over unaided baseline, on average. At a 50 dB HL presentation level, the Esteem improved word recognition by 63% over unaided baseline. Results have been maintained over four years and counting.
Patients reported substantial improvements in quality of life on subjective measures – specifically, hearing in background noise, an enhancement in activity level, and a feeling of confidence.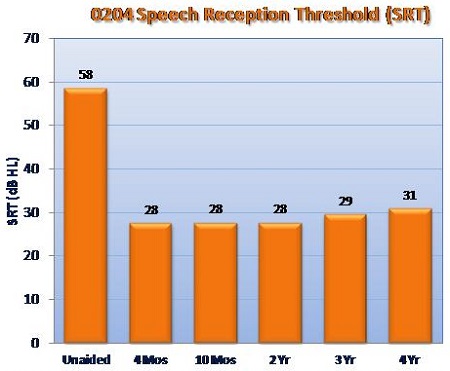 SRT improvements with Esteem vs. baseline unaided, based on 57 patients enrolled in the 0204 IDE clinical trial
Improvements in word recognition score at 50 dB HL with Esteem vs. baseline unaided, based on 57 patients enrolled in the 0204 IDE clinical trial.
Brent: One thing that people should know about Envoy Medical is that we have a heavy investment in research and development. Our investors and Board of Directors have been very supportive of continuous improvement and we have some pretty cool irons in the fire. One major project for the past year was going over our data retrospectively as closely as we could. We came away with some new insights that have led to changes in programming strategies and fitting algorithms that are leading to better results and better patient satisfaction.
As I mentioned, we received FDA approval in 2010, and one of the conditions is following up with the FDA for a post-approval study that lasts for 5 years. That is underway and we are interacting with the FDA and sharing new data. Surgeons who have implanted many devices are publishing their data through otolaryngology, otology and neuro-otology journals. We are very interested in talking with audiologists who would be interested in potential research opportunities. We are also in discussion with the Department of Defense about collaborating on some studies.
Carolyn: Thanks Liz and Brent. Where can audiologists get more information about Esteem, find out how to join the network, or discuss potential research opportunities?
Brent: They can contact me directly at blucas@envoymedical.com and I will make sure they are put in touch with the right person for their question or inquiry. They can always visit our patient website at www.esteemhearing.com, our professional website at www.envoymedical.com, our YouTube Channel at www.youtube.com/invisiblehearing, and/or our Facebook page at www.facebook.com/invisiblehearing for more information and to follow us as we grow. Thanks, Carolyn.
NOTE: Esteem is approved for a specific type of hearing loss and can only be prescribed and surgically implanted by a trained physician. Risks include those typical for surgery. Side effects related to taste and facial movement are possible. It is possible that additional surgery may be required to resolve complications. Ask your doctor and audiologist if Esteem is right for you. Individual results may vary.
1 FDA IDE G070162, Esteem Totally Implantable Hearing System
2www.envoymedical.com (Important Safety Information)