Carolyn Smaka: Welcome Don, Ganesh and Trish. Thanks for joining me today. To get things started, tell me a bit about yourself and how technology affects your daily work.
Ganesh Kripapuri: Yes, I am a hearing instrument specialist and have been a licensed hearing aid dispenser since 2001. My true passions are helping people hear better and leveraging technology to better our workflow and processes. I see technology as a blessing and it positively affects everything we do.

Trish Morrow: I've been an audiologist for more than 25 years now. From assessment and evaluation, to custom fitting for programmable and implantable hearing aids, evolving technology continues to enhance patient care for my practice every day.

Don Kim: Technology plays a vital role in today's audio-vestibular healthcare model. With the changing climate in hearing and balance healthcare, providers like us are constantly trying to find more efficient and effective ways to optimize their patient care and workflow processes. These changes lead to advancements in research and technology in addition to improvements in the patient care delivery model.
Being part of the audiology services team at Otometrics allows me to stay on top of the latest developments in diagnostics and fitting. One of my main roles is to act as a consultant to better position Audiology Systems customers for this evolving industry. My previous experience managing and owning different audiology/ENT clinics and private practices has given me the perspective of those I am supporting and allows me to come up with very practical solutions.
Carolyn: It is definitely a changing industry. Because we all have varying comfort levels with technology, I can see the benefit of having a partner as we transition into the future of fitting. So, what are your biggest challenges when fitting hearing aids?
Ganesh: I'd say my biggest challenges are identifying the proper fitting rationale for clients that have acute audibility and intelligibility issues before 'client fatigue' sets in, and spreading my appointment times effectively and proportionally to manage the heavy client load that I have at the practice.
Trish: For me, the biggest challenge with fitting clients is time. Every fitting has its own challenges whether it be the patients having difficulty putting hearing aids on, patients with unrealistic expectations or addressing cost issues.
Don: Similar to Trish and Ganesh's experience, optimizing the appointment flow without sacrificing the level of patient care provided was also a big point of focus for me while I was practicing. Often times, this meant addressing the efficiency and effectiveness of the products and services that were used and offered on a daily basis and whether or not they contributed to improving our clinic.
Carolyn: It sounds like time is an issue for all of you. How do you overcome the challenges you've identified?
Trish: Yes, time is a significant issue. As a result, we always try to schedule an adequate amount of time for the initial fitting in order to program the aids, work with the patient putting the aids on, changing batteries and instructing in general care. With follow up visits, we can then make adjustments, if needed, and go over care of hearing aids in more detail.
Ganesh: I leverage available technology and invest in the latest equipment and computer infrastructure. I have a terrific staff that runs a tight ship and communicates well with clients and me. I am constantly educating myself on the latest products, services and processes available within our industry.
Carolyn: What aspect of integration has been most beneficial for your practice?
Don: Consolidating all of the diagnostic and fitting testing results within OTOsuite® led to an easier and quicker patient appointment. In addition, the direct feed of diagnostic and hearing aid data into the real ear verification process also saved me a significant amount of precious appointment time allowing me to spend more time with our patients. OTOsuite and OTObase® provide a truly consolidated testing platform and database for the patient's hearing test and fitting results by utilizing HL7 integration with EMR systems.
Ganesh: Integrating a carefully thought-out audiometric internal process is critical to our success. MADSEN® Astera2, AURICAL® PMM, AURICAL HIT and AURICAL® OTOcam 300, which are all connected through OTOsuite, are the main cogs in the wheel to accomplish this.
Creating a centralized repository of information within OTOsuite, the data for each client is readily available for access at every step of the audiometric process. We can scale the scope of our service rapidly for each client, escalate a higher degree of intervention when applicable and track the client's journey over time efficiently.
Carolyn: How does software integration improve audiometric and hearing assessment processes?
Ganesh: I could talk about this for many hours. We capture audiometric results through MADSEN Astera2 into OTOsuite. Customized reporting helps streamline information in the Client Chart and makes reports for referrals much easier than before. During the delivery appointment, we build on the audiometric/RECD data already stored in OTOsuite to conduct PMM/REM measures to verify the fitting. What used to take two and a half hours now takes 75 minutes over the course of the first two appointments.
Trish: Software integration simply saves time and that's extremely valuable to me and my practice. In addition, having the audiogram integrated to the fitting software and to the real ear system has been extremely beneficial.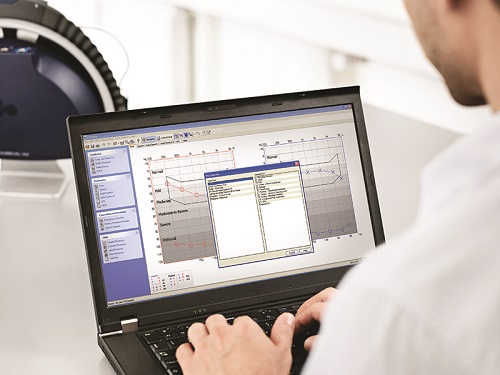 Carolyn: Moving specifically to OTOsuite - which features have been most helpful in your daily work and how?
Trish: The integrated reporting feature is most helpful. I have found that OTOsuite allows us to compile all the patients' test results in one report. It also makes following a patient's past records very easy.
Ganesh: There are some very powerful and useful tools within OTOsuite that we leverage on a daily basis, like the ability to store and customize user tests and default screens and the ability to automate the testing sequence. I like being able to print streamlined reports with customizable notes or comments from within OTOsuite, as well as being able to network in the Noah environment. Integration simply improves the delivery of services.
Carolyn: That is great. Don, are there any recent developments within OTOsuite that will help audiologists and hearing care professionals improve their fitting success?
Don: Yes, Carolyn. In fact, in the last year and a half, we have added new features to OTOsuite that provide a larger array of diagnostic tools and an easier way for the clinician to provide these tests all within the OTOsuite platform. These OTOsuite upgrades are one of the many perks of our system. In our MADSEN Astera2 clinical audiometer, we've added new tools such as Loudness Scaling, a dedicated Tinnitus Module with consolidated tinnitus reporting, and a Pediatric Module integrating VRA controls.
On the fitting side of things, OnTarget™ is a new feature in our Probe Microphone Measurements (PMM) module that simplifies the process of matching the hearing aid's response to their prescriptive target. Other new features such as HIT FreeStyle™, Custom Target and Loudness Scaling provide the clinician with more freedom, control, and flexibility in their hearing aid fittings. All of these developments and improvements come together to provide a more robust diagnostic and fitting toolset, while keeping industry-leading technology, workflow optimization, and integration in focus. Our industry's changing, and Otometrics helps you stay on top of these changes.
Carolyn: That is great. Thank you for sharing the benefits of software integration in hearing aid fitting for today's audiologists and hearing care professionals.
For more information, visit www.audiologysystems.com or the Otometrics/Audiology Systems Expo Page on AudiologyOnline for more information.