Carolyn Smaka: Alina and Eric, it's great to see you. Can you provide an overview of the recent new product launches from Siemens?
Alina Urdaneta: Thanks Carolyn, we would love to. As you know, back in October, we launched micon – the new platform behind BestSound Technology. We've had tremendous success with the platform -our customers love it, and their patients love it. Professionals are reporting that the first fit is truly a best fit, and so it has been extremely positive in terms of patient acceptance. micon has 48 channels and an extended bandwidth that provides a series of features such as enhanced directionality, which improves speech intelligibility while at the same time providing an extremely natural sound quality.
At the time of the micon launch, we introduced micon technology into Pure®, Siemens Life™ BTE and Aquaris® instruments. We also unveiled our tiny 10a Receiver-in-Canal (RIC), Ace™ micon. We're so excited now to launch the entire Motion® micon line of BTEs, which provides something for all ages and degrees of hearing loss. It's a very extensive and flexible product family.
Our custom line was previously under the Motion family, and now we're introducing Insio™ micon, a complete family of custom products all with wireless capabilities – even down to a CIC. This line includes all the benefits of micon, including a tinnitus therapy feature, faster feedback cancellation, enhanced directionality and frequency compression that customers were asking for. I'm going to turn it over to Eric to go in to more details about some of these features.
Carolyn: Thank you, Alina. Eric, let's start with the new Motion micon BTEs. What new models were introduced?
Eric Branda: The Motion micon includes four new BTEs: the Motion M, Motion P, Motion SX and the Motion PX. The Motion SX and Motion PX are rechargeable, while the Motion S and Motion P include direct audio input (DAI) and offer battery door locks.
With the PX and the P we've done some design enhancements. The new housing has more of an arch up in the neck area of the BTE to optimally align the microphones for better directional performance, while still maintaining a great fit behind the ear.
Motion M & P micon
With the Motion micon BTE line, we offer all the popular colors, as well as a new candy pink and galactic blue in the Motion S and Motion P. These colors especially appeal to kids and teens. All the products in the Motion micon BTE line are nanocoated, with an IP67 rating, indicating water resistance. They are very robust. Like all micon products, these BTEs have a tinnitus therapy feature including the custom devices, as well as integrated t-coils.
Carolyn: It's unique that the tinnitus therapy feature is included in every product in the line.
Eric: Yes, we look at tinnitus as a prevalent issue and we believe that hearing care professionals are the best people to be managing it. We have the technology to work with any therapy or approach that professionals may use.
Carolyn: That's great. You mentioned DAI on the Motion S and P instruments – anything new in that regard?
Eric: Yes, there are some new DAI capabilities. Now, you can open the battery door completely without being hindered by the audio shoe at all. It's also very easy for the parent or teacher to attach or detach the audio shoe -it just slides right on and off. It is a very light, robust, secure connection.
Carolyn: Eric, switching gears to Insio micon, are there different performance levels?
Eric: The Insio micon custom instruments are available at the 7mi and 5mi performance levels, which are the top two performance levels.
We know venting and acoustics are very important with custom products, and we have a lot of flexibility in our custom modeling software to design the vents. We can actually adapt the diameter of the vents internally to get the best performance for the size. I like to describe it as maximizing technology to minimize the size.
One of the most frequent comments we hear from professionals is that the micon feedback cancellation is unparalleled. These products don't whistle. Another thing we hear is that the first fit is spot on. Some professionals have told me they feel guilty they don't need to make any adjustments on the follow up visit!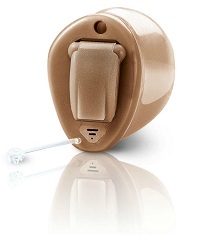 Insio CIC micon
Carolyn: You also introduced the micon 3mi performance level. What does this offer?
Eric: Yes, the Pure®, Siemens Life™ and Aquaris® are now available at the new 3mi level. These mid-tier products enable us to offer selected features and functionalities of micon to an even broader range of people with hearing loss.
Carolyn: Turning to accessories, tell me about the new miniTek Remote App.
Eric: The new miniTek Remote App controls the miniTek. One of the screens, or skins if you will, looks and acts just like the miniTek, so the wearer can now use his or her smartphone to control the hearing aids through the miniTek. And, there is some added flexibility with the second skin, which provides direct access to programs or audio sources without toggling. So it saves time and it's very discreet.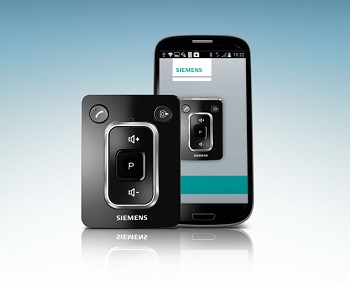 miniTek Remote App enables control of the miniTek via an Android smartphone.
Carolyn: So even though it's controlling the miniTek, the miniTek can simply be in your pocket or purse, correct?
Eric: Correct. You can look like you're texting on your phone, while you're actually using the app to control your hearing aids via the miniTek. This app is available on Android phones and is a free download via the Google Play store.
Carolyn: That fits nicely into your Active Kids & Teens portfolio.
Eric: Yes – we know as children grow, they go through different stages of development. Our portfolio is not focused on the infants or toddlers as much, but children who are a just a little older. The Motion M and P micon are robust, water resistant, include sleek designs and colors, and have direct audio input and an improved battery door lock. These products provide everything a child who is starting school would need in a hearing instrument. Aquaris micon is waterproof, dustproof and shock-resistant –great for kids who may be rougher on their devices, such as those who are swimming or playing sports.
Because wireless capability is integrated into every product in our Active Kids & Teen portfolio, children can plug the FM receiver into the miniTek and stream the FM signal, or even use the companion microphone, VoiceLink™ to stream speech via Bluetooth® to the miniTek.
The Motion SX micon and Pure micon models are ideal for teens and 'tweens who are concerned about discretion but still want access to all their high-tech wireless gadgets via the miniTek. And speaking of wireless, Insio micon CIC is perfect for teens who want total discretion without sacrificing wireless capabilities.
Alina: Rechargeability is also a great feature for these kids, Carolyn. You know how natural it is for a thirteen-year-old to drop something in a charger, so it fits right in to what they're accustomed to in their everyday life.
Carolyn: Oh yes – in my house, at bedtime, my son goes around collecting all his various devices and plugging them in to their chargers. Alina, why the interest in this market? It hadn't been a focus of Siemens in the past.
Alina: It's interesting because we didn't set out to create a portfolio for children. The fact that these instruments are so robust made them very appealing for professionals to fit to their 'rough and tumble' patients. For example, Aquaris is perfect for those kids who go from the classroom to the soccer field to the pool. And then the Motion SX micon and Pure micon are a natural fit for teenagers, as Eric described. So the result of this pull from the market became our Active Kids & Teens portfolio, and we couldn't be more excited about the way it has all come together.
Carolyn: Alina and Eric, thanks for taking the time to meet with me. I know it's a very busy time amid your product launches. It's been a pleasure.
For further information please visit: www.siemens.com/hearing or the Siemens Expo Page on Audiology Online.