Anton Hedström
CAROLYN SMAKA:
Anton, thanks for speaking with me today. Can you tell me about your background and your role at Oticon Medical?

ANTON HEDSTRöM:
Sure. I went to college for mechanical engineering here in Gothenburg, Sweden at Chalmers University and then I went on for a Master's degree in product development. Back in 2005 - 2006, I started working in the bone anchored solutions field and began developing what was to become the Ponto system. In 2007, Oticon came into the project and Oticon Medical was established, and I became one of the mechanical engineers.
The Ponto system was my main focus for the past two years, until last year when I moved into product management, both on the sound processing side and on the implant side. Recently we brought on another product manager as well, Oskar Rosengren.
SMAKA:
As a mechanical engineer, how did your interests go from mechanical engineering to the bone-anchored implants?
HEDSTRöM:
One of the early developers of bone anchored sound processors was Patrick Westerkull. He was involved in the field very early on. When he presented the product to me and asked me if I was interested in working with him, I couldn't resist.
One of the greatest things about working with bone-anchored systems is to watch the patients' reactions when they get them. The patients' reactions are amazing. Most are so happy and when you hear their comments, you realize that you are truly working with life changing technology. If you ever have a bad day, you talk to a patient about their experience with their bone anchored system and you are immediately positive.
SMAKA:
Oticon Medical may be a new name for some audiologists here in the United States. Can you give an overview of the company?
HEDSTRöM:
Oticon Medical is a collaboration of the best minds and experience in the hearing implant sector with Oticon's 100 plus years of producing the very best sound processing. Audiologists are familiar with the Oticon name, and there are a lot of synergies with Oticon Medical. Oticon is our sister company, and its competency in signal processing is leveraged to the benefit of our bone anchored solutions sound processors. Oticon has set new standards for traditional hearing aids, which has made an excellent starting point for improving amplification schemes for bone anchored hearing systems. Oticon Medical can piggyback on Oticon's vast research and development resources to offer significant benefits to bone anchored solutions. Oticon Medial is based in Gothenburg, Sweden, the 'capital' of bone anchored implants. Here, many decades of experience in the field of bone anchored hearing systems are being put to excellent use, both by members of our development team and by support of specialists operating both here and elsewhere in the world.
SMAKA:
What does the Ponto system offer?
HEDSTRöM:
The Ponto system brings a lot of new things to the market. Let's start with the implant side. It's based on proven technology for safety and reliability, and developed by experts who have been in this field since its inception 20 years ago. We were also able to make improvements to the implant. One of the improvements is a conical fit between the fixture of the implant and the abutment that penetrates the skin. This enables a tight seal between these components. This area has traditionally been susceptible to infections and irritations because dirt or debris can travel from between the fixture and the abutment. However, Ponto system's conical seal is designed to prevent microbacterial leakage.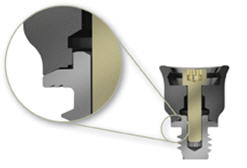 A conical fit between the fixture and the implant enables a tight seal between the two components.
Our implant system is based on the Brånemark principle of osseointegration which for decades has been successfully applied in the fields of dentistry, medicine and hearing care. We've made another improvement designed to support the osseointegration process. Underneath the flange of the Ponto implant you have small micro sized thread which are designed to reduce bone resorption and increase the implant to bone contact surface.
With the Oticon Medical implant the outer diameters of the implant flange and abutment are matched to provide full support for the skin all the way up to the abutment. Therefore, there is no unsupported skin on top of the flange. This approach minimizes any movement of the soft tissue and skin against the abutment.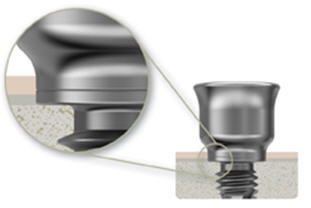 The outer diameters of the implant flange and abutment are matched to provide full support for the skin all the way up to the abutment.
On the implant side, there have been some new features recently released. One of the new features is an angled abutment.

The Ponto system offers the first angled abutment
Anatomical variations can cause the sound processor to touch the skin or the ear, which can result in irritation, discomfort and feedback. The new angled abutment is a bit tilted to rectify this. It also may enhance the aesthetic appearance, and improve the microphone position to enhance the directional microphone performance.
Another important benefit is that this new angled abutment may actually reduce the need for revision surgery in some cases.
SMAKA:
Ah, excellent.
HEDSTRöM:
On the surgical side, we have developed a new dermatome together with Nouvag AG, a Swiss medical and dental technology company. A dermatome is a surgical instrument that's used to make the skin graft during the implant surgery. Our new dermatome was developed specifically for bone anchored surgery and has an adjustable thickness. So when a surgeon removes the top layer on the skin, he or she can adjust the thickness of that skin flap between 0.6 and 1.0 millimeters. It is designed for more optimal graft thickness and a better surgical outcome, and the response from the market has been really great.
SMAKA:
Great. Let's get into the sound processors.
HEDSTRöM:
Sure. We offer two different sound processors, Ponto and Ponto Pro.
The audiological indications are the same for each, in terms of the type and degree of hearing loss. While both offer a number of advanced features, Ponto Pro offers additional automatic and signal processing features, such as Automatic Multiband Adaptive Directionality, Tri-state Noise Reduction, Data Logging and Learning Volume Control, making it more advanced.

Ponto and Ponto Pro sound processor
Both provide 15-channel sound processing with 10 frequency response bands. Using Genie Medical software, which is based on Oticon's Genie fitting platform, you can achieve an optimum fitting to match each patient's individual hearing profile and personal preferences. For audiologists that have used Genie for programming hearing instruments, Genie Medical software will be very familiar. For those who haven't used Genie, it's not a big learning curve as it's very intuitive. After a short training, audiologists will be confident in fitting the sound processor.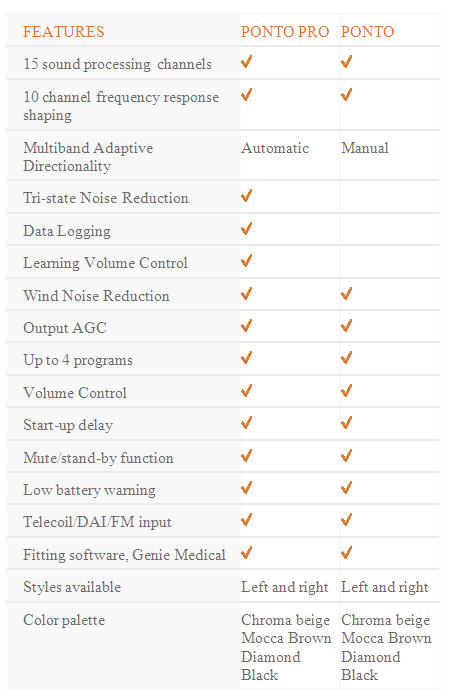 Ponto Pro and Ponto feature list.
SMAKA:
With regard to the signal processing features, they will also be familiar to audiologists who have fit Oticon hearing instruments, correct?
HEDSTRöM:
Yes. Ponto and Ponto Pro are based on the RISE chip platform from Oticon, so you will find many of the same advanced signal processing features.
For example, from Oticon we have Multiband Adaptive Directionality, and it's implemented a bit differently between Ponto and Ponto Pro. Ponto offers manual directionality, meaning that the patient switches programs to go into the directional program, where Ponto Pro is fully automatic. It will automatically switch between three different directionality modes depending on what is optimum for the environment. The modes are enhanced omnidirectional, split directionality and full-directionality mode.
Tri-state noise reduction is another proven feature from Oticon, and this can be found in Ponto Pro. It is an automatic function that senses if the signal is speech without noise, speech within noise or noise without speech, and then acts upon the signal accordingly. When no noise is detected, the noise-management system remains inactive as no noise reduction is required. When speech and noise is detected they are weighed against each other and the noise is reduced while speech cues are preserved. When noise without any speech is detected, the sound processor reduces the noise for better listening comfort.
With Ponto Pro, Learning Volume Control and Data Logging are also available. Another really important feature is the Wind Noise Reduction system that is standard in both Ponto and Ponto Pro. One of the early things that we found out from patients using other bone anchored systems was that they are often disturbed by wind noise;some people reported that they turn of their sound processor when it is windy, which of course compromises hearing. Our Wind Noise Reduction system will detect when wind is present, and automatically reduce the wind noise. This feature has been very well received by patients.
Ponto and Ponto Pro sound processing stems from Oticon's RISE platform
SMAKA:
As technology continues to develop, for example, when Oticon releases new technology, will this parallel the release of new technology for the implant's sound processor?
HEDSTRöM:
At Oticon Medical we are in this for the long run. That means we have made a promise to bring progress, and we will be introducing everything we can to advance the products and the treatment with bone anchored solutions. Of course we plan using Oticon technology, but exactly how it will be implemented in the future still remains to be seen - there are many exciting possibilities.
SMAKA:
What is the process for a patient who may be a candidate?
HEDSTRöM:
To determine candidacy, a person needs a bone anchored consultation. The patient can use a soft band or a head band to try out a speech processor, before deciding on surgery. We always recommend that patients try out the sound processor, but one thing to be aware of is that a patient will have better sound once implanted. This is because when you have the sound processor on a soft band or a headband you have the skin in between the sound processor and the skull bone, which will dampen the vibrations by approximately 10 dB or so.
Getting a bone anchored hearing system is a safe and relatively simple process. Once a patient has decided to be implanted, they have surgery to place the implant and abutment. There is a healing period of between three and six months, depending on the patient's individual circumstance and the doctor's recommendation. After this period, the sound processor is fitted by the audiologist according to the patient's individual hearing and lifestyle needs. The fitting of the sound processor in many ways is similar to a hearing aid fitting. You select the processor - the model, color, accessories, and so forth - and then program the memories and features according to the best settings for the patient.
SMAKA:
The soft band can also be used for younger children, before they reach the age at which they can be implanted, correct?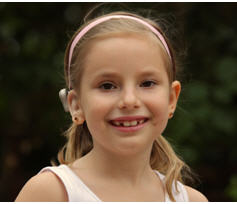 Oticon Medical's new soft band is adjustable to fit all head sizes;available in 6 colors in unilateral and bilateral versions;has a new built-in safety release feature;and is latex-free and velcro-free.
HEDSTRöM:
Yes. Per the FDA, that age is 5 years and up. We know that early stimulation is important for the development of speech and language skills.
A soft band enables even the youngest child to benefit from a sound processor, and we just released a new soft band solution. It's adjustable to fit all head sizes and it's available in six colors. It also comes in unilateral and bilateral versions. It has built-in safety release features, so it's designed to open if it gets caught on anything and it has no latex in it.
SMAKA:
It sounds like both processors and in particular Ponto Pro, are extremely flexible, as you would expect with Oticon's hearing instruments.
HEDSTRöM:
Yes, both processors are very flexible. I would say that the majority of patients are fit with Ponto Pro because of the additional automatic features.
SMAKA:
Are the sound processors are interchangeable?
HEDSTRöM:
Yes they are.
SMAKA:
Tell me about reliability with the sound processor.
HEDSTRöM:
The Ponto system was designed from the start with reliability and durability as key requirements. The sound processor has gone through rigid reliability testing before it was released. That is part of our standard process;we don't use the market as a testing ground. The products are reliable and tested before they go out, and we have put in a couple of additional mechanical features to enhance reliability with Ponto and Ponto Pro.
Historically, one point of weakness in sound processors has been the vibrator that's inside. So what we've done is designed a built-in vibrator protection system. When you snap our sound processor on or off the abutment, the housing absorbs those connection forces, so forces aren't transferred to the vital components inside.
In addition, you'll notice the shape of our coupling. The Ponto and Ponto Pro coupling snap on the outside of the sound processor, which make them very robust. They also utilize a metal spring to ensure long term reliability.
In quality tests the coupling has been subjected to up to three times the wear and tear expected in its five-year lifetime. This means three times more connections and disconnections than in expected use. These test results show that the coupling forces remain virtually unaffected. This is extremely important because poor coupling mean a loss of transmission of high frequency sounds, and a resulting negative impact on intelligibility. With Ponto and Ponto Pro, the coupling is designed to withstand over time. We've also done drop tests, where we drop the processor on a concrete floor from the height of one meter, and we see that the mechanics and electroacoustic performance remain completely intact.
SMAKA:
With all the developments in bone anchored solutions, are more people are getting implants?
HEDSTRöM:
Yes. The bone-anchored field is a really strong, growing market, and it has been since it started 15 to 20 years ago. With more audiologists, surgeons and patients becoming educated as to who are candidates for this treatment and the benefits, along with developments in technology, it is projected to continue to grow for the foreseeable future.
SMAKA:
You mentioned reliability testing. What other kinds of testing has been done on your products?
HEDSTRöM:
An independent study was recently conducted to look at differences between our sound processor and Cochlear's BP 100 processor. The study was conducted by researchers at Rigshospitalet in Copenhagen. Rigshospitalet is a leading specialty hospital as well as the largest educational institution for medical science programs in Denmark. The study found statistically significant results that ranked Oticon Medical's Ponto Pro sound processor superior to Cochlear's BP 100 processor in several key benefit areas including speech perception and ease of use.
The study was conducted with12 subjects that were new to bone-anchored devices. Subjects wore the two devices in their daily lives and then evaluated various aspects of them. Out of these 12, 8 patients chose the Ponto Pro over the BP100 for their continued use at the conclusion of the study. Some areas where Ponto Pro scored significantly better were speech perception, improved performance between omni and directional modes and also ease of use. We were very excited by these excellent results from the first independent studies.
SMAKA:
Is this study published?
HEDSTRöM:
Not yet, but the preliminary findings were presented at 11th International Conference on Cochlear Implants and Other Implantable Auditory Technologies in Stockholm, Sweden and the Danish Teknisk Audiologisk Selskab/Danish Technical Audiological Society in Vejle, Denmark.
You'll notice that our tagline at Oticon Medical is "freedom of choice". With these kinds of studies emerging, audiologists can feel confident that they have excellent choices in bone anchored solutions and that there is evidence-based research to support their clinical decision making. The patient needs the best solution to suit their needs, from whatever brand that is. Freedom of choice will bring the market forward, which benefits both the professional as well as the consumer.
SMAKA:
Thanks for your time today, Anton.
HEDSTRöM:
Thanks for having me.
For more information about the Ponto system, please visit
www.oticonmedical.com
or the
Oticon Medical Web Channel
on AudiologyOnline.