Carolyn Smaka: Welcome gentleman. Before we get into Lyric, can you both tell me about your backgrounds and why you decided to join Lyric?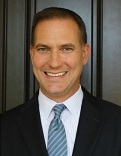 Bryan Holmes: I joined Lyric back in January as Managing Director. I've been in marketing and business development for 20 years, mainly with big healthcare companies like Pfizer and Johnson & Johnson. Immediately before joining the Lyric team, I worked for Johnson & Johnson in the diabetes care franchise. You might ask, "Why would you go from a company like Pfizer or J&J to Lyric?" Well, I have hearing loss and I wear Lyric, and that is one of the reasons. I was amazed by this device and the way that it has changed my life. When the opportunity came my way to be part of the Lyric team, I jumped at it. There was no better career opportunity for me than to come and work for this company and help bring Lyric to more people.

Dr. Johnson: I trained at University of California – San Francisco to do my ENT training, and my chairman was Dr. Robert Schindler, who is also one of the original inventors of Lyric. When I graduated in 2001, I had the opportunity to be part of the development of Lyric. I have been with Lyric from nearly its inception. On a personal level, my younger brother has hearing loss and that is one of the reasons I became an ENT. As an ENT, I'm a big proponent of hearing aids, but I also know the issues with hearing aids such as compliance for young people, audibility issues, and the fact that there is still unfortunately a stigma about "the disability of hearing loss." Lyric helps us as professionals respond to a lot of those issues.
Carolyn: How does Lyric address the issues you're referring to? What makes it unique?
Bryan: First, Lyric is the only device that is 100% invisible when worn. It is the only device that you wear for an extended period; that is, for 24 hours a day, 7 days a week, for months at a time. It is worn during daily activities including showering, and exercising, and while sleeping. There are no hassles, and the patient can lead their life and forget that they have hearing loss. To me, that aspect of wearing Lyric was life-changing. We see this dramatic positive impact on patients' lives time and time again.
What may not be obvious to an audiologist or someone who has never tried Lyric is the amazing sound quality. Lyric sits 4 mm from the eardrum, so it is designed to take advantage of the ear's anatomy. As you know, sound quality is a difficult thing to measure. Patients describe Lyric as sounding "natural", "crisp", and "clear". We regularly survey Lyric wearers, and our data show that 93% of patients that have experience with wearing hearing aids prefer Lyric over their previous hearing aids. The sound quality is one of the many reasons for this. In addition to the survey data, you can see it in the patient's face when they first try Lyric.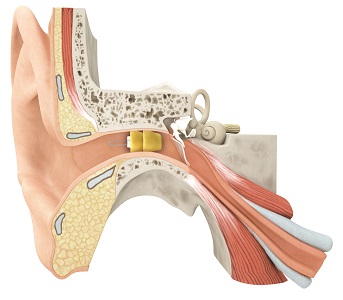 Lyric sits 4 mm from the eardrum
Dr. Johnson: As an ENT, when you recommend to someone that they need a hearing aid, there is usually a lit bit of reservation on the part of the patient. This is in contrast to the "wow" effect patients experience when they are fit with Lyric. It makes you feel very comfortable about recommending Lyric.
It is fun for me as an ENT to take someone like Bryan, who is wearing Lyric, and look at his ears and not even see that he is wearing hearing aids. Also, when I spend time with him I notice how well he hears. We were at an event together in the U.K. recently, and I was having trouble hearing people around me because the music was so loud so I asked the sponsor to turn the music down. Bryan said, "I can hear fine. You need Lyric."
[laughter]
I also want to emphasize the sound quality of Lyric, as Bryan mentioned. Because of Lyric's position in the ear, it does not need a lot of sound processing algorithms or directional microphone technology, which also come with tradeoffs. This is very simply, clear; crisp sound without all of the fluff around it. This is how I explain it to my patients - hearing is a sense organ that works constantly. It works in both active and passive modes. Lyric gives that back to people. Lyric lets a mother hear in the shower without worry that she will not hear the baby crying. It lets you hear the alarm clock in the morning. We take these situations for granted when we have hearing, but for our patients with hearing loss, these are real-life situations that can cause a lot of anxiety and stress.
I believe that the ability to hear 24/7 is important to cognition. Although we cannot say from the data yet that wearing hearing aids changes cognitive function, we know that makes sense. "Listen! Wearing hearing aids changes cognitive function." We do not have that data at this time. But we inherently know it is true.. We are starting the first set of studies with UCSF to look at brain changes using functional MRI to see the impact of 24/7 acoustic stimulation. This is something that I have thought about since the inception of Lyric, and it is very exciting to see these studies now taking place.
Carolyn: I look forward to hearing more about those studies when they come to fruition.
To shift gears for a minute, can you please review the process of how a patient goes about getting fit with Lyric?
Dr. Johnson: When Lyric was first introduced, it was fit by ENTs. Today, there are definitely some ENTs that dispense Lyric, but the vast majority are dispensed through audiologists and dispensers. A patient comes in and is evaluated like any other patient. Their needs are assessed. Their hearing handicap is assessed. They have an audiogram, and at that point, their hearing loss is compared to the Lyric audiometric fitting range. The audiometric criteria are – basically in the mild to moderate or moderately severe hearing loss range - although we have seen reasonable benefit with some people whose hearing loss is in the moderate to severe range. If the patient fits the audiometric criteria, the next step is a two-part process. One is physical; the ear canal must be able to accommodate the Lyric. We have a simple sizing system that does not require an impression. The initial Lyric1 was a little longer and larger than the current Lyric2 device, which is smaller and fits 70%-80% of ears. The next step in the process is a medical evaluation. We have a very simple list of reasons why someone may not be a candidate for Lyric. For example, if they have exostosis, if they have had radiation to the ear and the skin quality is damaged, or if they need to scuba-dive for their job. If the size and medical evaluation are fine, we then fit and program the device that day. The patient is counseled about the device, pre or post fitting, depending on the flow of the office. At that point, the process is essentially complete.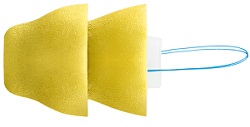 Lyric2
Carolyn: It sounds simple. Can this be done in one visit?
Dr. Johnson: Yes, which is very convenient for patients. This is generally the initial fitting process, and there is a follow-up call or visit to see how they are doing within the first 7 days.
Carolyn: What is the follow up process like after the initial fitting and trial period?
Dr. Johnson: Lyric hearing aids have a subscription model, meaning the patient pays for hearing for 12 months. We have an extremely high 70+% renewal at the end of the year, meaning most people who get Lyric and wear it are happy and then renew the subscription. They come in about every 60 to 90 days to have it refit. The device is taken out by the audiologist or by the patient and a new device is placed back in the ear. The refit process varies a bit between clinics, depending on the clinic and the patient, but this is the general process.
Bryan: It takes a little while for audiologists to become skilled at Lyric, but once they are up and running with Lyric, they tell us that they think it is very simple. We provide a proprietary fitting kit. You have 5 sizes to choose from and with experience, audiologists are able to determine sizes very accurately so the fitting process goes very smoothly. As a patient, walking out of the audiologist's office and being able to hear so well is an astounding thing. We also know that about 60% of patients that come in asking for Lyric are new to amplification. The 30-day free trial is a way that they can test-drive it. We make it easy for the audiologist or dispenser to fit Lyric by providing them with consignment inventory and auto-replenishment. It is a very turnkey process.
Carolyn: Dr. Johnson mentioned that the current Lyric2 device is smaller than the original and fits more ears. Can you tell me how else Lyric has changed over time and where we can expect to see it going in the future?
Bryan: Lyric2 is really an engineering marvel. As Dr. Johnson mentioned, it fits 75-80% of ears, as compared to 50% for the original Lyric1. The extremely small size, the biocompatibility, and continuous wear within the patients' ears are huge advancements. As we continually improve the devices, we look to our original principles that Lyric was founded upon. We are looking to make the product last even longer. We are looking to make the product even more comfortable for more patients and we are also looking to further enhance the sound quality.
As you may not know, we are right now launching Lyric2.3, which is the next generation of Lyric2. It has improved protection against cerumen and moisture through added technology we have access to now as part of Phonak. In addition, we have a new receiver with increased gain and output. We will continue to work along those lines to innovate and improve what was already a fantastic product from the beginning. And remember that with each refit, the patient receives a brand new Lyric that has the latest technology.
Carolyn: I do see that Lyric ads everywhere. Please tell me a little bit about your marketing program for Lyric.
Bryan: The marketing program for Lyric is unique. We market the product directly to the patient as well as to the professionals. . We use a full array of media, television, print, digital and social media. In fact, we have about 75% share of voice in our category in general media. . We bring patients to the door. We focus our marketing on the misperceptions about hearing aids that we know can be a significant barrier to patients obtaining hearing help. There is a lot of resistance. Lyric offers the solution to those barriers. Our goal is to drive as much awareness about that as possible. We find that a lot of our patients go directly online these days to do searches to learn more about Lyric. We have a very strong digital and social media presence. We also feature the 30-day free trial as a way to get patients to take that first step.
We want to disrupt the category a bit. As you probably know, people with hearing loss go 7 years before taking any steps to deal with their hearing loss. That to me is unacceptable when there is a solution like Lyric. We think that Lyric offers the best opportunity there is to get patients who need hearing aids to take action, and we are seeing that every day as more and more new patients are being fit with Lyric.
Carolyn: Thanks for getting me up to speed on Lyric. It has also been great hearing your passion come through for the product and the company.
For more information about Lyric, please visit lyrichearing.com