AudiologyOnline: Welcome back, Ragnar. Before we talk about the new products from Comfort Audio, can you give a brief company overview?
Ragnar Åhgren: Sure. Comfort Audio was founded in 1994. We develop and manufacture assistive devices for people with a hearing loss. Our mission is to use cutting-edge technology and innovative solutions to enable people to communicate, and ultimately, to improve their quality of life. We were the first company to develop digital hearing products using digital modulation (DM) to transfer sound. We are constantly innovating to try to stay ahead of the curve; we want to give the user the very best listening experience they can get. In addition to technology, we focus on design. Most importantly we want our products to sound good, but we also design our products to look and feel like premium consumer electronics, so that they can be used without stigma.
AudiologyOnline: Let's get in to the new products.
Ragnar: We just recently introduced six new products that we're very excited about.
Four of them are part of the Comfort Digisystem. This system is used primarily in schools, but is also used by adults. Our second generation of the DT20, an incredibly small micro-receiver was introduced. It has a lot of very interesting features. It's very easy to program with a new, portable, pocket-size programming unit. You don't need a computer to program it anymore, so it's a quick and easy fitting.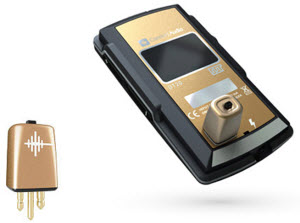 Digisystem DT20 micro receiver and DT20 hand-held programmer
We have a special soft-mute feature called squelch optimization. There is always the chance to have some problems with radio interference. If there does happen to be some radio interruption, you will not hear any unpleasant noise at all with this feature. The long-range digital transmission is up to 100 feet, and the delay latency of the digital system is only 0.3 milliseconds, so you don't hear any echo.
We also introduced a new Comfort Digisystem Microphone, DM30. It's a special microphone, but it also has a receiver inside, which you can use in two different school situations. One is for team teaching, and it's true team teaching. What I mean with that is that you can hear two teachers at a time. The microphone is on two separate channels, so even if one teacher is saying something, the other one is also still on and could say something if needed and the child would hear both teachers. As you know, team teaching is very common in today's dynamic classrooms. With this feature, you can either have the microphones on at all times, or use it with the push-to-talk button. For instance, if there are two teachers, one teacher could be talking all the time, uninterrupted, and then the second teacher can press a button and talk, or they can use the microphone with other students who can press a button and talk so that the students wearing the receivers will hear them.
This kind of system is perfect both for schools designed for hearing-impaired children, and for children in mainstreamed schools as well.
We also introduced the DM90, a transmitter and a receiver, with a Bluetooth receiver inside. You can use it as a transmitter, and together with the DT20 mini-receiver, you can have a hands-free headset. You can also use it as a neckloop with the receiver, which means that you can use it as an ordinary receiver, and pick up a cell phone call through it when it is around your neck. It's a very versatile unit and is much more than a streamer. We are developing and producing it all in Sweden.
Comfort Digisystem Microphone DM90
AudiologyOnline: In addition to schools, you mentioned the Comfort Digisystem can be used for adults. Can you give a few examples of how working professionals may use the Comfort Digisystem?
Ragnar: Absolutely. As you know, we have different microphones, from the very small microphone, the DM05 to the DM10. You can use them at seminars when you want to better hearing the presenter. We have a third microphone, the DC10, which is a conference microphone. It takes away noise from extraneous sources like the air conditioning and fans, and it can also distinguish from other people talking far away. It is very easy to use. You just put it on the table, and it will transmit to one of our receivers, such as the new DT20 or the DH10 with a neckloop.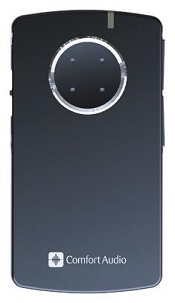 Digisystem Conference Microphone DC10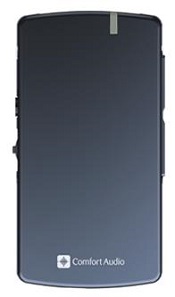 Receiver DH10, which is worn with a neckloop
AudiologyOnline: Is Comfort Duett still available?
Ragnar: Yes. Comfort Duett is designed for people who may or may not have hearing loss, but want a more simple solution than hearing aids. The new Comfort Duett is very easy to handle with a modern design. You can use it like the old Duett, such as face-to-face communication or with the phone, with all sorts of media activity including the TV and computer, et cetera. The new Comfort Duett includes a lock keep it at a certain volume or certain user preferences. It is a very nice product if you don't use hearing aids, and it can be used with hearing aids as well, together with a neckloop.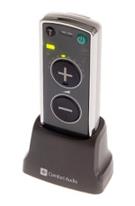 Comfort Duett amplifier
AudiologyOnline: Would you explain the difference between FM and DM?
Ragnar: Sure. When we had our own FM system years ago, we found out that we couldn't get the quality we ultimately wanted because the dynamic range was not sufficient. With DM, we can get a much larger dynamic range, which makes the sound quality much better and improves intelligibility. Our compression ratio is also lower, and there is no noise at all in the transmission with a digital system. We also have a bandwidth out to 7,000 Hz. One important factor with all systems is as short of a transmission delay as possible. If you get a signal directly into your open ear and also through the amplified system that is delayed, it might sound like an echo or vibration. Our delay is only 0.3 milliseconds, which is better than other digital systems, and even better than Bluetooth, which is typically up to 40 milliseconds or more.
AudiologyOnline: Is your system compatible with soundfield transmitters?
Ragnar: Yes, you can certainly connect our system to soundfield systems.
AudiologyOnline: Tell me about the HearYou hearing set.
Ragnar: The HearYou hearing set looks like a Bluetooth headset, but it's actually a receiver and a microphone.
HearYou hearing set
It also uses digital transmission and you can easily use it whether you are in a car or restaurant- wherever it is noisy. The talker or other party you are with wears the microphone, which is very small, and then the listener will receive the signal directly in their ear without cables. It's not a hearing aid, and we don't want to call it a listening device, either. There's no stigma attached with this device. It's more like a consumer product that will help to obtain the better hearing, especially in noisy situations.
HearYou is for people who do not always need a hearing aid. Whether we like it or not, there is still stigma with hearing aids. You may even have patients that come in and know they do not hear as well as they should, but say they are not ready for a hearing aid yet. They may say, "Don't you have anything easy to use and doesn't look like a hearing aid?" With this product you can say, "Yes, we do. We have it here."
The pairing in these HearYou units is done automatically when you switch it on. When you switch on the receiver and transmitter, it scans the environment for a free channel, and then it connects together and uses an algorithm that makes a secure, dedicated transmission so no one can overhear. You can use it if you are a professional that requires privacy in communication, such as a physician or lawyer; no one can listen over that transmission line.
AudiologyOnline: If someone wanted to learn more or see the products, how would they go about that?
Ragnar: Just give us a call. We have sales reps throughout the United States, for in-office visits or training. We also have systems for schools that include a trial period, so they schools can try it for a few weeks before purchasing.
AudiologyOnline: Thank you for your time today to review these new products.
Ragnar: Likewise, thank you.
For more information about Comfort Audio, visit http://www.comfortaudio.com/us/ or the Comfort Audio Expo Page on AudiologyOnline.