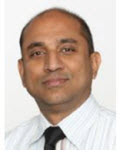 Ravi Sockalingam, Ph.D.
SMAKA:
Hi, this is Carolyn Smaka and I have the pleasure of talking with Ravi Sockalingam from Oticon Medical today. First of all Ravi, can you tell us what your current role is there?
SOCKALINGAM:
I am Director of Clinical Research and Professional Relations for Oticon Medial. I currently plan, coordinate, and facilitate clinical research projects for North America and Europe relating to bone-anchored technology.
SMAKA:
I saw a press release that Oticon Medical recently presented clinical data on the benefits of Ponto at OSSEO 2011. Can you tell me a little bit about this conference? As an audiologist, I'm not familiar with OSSEO 2011.
SOCKALINGAM:
The full conference title was the
Third International Symposium on Bone Conduction Hearing - Craniofacial Osseointegration
. OSSEO actually stands for osseo-integration. This conference first started back in 2007 in Halifax, Nova Scotia, Canada. The aim was to bring all the people working with bone-conduction and bone-anchored devices together to present their latest research and clinical findings. This is like the AAA for bone conduction, if you will.
It was an exciting field to be in when this started back in 2007, but compared to now, there wasn't a lot happening in terms of technology. The second conference was held in Gothenburg, Sweden. That is the birthplace of the BAHA bone-anchored devices. This year the conference was in Florida.
SMAKA:
And, Ravi, who are some of the experts that attend this conference? Are they physicians, audiologists?
SOCKALINGAM:
There are academics, researchers, clinicians, audiologists, and ENT surgeons. For the Oticon Medical Symposium, we had Dr. Cor Cremers who recently retired from Radboud University Nijmegen to chair the symposium. The presenters in the symposium were: Arjan Bosmanl, Ph.D. from Radboud University Nijmegen, Netherlands;Jane Sebzda, Au.D., from Children's Hospital of Wisconsin;Seilesh Babu, M.D. out of Michigan Ear Institute;and Becki Gladdis, B.Sc.(Hons) from Central Manchester University Hospitals. All of these professionals presented research relating to our Ponto Pro bone-anchored device. We were also privileged to have Oticon Medical's CEO Jes Olsen and Oticon Medical LLC President Curt Gorman with us.
Osseo guest panelists (left to right): Dr. Cor Cremers, Jane Sebzda, AuD, Arjan Bosman, PhD, Ravi Sockalingam, PhD, Jes Olsen, Seilesh Babu, MD, and Becki Gladdis, BSc(Hons).
SMAKA:
Great. What were some of the research highlights this year?
SOCKALINGAM:
The main highlight was the advancement and latest technology as far as bone anchored hearing implants go. There was also some research on facial reconstruction and how titanium implants are used. Titanium implants are always used in these cases, but they are presenting some latest advances in the field.
In the Oticon Medical Symposium and in the podium presentations, experts who were doing independent research using our Ponto system presented their clinical findings. Some presented about the surgical aspects, others addressed clinical findings in both adults and children after using the device.
Even though there have been many published studies showing the benefit of bone-anchored hearing implants, bone-conduction processors had not really kept up with current advanced hearing instruments in design and technology. We felt that, as a company, we were able to make significant improvements over the last 18 months, and we had people who were able to present what we thought were our best qualities.
Seilish Babu, M.D. presented on a proposed protocol for patient selection of a bone- anchored device. One of the main points he gave was that this selection process should be steered by the patient who will receive the implant. His study included patients with conductive or single-sided deafness (SSD). The bottom line was that having two manufacturers now gives patients additional choices;they can now select the processor that they feel will meet their needs best in the long run.
Arjan Bosman, Ph.D. presented on the new power device that's just been launched in Europe and Canada. He presented findings of a study that compared the Oticon Medical's Ponto Pro Power with the existing Cochlear Intenso. He looked at aided thresholds, speech perception in quiet and noise, and overall, the listeners performed better and rated the Ponto Pro Power more favorably in all the conditions than the Intenso. His conclusion was that patients with the Ponto Pro Power would have a better communication outcome, which was really exciting for us to see.
Let's see, Carmelo Ortega Au.D., who's an audiologist at the Silverstein Institute in Florida, gave a presentation about patients with single-sided deafness and a product comparison between Ponto Pro and Cochlear's BP 100 and Divino products. His group looked at subjective measures using questionnaires, but there was some really positive feedback that showed that listeners preferred the Ponto Pro device in listening situations like the phone, in the car, or in a restaurant over the competitor. Overall, patients with SSD liked the Ponto Pro more for listening, even though they didn't see any differences on threshold testing. That says a lot.
SMAKA:
Ravi, will these data be published anywhere?
SOCKALINGAM:
As far as I'm aware, the findings will be published. I can't say exactly where, since the data belongs to the independent researchers, but I would imagine they want to publish in peer-reviewed journals.
SMAKA:
You mentioned recent advancements in bone anchored processors. What are the main features that have contributed to the advancements, and what benefits do they bring to patients?
SOCKALINGAM:
We have features in our bone-anchored system that you find in the most advanced hearing instruments. The needs of patients using bone-anchored processors are very similar to the needs of people who use conventional air-conduction hearing aids. They want better speech intelligibility in noise and better listening comfort. They want better sound quality and to be able to use the instrument easily. Ease of handling is very important for them, when they use the volume control or program buttons.
We have been able to incorporate many advanced-processing strategies into our Ponto processor, giving the user the same bells and whistles that a conventional hearing aid has. We've added a wind noise reduction algorithm as well, because wind noise was a serious issue for a lot of people. Before the advent of this algorithm, they were either turning the device off or removing the device completely in windy conditions.
The Ponto features adaptive automatic directionality in two different modes;not just front directionality, but also split directionality. And that gives more opportunities to benefit from directionality in more situations.
SMAKA:
We know directionality is a really important feature in air-conduction systems.
SOCKALINGAM:
That's right, and wearers can benefit from better speech understanding and noise, just from having split directionality. We know from data logging that split directionality is utilized by an average bone-anchored-processor user almost 20 percent of the time.
If they don't have that feature, then they will be in omni-directional mode, and they're not going to get a lot of benefit in terms of speech understanding. With a split directionality, you get the low-frequency bands in omni-directional, and then you will have the middle and the high-frequency bands in directional mode.
Just one more advancement that I want to touch on is feedback management. Feedback is a significant issue for a lot of bone-anchored patients as well. Until recently, we have relied on dynamic feedback cancellation (DFC). But we also have the problem of the sounds radiating from the skull back into the processor and creating a feedback loop. That feedback due to static conditions can vary from individual to individual.
Now we have a tool that is software-based that will allow us to actually measure individual feedback limits due to static conditions. So the differences in skulls may trigger a process in someone's head to develop feedback, but it will not do that in another person. That's based on the same gain requirements they both have.
We can measure the feedback limit for each individual person and define what the maximum gain could be. Then we can manage feedback a lot better, in addition to DFC. This enables us to use the volume control to the fullest extent, because the maximum range is already defined, and the wearer can then use all the headroom. If they turn up the volume, it will not exceed that feedback limit.
SMAKA:
So you can get more gain as needed depending on your requirements.
SOCKALINGAM:
Yes, exactly. You don't have to reduce gain, you can actually provide more gain as far as the headroom of the processor would allow you.
SMAKA:
Great. We'll look forward to the release of the data from the OSSEO Conference. Sounds like really great options for patients.
SOCKALINGAM:
Yes, our system will provide a lot of benefits for the users of bone-anchored processors. We truly feel it is a system that will meet most of their needs, and now we have more research coming forth to support it.
One important thing to note is that professionals also now have a choice. They can determine which processor might best serve their patients' needs, and have an open conversation about the choices available. After all, everything we do is all about the patients' needs, isn't it? We have an obligation to serve our patients the best that we can, and now we have some choice in doing so.
SMAKA:
Thank you so much for talking with me today, and enjoy your weekend, Ravi.
SOCKALINGAM:
Thank you. You, too.
For more information about Oticon Medical, please visit
www.oticonmedical.com
or the
Oticon Medical Web Channel
on AudiologyOnline.