AudiologyOnline: Congratulations on the launch of Sky V, designed on the Phonak Venture platform. What was the impetus behind the Sky V launch?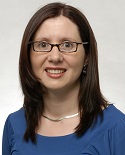 Angela Pelosi: Over the years, Phonak has recognized that children are not simply small adults, and understanding this we've approached the evidence-based science and development behind our pediatric technology with that mindset. Studies have shown that children require significantly higher signal-to-noise ratios (SNR), reduced reverberation times and consistent access to high frequency sounds as compared to adults. At the same time, we know that children are less able to make use of contextual cues and language to fill in gaps than adults are.
In response, we've developed Phonak Sky™ V as part of our holistic pediatric solution. It's a new dedicated hearing instrument family based on the proven performance of Phonak's Venture platform. Sky V is driven by the results of several studies with parents, kids, teens and hearing care professional asking them about their the listening needs, how well their current solutions are solving these needs, and what they seek in hearing solutions.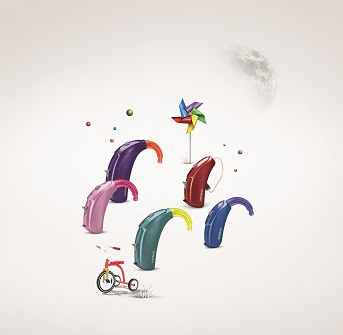 AudiologyOnline: Can you provide some description about what makes Sky V different from other pediatric technology?
Angela: First of all, the pediatric operating system called AutoSense Sky OS is able to recognize and analyze the unique environments a child is in during a typical day in real time, and to continually select the best settings.
Phonak HQ conducted an internal study with students in multiple classrooms and schools (both mainstream and deaf) across several countries. Investigators observed children with hearing loss during daily activities, recorded those activities, and classified the different situations based on the teaching style or teaching method used and the type of learning activity in the classroom.
This pie chart below shows the breakdown of the percentage of time in a student's day that is spent in particular activities. We can see that roughly 35 percent of time is spent in frontal lecture type listening situations or in independent work activities. For classroom lecture, we know that Roger can overcome the effects of distance and help bring the teacher's voice directly to the child.
But there's also a significant amount of time - approximately 34 percent - spent in group work, conversation or interactive classroom activities. Historically, access to more than one Roger microphone for many children has not been available due to policies of funding limitations that support only one microphone that is usually only worn by the teacher.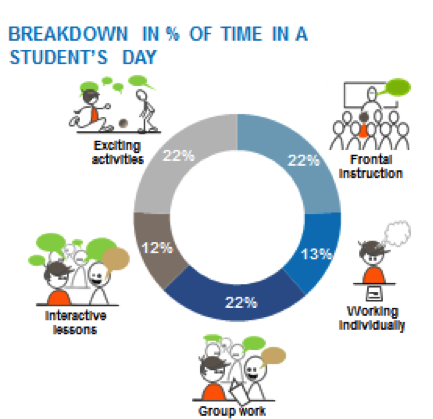 We discovered from the children that it is these group and interactive lessons that are most difficult for them to understand their peers, either one-on-one or in groups. They also commonly reported significant discomfort during exciting activities, like recess, sports and even class change. During these types of activities, other children can be quite loud, even shouting or yelling.
This study then obtained recordings of these listening situations throughout the day with a microphone placed very close to the students' actual hearing aids, to ensure the recorded input matched what the hearing aids picked up. These recordings were then played into and processed by the operating system in 'adult' hearing instruments to determine how successful the automatic system is at tackling these very kid-specific listening environments. This analysis showed that situations such as group work and yelling are unique to children's daily listening environments, and are not optimally recognized in the 'adult' signal processing unit. AutoSense OS was retrained by using additional hours of classroom recordings from the study to develop the pediatric automatic classifier, AutoSense Sky OS.
AudiologyOnline: What outcomes have you seen as a result?
Angela: Marked improvements include:
Up to 30 percent more precise Speech in Noise classification during noisy classroom activities
Up to 39 percent more precise Comfort-in-Noise classification
Improvement in listening comfort for yelling and shouting throughout a child's day during school, extracurricular and home activities
These results support the need for an operating system tailored to the specific listening environment of a child.
AudiologyOnline: What other new features are found in Sky V?
Angela: We've designed SoundRecover2, the next generation of Phonak's frequency lowering technology. SoundRecover2 provides improved audibility of high frequency information compared with the original SoundRecover, while also maintaining the low and mid-frequency sounds. As a result, it gives children access to a broader range of sounds essential for speech and language development.
AudiologyOnline: Can you describe how the new frequency lowering technology works?
Angela: SoundRecover2 allows a greater compressed region to extend to those with more profound hearing loss, and also to those with left corner and ski-slope audiograms. Inputs above the upper cut-off frequency are always compressed with a fixed compression ratio.
In the mid-frequency area between the upper and lower cut-off frequencies, the processing depends adaptively on the input signal. In this mid-frequency area, the system determines adaptively whether frequency compression will be active or not.
In the case of more low frequency content in the input signal, frequency compression takes place with the upper cut-off frequency to "protect" the low-frequency sounds from being compressed.
In case of more high frequency content, frequency compression takes place with the lower cut-off frequency to restore audibility of the high-frequency sounds.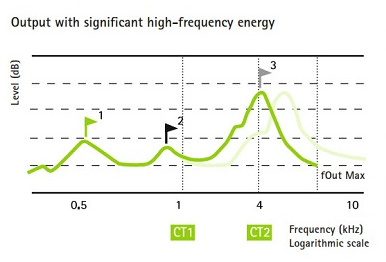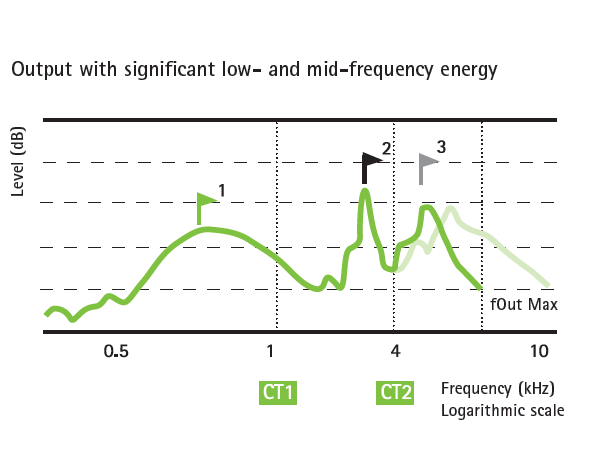 SoundRecover2 restores access to high-frequency sounds (left side) and at the same time protects low- and mid-frequency sounds.
AudiologyOnline: Do you have any other new features that children and teens alike could benefit from?
Angela: Yes, we have a new Roger and directional setting that improves children's and teens' ability to simultaneously hear a teacher at a distance and peers in close proximity in varying levels of background noise. When activated by the fitting software within the Roger program, the directional mode adapts between Real Ear Sound (RES) and a fixed directional setting, depending on the presence of background noise and according to the amount of Speech in Noise detected by AutoSense Sky OS. The microphone mode that is activated in the presence of background noise can be customized by the hearing care professional with the choice of Omnidirectional, Real Ear Sound, and the adaptively activated Fixed directional. In addition to the far field advantage gained with a remote Roger microphone, the Roger and directional setting improves understanding for near field (peer) talkers in noise by an average of 26% compared to a Roger and omnidirectional program.
AudiologyOnline: Describe the models that Sky V is available in.
Angela: Sure. Sky V comes in five different models - Phonak Sky V-RIC, M, P, SP and UP, which offers the most power and output for profound losses. All models are available across three performance levels – the 90, 70, and 50. The Mix & Match color palette has 16 housing colors and 7 ear hook colors and most important, the color palette is kid-approved!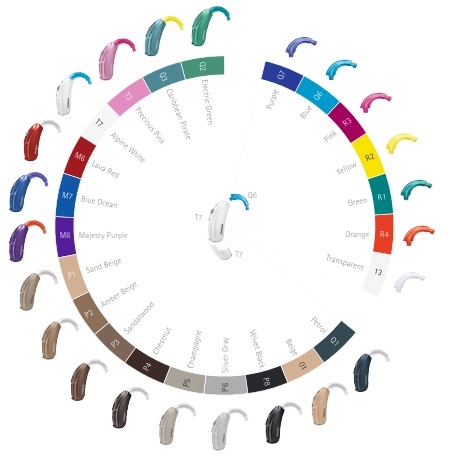 The housing of all five form factors is made of new and significantly more robust housing material, and Phonak Sky V products are water and dust-resistant with an IP68 rating. Even if a Roger design-integrated receiver is attached, the combined solution will still have an IP68 for water and dust. It survived continuous immersion in 1 meter of water for 60 minutes and withstood eight hours in a dust chamber as per the IEC60529 standard, with no traces of dust within the housing, which is great.
All Sky V BTE models have tamperproof solutions included in the hearing aid box when shipped. And, both the Roger 18 and 19 are available with a tamperproof adaptor that can easily be installed in the clinic.
Finally, we installed a new indicator light on all 4 Sky V BTE models which indicates when a hearing aid is powered on, when the Roger program is active and also warns of a low battery – ideal for the peace of mind of parents and caregivers.
AudiologyOnline: In addition to the hearing instruments themselves, what else is included in the Phonak pediatric solution?
As part of our holistic solutions approach, we offer a complete Roger and wireless communication portfolio. It offers multiple accessories for the phone, TV and music to ensure kids and teens have the confidence to hear well in their interactive and often noisy world. The PilotOne II and the RemoteControl app give parents with young children and teens control over their hearing world.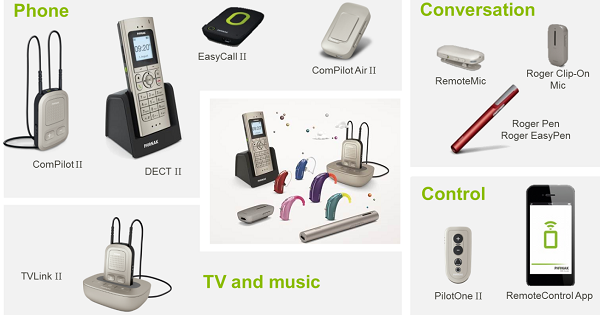 AudiologyOnline: How does Phonak programming software support pediatric fittings?
Angela: For the Target fitting software version 4.3, we looked at the Junior mode defaults with our pediatric advisory board, and considered the latest research evidence to determine which features and functions should be activated for children. We have updated our defaults for the four groups in Junior mode: 0-3 years, 4-8 years, 9-12 years, and 13-18 years to incorporate our new features. With one click in the software, pediatric audiologists can now activate exactly the right features for children at different stages of development for both the DSL and NAL fitting formulas.
AudiologyOnline: What support resources are available for children and their families?
Angela: Phonak understands that even with the best solutions available today, we need to provide parents, kids and caregivers with material and resources to ensure they get the most out of their hearing solutions.
Three years ago we introduced our mascot, Leo, a friendly lion cub who wears hearing instruments and uses Roger technology. He is available as a charming plush toy and has 2 short story books available in hardback and also as an electronic version for the iPad.
Today we are excited to launch the Leo coloring pages. Via the free app Quiver, children, parents and teachers, can print and color two engaging Leo coloring pages and turn them into interactive 3-D worlds.
Phonak's holistic pediatric solution featuring the new Phonak Sky V portfolio embodies our commitment to do more and do better as we strive for even the youngest listeners to be free to explore the world with confidence.
AudiologyOnline: Thank you for your time today, Angela. We look forward to speaking with you further about Roger for Education in our next interview. For more information, please visit www.phonakpro.com