Carolyn Smaka: Thanks for your time today, Søren. Oticon introduced a new connectivity solution at 2014 AudiologyNOW!. What does that mean for Oticon and for hearing care professionals?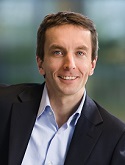 Søren Nielsen: Our newest connectivity solution is part of our continued effort to improve connectivity as part of modern hearing solutions. Through the newly upgraded Streamer Pro 1.2 and the new ConnectLine App, we can now offer wireless connectivity to iPhone, iPad and iPod touch in a straightforward and intuitive way. This enables us to provide professionals with many new exciting benefits for people with hearing loss. The old-fashioned picture of seniors not using modern technology is no longer relevant. Seniors are using smartphones, tablets and applications like FaceTime today. To continue to expand opportunities in connectivity is an important goal for us and we know it is of great importance for both hearing care professionals and people who use our solutions.
Carolyn: A few years ago, we were saying this connectivity is not for seniors, but that certainly has changed in a few years, hasn't it?
Søren: Completely. My parents are in their late 60's and early 70's, and my mother just bought an iPad to interact with her grandchildren. They show her how smart it is and now they use FaceTime together. My mother is not the exception - seniors are very rapidly adapting to new technology today.
Carolyn: Regarding the upgraded Streamer Pro 1.2 and the ConnectLine App, what are the unique features and how do they tie in to your portfolio?
Søren: We have simply made the new connectivity solution part of our already-existing ConnectLine program. The Streamer Pro 1.2 is worn around the neck and acts as an intermediary device to connect Bluetooth™-enabled devices to Oticon hearing instruments. Streamer Pro 1.2 can now also connect to iPhone, iPad and iPod touch via the ConnectLine App. In doing so, we make this new connectivity solution available for our full range of products – both for new fittings, as well as for all ConnectLine-compatible hearing devices that have been fit since 2007. This is what is most exciting – the new connectivity solution will immediately benefit the nearly two million people who now wear Oticon wireless hearing instruments as well as those who will choose our hearing solutions in the future.
Streamer Pro 1.2 supports IPhone 5s, iPhone 5c, iPhone 5, iPhone 4s, and iPhone 4.
We are thrilled about the opportunity to offer a very broad group of users of connectivity these new opportunities, no matter the price point or style of the Oticon solution that they have or choose.
This new solution, as with all of the ConnectLine, requires very low power consumption from the hearing devices. This enables us to provide very advanced signal processing, which is the primary use of the hearing devices, without using energy and resources from the hearing instrument's battery for connectivity.
Carolyn: What do professionals need to know in terms of fitting?
Søren: It is extremely straightforward. There is no specialized fitting process or training required to provide clients with our new ConnectLine products. Users simply download the free Oticon ConnectLine App from the App Store and start working from there.
Professionals have told us that this solution creates an unbeatable way to provide added value to new and existing users of Oticon hearing instruments.
In addition, this solution further addresses the barrier that hearing aids have conventionally been seen as assistive or handicap devices. It modernizes hearing aids, and adds value and benefit to using a hearing device. A person using Oticon hearing instruments can now use the iPhone as naturally as anyone else. This will go a long way to overcoming the stigma and long-standing misconception that hearing aids are large, bulky devices that do not work.
Carolyn: Is it easy for consumers to use?
Søren: Yes. Users simply download the free Oticon ConnectLine App to discreetly control program choice, volume and input source with just a touch of their fingertips.
They can visually switch to any input source – moving seamlessly from cell phone or FaceTime, music or connections via ConnectLine TV, Phone Adapters, Microphone, and teleloop and FM systems. Volume can be adjusted individually for each source, in advance or in the moment. Users can clearly see what hearing program they are using and personalize program names so that they are easily identified such as restaurant, office, sports and more. It enables Oticon hearing instrument users to hold phone conversations on their iPhone – hands free. Users can also take advantage of a number of custom options not previously available including last number dialed, reject call and voice dial as well as set specific functions such as designating ringtones to identify specific callers.
Carolyn: To shift gears, we are seeing more and more of a focus on the brain, rather than the ears, when it comes to hearing and hearing loss. How does Oticon's audiological focus tap into this concept of brain hearing?
Søren: BrainHearing is a natural evolution of Oticon's long-standing commitment to putting the needs of People First. This comes back to our research from our Eriksholm research facility, where we have understood that treating hearing loss is much more than presenting sound through amplification. We have known for some years that the brain has a unique ability to process sound if it receives a robust signal that is full of detail. Then, the brain can separate and interpret sound. As you know, it is the brain, and not the ear, where sound is finally processed. The dinner table is fantastic illustration of our ability to look at one person, pretend we are listening, but eavesdrop on someone sitting three chairs away. To accomplish that our brain requires a signal full of fine details. It is the incredibly small fingerprints, if you will, of the speech signal that are critical for the brain to understand and interpret sound.
Approximately five to 10 years ago, it became fundamental in our product development at Oticon to maintain a signal that is as natural and intact as possible, to enable the brain to do its job. There are a lot of processing schemes that manipulate the signal, such as applied compression. Compression is great for making soft sounds audible, and for keeping loud sounds from being too loud. However, it squeezes out a lot of details of the sound signals. We can close our eyes and we can pinpoint in a split second where a sound is coming from. That ability has, in conventional processing schemes, been lost.
At Oticon, our signal processing is designed to restore these details and to bring them forward.
BrainHearing focuses on the four key functions the brain uses to make sense of the sound it receives from the ears. The brain constantly uses both ears to orient itself and know what's happening in the environment. It separates relevant sounds from competing noise. It has to know where to focus in noisy environments and finally, it has to recognize sound to make sense of it.
Our Inium chip is the latest generation of processing architecture based on the brain first mindset. With our Spatial Sound technology, we enable both ears to work together with the brain in real time. Speech Guard preserves the natural characteristics of speech and Free Focus supports the brain's ability to focus while continuing to orient and separate sounds. YouMatic allows us to personalize these technologies to each individual's unique hearing needs and sound preferences.
Carolyn: Thanks for your time today, Søren. Where can professionals find out more about the new Streamer Pro 1.2, ConnectLine App and BrainHearing?
Søren: Professionals can visit oticonusa.com or contact their account manager directly for more information.
Learn more about Oticon on the Oticon Expo Page on AudiologyOnline.
Streamer Pro 1.2 supports iPhone 5s, iPhone 5c, iPhone 5, iPhone 4s, iPhone 4 and iPod touch 5th generation.
"Made for iPod," and "Made for iPhone" mean that an electronic accessory has been designed to connect specifically to iPod, or iPhone, respectively, and has been certified by the developer to meet Apple performance standards.
"Apple, the Apple logo, iPhone and iPod touch are trademarks of Apple Inc., registered in the U.S. and other countries. App Store is a service mark of Apple Inc.