AudiologyOnline: Tell me about Audiology Systems. Any new developments?
John Berry: Audiology Systems is the exclusive distributor for Otometrics products and other leading brands in hearing and balance care. Since our foundation in 2012, we expanded our portfolio and introduced new solutions to help audiologists and hearing care providers.
Lance Brown: We have grown our software solutions and support portfolio. With the new OTOsuite® REPORTS feature in the latest version of OTObase®, users will be able to import reports from equipment outside of the Noah network, including any PC-based product. The Report Designer is a great feature because it allows the user to create and customize a single page report from several devices.
On top of new products, we recently introduced our Software Integration Group (SIG) service. This is an industry-first solution for information technology specific to hearing care practice management, such as electronic medical records (EMR), software integration, data security and recovery solutions. SIG is Noah network certified. With the right tools in place, we can help audiologists transition to an EMR ready practice. SIG services ensure that audiologists and hearing care professionals have a better workflow, data security and the optimum PC experience.
We will soon be launching a solution that will allow users to install Noah, OTOsuite and hearing aid software themselves with a single click—so contact to your local sales and service to stay up-to-date!
AudiologyOnline: It can be a challenge when equipment breaks down and time is everything to a hearing care professional. How does Audiology Systems ensure timely service and accessibility? Do you have any local offices, or is everyone based in Illinois?
Chris Nash: Audiology Systems' corporate headquarters is in Illinois—however, we have satellite offices and our service representatives are locally available. We understand that accessibility is important to our customers. As discussed in a recent interview, Audiology Systems and Otometrics work together to elevate customer care in the United States. And because we have the financial backing of a national organization, we have resources to make a service technician accessible for onsite or remote services.
And to ensure uninterrupted patient care as we are servicing your equipment, our loaner program is available as a rental or as part of the benefits of purchasing a Care Plan.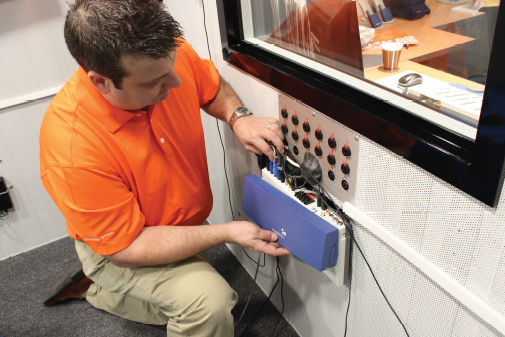 AudiologyOnline: Why is it important to keep testing equipment up-to-date?
Robert Gray: Quality calibration is vital to ensure accurate testing results for both clinicians and patients—which is why regular calibration is essential.
John Brewer: There are medical and legal requirements to take into consideration. Associations such as The American Academy of Audiology (AAA), The American Speech-Language-Hearing Association (ASHA) and The Joint Commission require regular calibration of testing equipment. Calibration time varies from one to four times a year—depending on the type of equipment, or location of the facility.
Eric Melton: Audiologists and hearing care professionals need to know that all test results are based on the most accurate signal or value possible. Calibration ensures that the hearing level indicated by the audiometric equipment complies with the values set by ANSI or the product manufacturer specifying the reference for hearing thresholds. This is to be performed at minimum on an annual basis. Calibration should be performed by a qualified and trained professional. In addition, calibration equipment used should be calibrated and inspected by an outside laboratory which is traceable to the National Institute of Standards and Technology (NIST).
Kris Phillips: When we calibrate we do more than just adjust HL levels. The calibration process is like a yearly checkup; we ensure that everything is working like it's supposed to and do preventative maintenance. Ideally, everything checks out and is working like it should, however; sometimes we find issues that we can take care of right away saving time and money for the customer.
Tom Crisman: In a nutshell—it is very important for equipment to be regularly calibrated. Audiologists must be confident of the results they get from their test equipment. Major patient care decisions are made based on those results.
AudiologyOnline: Is Audiology Systems calibration service limited to Otometrics equipment?
John Berry: That is a great question. Not only are we specialists in the equipment within our portfolio—we also calibrate all brands of hearing and balance care equipment. Our calibration services are not limited to Otometrics products. Our competency and ability to be the "one-stop" service provider for all makes and models of equipment is a huge time-saver for our customers and hearing care professionals because it eliminates the need to call anyone else for service and calibration.
AudiologyOnline: Are your technicians certified and factory-trained?
Eric: Yes, our team includes NASED-certified technicians and HIMSA-certified support engineers. In addition to certification, all service technicians undergo an intensive 22-week National Training Program (NTP), as well as, continuing education courses focused on manufacturer specifications and ANSI standards. We strive to equip our technicians with the best training possible to be experts in Otometrics products, as well as, other hearing care instrumentation.
John Brewer: The NTP is a huge initiative within our company to ensure service consistency across the country. The NTP takes all the knowledge from our seasoned service team and makes it available to each and every technician we bring into the company. By utilizing the latest technology, ongoing online and onsite training, a technician who has undergone training is factory-trained and skilled to service instrumentation.
Chris: A mentoring program that is part of this training allows a new technician to learn directly from our seasoned service professionals to ensure that the knowledge and skills that the latter has accumulated through years of experience is passed on to the entire team. Beyond the NPT, technicians undergo continuous training to ensure that customers benefit from technical knowledge based on the latest industry developments.
Lance: I would like to add that our SIG-certified team is trained to assist with: software and hardware installation services, EMR consulting, Noah networking and support, database security, disaster prevention, recovery solutions, software installation, and customer software training.
AudiologyOnline: Do you offer any long term equipment protection?
Tom: Yes, we offer Audiology Systems Care Plans. These plans are designed to provide extra protection for your equipment: from the time you purchase, to installation and maintenance, and can even include education and training. The Care Plans give you access to our team of highly-skilled service professionals, audiologists and customer support staff and helps you beat the high costs of unexpected repairs. Our care plans are available for both new purchases and existing equipment.
AudiologyOnline: Why should hearing care professionals choose you as their service provider?
Tom: We calibrate and service all equipment–we are truly a one-stop service provider. Even if you have an existing provider, all we are asking for is a chance to calibrate your instrumentation and deliver the best service experience. We also offer on-site repairs, software upgrades for Otometrics equipment, as well as, on-site and remote product training on select products. We also offer sound room design, planning, installation, and relocation services. Our service portfolio grows as to adapt to our customer's needs.
Robert: We know calibration is important to our customers and we want to make sure they are getting the best service experience. Our professional team is skilled and trained to calibrate and service audiometers, middle ear analyzers, fitting and verification systems, balance assessment equipment, OAE and ABR devices and sound rooms. We calibrate to manufacturers specifications and ANSI standards.
John Berry: We understand that every clinic's needs are different so we also offer complimentary pre-purchase consultation about service and equipment needs, such as: preventive maintenance service, detailed service reports, a complete battery of audiometric tests, as well as, post-service follow-ups and surveys. Pre- and post-service consultation ensures that our services are delivered to our customer's satisfaction.
Kris: Our calibration process is very detailed, the steps we take help ensure that your equipment stays running. Our prices are competitive and we have a large experienced service team that communicates very well. For any equipment problems that do arise, it is most likely that someone at Audiology Systems has seen and serviced it before. We are factory trained to support all of the equipment out there—even that 30 year old audiometer you just dug out of the storage closet.
John Brewer: Our technicians have a wide range of competency from the veterans to the new members of the service team who underwent intensive NTP training. A competency report—which includes skill set and in-depth training records—is available for customers to ensure that they are working with a certified and quality service technician.
Lance: Our service and support offerings are as diverse as the needs of this constantly changing industry. For example, the SIG service is founded on more than 25 years of information technology experience. Our customers have direct access to this high caliber of service and support.
Chris: Collaboration is key so we make it a point to leverage each other's experience to resolve instrumentation issues. If further assistance is needed, Audiology Systems' dedicated field audiologists are available for localized training and support. In addition to the field service, sales and audiology team, a full team of customer care specialists—including tech and audiology support—are accessible through the national hotline, 855.283.7978.
AudiologyOnline: Let's wrap up with "service tips of the trade" for practice owners and audiologists.
Kris: Here is a tip for your audiometer: If you hear a static or crackling in your headphones, insert phones or bone oscillator, unplug the jack from either the patch panel or the audiometer and use a soft cloth to clean the jack. Plug it back in and twist it around to see if noise goes away. Another suggestion, if your tympanometer volumes are off, the probe may be plugged with wax. Clean the tip, even if you don't see anything. If it didn't come with a cleaning kit or you lost it, use dental floss.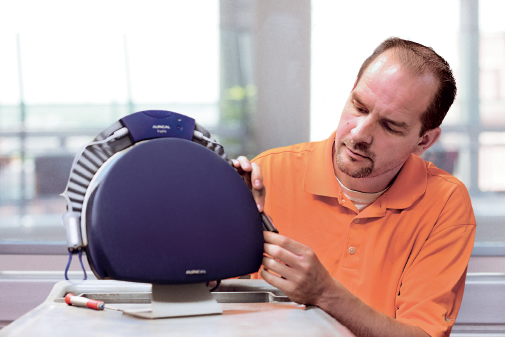 Eric: To Kris' point, not every customer needs to schedule a service visit to resolve a problem. When speaking with customers for a service issue, 9 out of 10 times it is a matter of shipping a part to that customer that they can change themselves—as long as they are comfortable doing so. It could be as simple as cleaning out a blocked probe tip to replacing their headphone cord. We encourage our customers to call their local Audiology System service technician first… it might just save some money and down time.
John Brewer: Utilize your Audiology Systems service technicians and do not hesitate to ask them questions about your equipment—like equipment care tips or replacement recommendations. Whether it is your local sales representative or the service technician, we are here for you. We train our team to be consultative so we can be a resource to help you every step of the way—even beyond the equipment buying process.
Robert: Look out for your "cal due" notifications. There is usually a 30-day grace period to meet these requirements, so if you happen to go past the due date, simply call our Service Scheduling to set an appointment. At Audiology Systems, we send out reminders 1-3 months prior to help our customers stay on top of the due date and give them sufficient time to plan ahead for a service appointment. For Audiology Systems customers, finding out the due date for all your equipment could be a simple call to 855.283.7879 or completing the Service Request Form on Audiology Systems' website.
Tom: In fact, we offer multi-year Calibration Care Plans, which not only save you time and money. You will never miss a calibration due date because you schedule service in advance, plus you get the benefit of discounted calibration service.
AudiologyOnline: Thank you for your time. Read more about Audiology Systems services at www.audiologysystems.com/services or the Audiology Systems Expo Page on AudiologyOnline.