2018 Audiology Systems University open to audiology students looking for hands-on training.
Schaumburg, IL | January 9, 2018 – Otometrics/Audiology Systems announce the new dates for its 4th Annual Audiology Systems University (ASIu). This two-day educational event was introduced in 2015 as an exclusive invitation-only workshop. Since 2015, close to 70 students participated from universities across the country, including: Arizona State University, Ball State University, Central Michigan University, Northern Illinois University, Northwestern University, The Ohio State University, University of Arizona, University of Colorado Boulder, University of Illinois, University of South Florida, University of the Pacific, and the University of Wisconsin. In 2018, Audiology Systems University will launch its first nationwide application process.
Students who are enrolled and completing courses towards their doctorate in audiology (AuD) are encouraged to send their application online (www.audiologysystems.com/ASIu). They can also email this year's ASIu coordinators: Otometrics product manager Brianna Young, AuD (byoung@otometrics.com) and Field Clinical Audiologist Jeanette Fitzke, AuD (jfitzke@otometrics.com). The ASIu Class of 2018 will take place on March 29-30 at the Otometrics/Audiology Systems corporate office in Schaumburg, Illinois.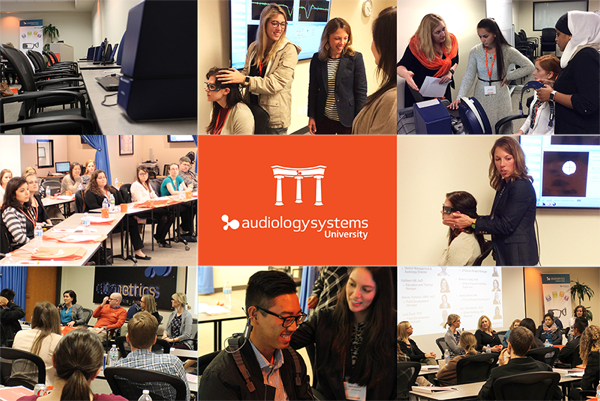 Audiology Systems University allows students to network, learn about other audiology career paths – aside from the clinical practice – and receive hands-on head video head impulse (vHIT), vestibular evoked myogenic potential (VEMP) and probe microphone measurement (PMM) or real ear training. "This year our goal for this event is to make ourselves as accessible as possible to the students, give attendees insight into the manufacturing side of the industry and give students the opportunity to attend lectures and workshops that they might not have access to in graduate school," says Dr. Young.
Senior Market Development Manager Wendy Switalski, AuD will continue to facilitate the hearing aid verification workshop with hands-on training using the Aurical® fitting solution. Dr. Switaski will discuss topics like private practice audiology and how to complete hearing aid verification utilizing probe microphone measurements.
ASIu also has the privilege of having Kristen Janky, Ph.D. as the featured lecturer for the fourth year consecutive year. Dr. Janky, the director of vestibular services at Boystown National Research Hospital and President-Elect of the American Balance Society, will present a two-hour lecture about video head impulse testing (vHIT) and vestibular evoked myogenic potential (VEMP) testing. There will also be a hands-on workshop on how to complete vHIT and VEMP testing facilitated by Dr. Janky.
For more information about Otometrics/Audiology Systems course offerings for audiologists and hearing care professionals, including courses approved for AAA CEUs, customers are encouraged to contact their local sales representative. Please call (855) 283-7978 or visit www.audiologysystems.com/education.
About Otometrics and Audiology Systems
Otometrics/Audiology Systems, a division of Natus Medical, is your source for Madsen®, Aurical®, ICS® and Bio-logic® branded equipment. We are also pleased to offer a range of and sound rooms under the GENIE® brand name. Our goal is to inspire great clinicians to be even better. Audiology Systems' highly trained staff brings a consultative and professional approach to hearing and balance education, sales, service and calibrations. Our software integration group can assist with data back up and security, Noah Networking and EMR integration. Visit www.audiologystems.com to learn more. For more information about Otometrics, please visit www.otometrics.com or the Otometrics / Audiology Systems Partners Page on AudiologyOnline. For more information about Natus, please visit www.natus.com.