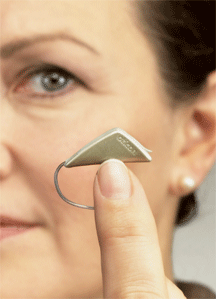 Somerset, NJ April 5, 2006 --
Leading hearing aid manufacturer Oticon, Inc. today introduced Oticon Delta, a groundbreaking new hearing instrument designed to change forever the perception of hearing aids among the 50-plus generation. Oticon Delta's revolutionary triangular design features, sleek lines, hot colors and brushed metallic surface appear to have more in common with high-tech communication devices or fashion accessories than traditional hearing aids. In fact, the trendy new ear "accessory" houses state-of-the-art digital technology that is aimed at boosting speech understanding for a younger generation of hearing aid users with mild to moderate hearing loss.
Delta's innovative design is made possible by placing its receiver into the ear canal at the end of a thin, transparent sound wire. This unique approach opened the way to design breakthroughs not possible before and has created a whole new category of hearing solutions called RITE (Receiver In The Ear). Combining the best of two worlds, Delta merges the cosmetic advantages of in-the-ear instruments with the technological possibilities of behind-the-ear devices.
"This is definitely not your grandfather's hearing aid!" says Peer Lauritsen, President of Oticon, Inc. "For the first time, we have a hearing device that combines cutting edge digital technology with contemporary design to appeal to image-conscious, technology savvy Baby Boomers. Delta is ideal for active adults who are experiencing light to moderate hearing loss and need to boost speech understanding in difficult listening situations."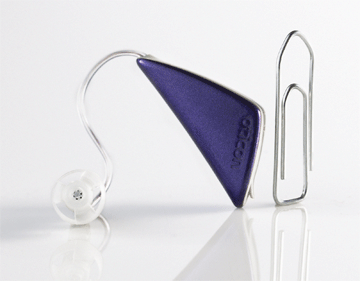 Engineered for performance, designed for looks & comfort
Designing a hearing device that appeals to Baby Boomers' desire for attractive, high-tech solutions is only the first step in gaining user acceptance. Insuring satisfaction among demanding younger users requires the ability to deliver clear, comfortable sound quality in all listening environments.
Light, discrete and extremely reliable, Delta integrates the most sophisticated sound processing technology available today. Powered by Artificial Intelligence, the new hearing device features a unique dual-mode directional microphone system that works in unison with the TriState Noise Management system to provide the best Voice-over-Noise ratio in every situation. The combination of these two systems ensures that vital speech cues and comfort are never compromised. The amplifier's unique, triangular shape ensures optimal positioning for the state-of-the-art directional microphones.
Delta's speaker, connected to the amplifier by an ultra thin, transparent tube, is placed in the ear canal to ensure a flat natural frequency response and unmatched performance and comfort. The open fitting delivers the amplified signal with a clear, superior sound quality and without tube resonance. The speaker is positioned in the ear with a dome, which contains wax protection and is easily replaced by the user when needed. The domes are available in two versions: the Open Dome delivers maximum comfort and no occlusion; the semi-closed Bass Dome benefits users when a bit more loudness or lower frequency gain is needed. Delta's ear grip holds the device onto the ear and can be easily removed by the user.
Fashion meets technology
In developing Delta, Oticon looked for a design concept that would not relate to any traditional hearing aids and would help to contradict pre-conceived notions of what it means to have a hearing aid. The resulting combination of fashionable good looks and unsurpassed technology makes Delta a triangular "star" on the hearing aid horizon.
Delta comes in seventeen different brushed metallic color styles - from "Cabernet Red" and "Samoa Blue" to "Racing Green" and "Wildlife" - giving the hearing device a sleek and sexy styling that appeals to a new generation of hearing aid users. Delta's modular set up allows changing the look of the instruments quickly and easily - depending on the users' preference.
About Oticon
Delta is the latest invention from Oticon, one of the most innovative hearing aid manufacturers on the market. With over 100 years of experience, Oticon looks back on a number of technological breakthroughs in hearing aid history that have made a significant difference for people with hearing loss. Oticon is the only manufacturer with its own research centre ensuring that the needs of hearing aid users are always put first when developing new solutions.
For more information on Oticon Delta, please visit
www.my-delta.com
.