Proprietary OptiFit™ and OptiGrip™ implant design concepts cleared for newest
tissue-preserving surgical techniques.
SOMERSET, NJ December 16 -- Oticon Medical announced today that it has obtained 510(k) clearance from the U.S. Food and Drug Administration (FDA) to market Ponto Plus, the company's newest family of bone anchored sound processors. New Ponto Plus is available in regular and power versions that feature a new transducer, Inium feedback shield and new wireless capabilities. The new sound processors are designed for use with Oticon Medical's proprietary OptiFit™ and OptiGrip™ implant design concepts that have also been cleared by the FDA for use in tissue-preserving surgery.
Better sound quality, wireless connections & tissue preservation
Built on the Inium platform, the latest chip technology from Oticon Medical's sister company Oticon, the Ponto Plus family features a new powerful transducer, an efficient and innovative Inium feedback shield and the newest Bluetooth 2.4 GHz wireless technology, all designed to deliver better sound quality, less feedback and fewer artificial sounds. Innovative wireless capabilities make it possible to connect Ponto Plus directly to smart phones, to loop systems in public venues and to other modern communication devices to allow conversation, music and other sounds to transmit from the Ponto Streamer directly to the sound processor. Used in combination with Oticon Medical's proprietary OptiFit™ and OptiGrip™ implant design concepts, Ponto Plus supports exciting new tissue-preserving surgical possibilities for clinicians to increase long term prospects and well-being for new and experienced users of hearing implant technology.
The most advanced family of bone anchored hearing solutions ever
"Ponto Plus is the most advanced family of bone anchored hearing solutions ever," says Oticon Medical President Jes Olsen. "We are bringing the newest innovations in sound processing to the hearing implant arena just six months after these new technologies were first introduced in conventional hearing aids. Our ability to rapidly advance bone anchored hearing solutions with new technologies, such as the powerful Inium platform, demonstrates our ongoing commitment to identify new competencies and methods that will empower physicians to achieve the best possible results for patients. By delivering more benefits to patients through superior sound quality, power solutions, connectivity options, tissue-preserving surgery and other breakthroughs, we aim to significantly expand the market for bone anchored solutions."
Addressing patient challenges with regular and power solutions
Available in regular (down to a hearing loss of 45 dB) and power versions (down to a hearing loss of 55 dB), Ponto Plus is the most powerful ear-level bone anchored sound processor family. The optimized design of the transducer increases the maximum output in the mid and high frequency range to reproduce louder sounds so that users can enjoy more everyday sounds without the sounds becoming distorted.
The Inium feedback shield uses a variety of advanced signal processing tools to minimize feedback including, for the first time in a bone anchored hearing system, a novel frequency shift, designed to give Ponto Plus users less whistling and fewer artificial sounds as they move through changing sound environments throughout the day.
Wireless communication possibilities
Ponto Plus users can enjoy communicating in a wide variety of situations, all controlled through one user-friendly device. The addition of the new Ponto Streamer turns Ponto Plus into a wireless headset, connecting users wirelessly to a range of audio sources including TV, laptops, mobile and landline phones and other communication devices. A built-in telecoil allows the Ponto Streamer to pick up audio signals and send them directly to the sound processor so users can easily access loop systems in theatres, lecture halls and other public venues. Users can stream audio from remote microphones, which help in situations where the other person is far away or surroundings might be noisy, or both. The Ponto Streamer can also act as a remote control, creating an easy way for users to change programs or adjust volume, and built-in jacks allow simple connections to FM systems, music players and computers.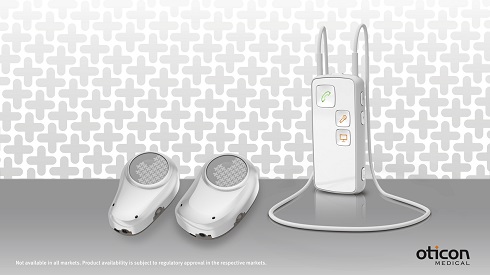 Designed for an active life
Ponto Plus has been robustly designed to meet the challenges of active lives and everyday activities, and is IP57 certified. The durable and reliable design reduces wind noise and limits water, dust and debris from getting inside the processor. The housing is nano-coated to repel water. In addition to earning IP57 certification, Ponto Plus is now FDA cleared, CE marked and meets EU safety requirements.
Innovation at the forefront
In 2009, Oticon Medical advanced bone anchored hearing systems into the world of digital hearing technology. With new Ponto Plus, Oticon Medical continues to be a pioneer in creating innovative patient-centered solutions that address everyday quality of life challenges.
"With Ponto Plus, we have created a second full family of sound processors that offers exciting new features designed to provide superior sound quality and enhanced communication possibilities in situations users need most," says Olsen. "The Ponto Plus family introduces more reasons for people to consider bone anchored solutions for the first time or to upgrade from their current sound processors."
For more information on bone anchored hearing solutions, Oticon Medical and the new Ponto Plus family, visit www.oticonmedical.com or the Oticon Medical Expo Page on AudiologyOnline.